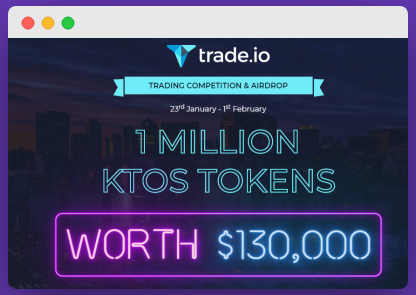 img src
---
Trade.io is on top of their game with a charming competition for its clients. A little while ago, trade.io formed a partnership with KRATOS a blockchain-based platform that is in the commodities trading industry. With KRATOS, they have organized a very massive trading competition and Airdrop for traders that have confidence in their trading skill set, however, even if you are a beginner you can still test the skills learnt as yet.
Can you imagine Trade.io is giving away 1 million KTOS worth 130,000 USD to its clients so easily? All you have to do is to trade as many KTOS as you can so you can stand a chance of winning the first prize of 200,000 KTOS and one of 99 more.
---
How do you enter the competition?
You need an existing account to be eligible. A few days back, account creation for this particular competition was closed so apparently the only people that can take part are the ones with trade.io accounts.

75 KTOS were already airdropped into your account, however to be a notch better than all the competitors it is better to purchase more KTOS tokens to increase your chances of winning.

Start trading the KTOS tokens, all you have to do is to keep your KTOs trading volumes higher than any other competitor and then you will have a share of the 1 Million KTOS.
What are the prizes?
I million KTOS will be doled out to 100 lucky winners and the Ist prize gets 200,000 KTOS.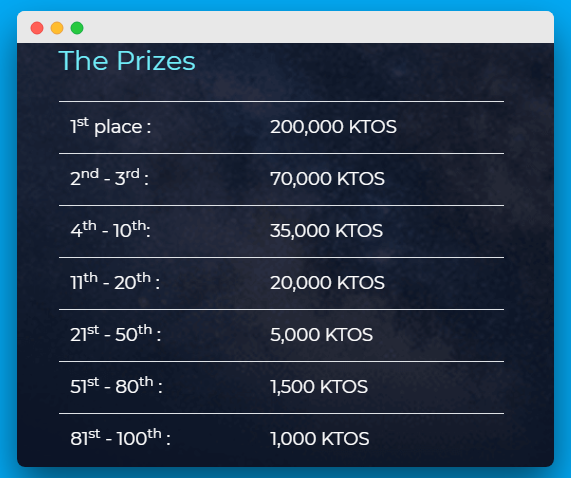 ---
The KTOs tokens are invaluable since KRATOS has developed a token curated registry process for trades submitted through its platform, literally, investors and traders can receive financial backing from KRATOS which is giving an opportunity to the KTOs token holders to vet projects that need funding and these token-holders are incentivized. In addition, it is in the commodity trading industry that we all know is worth many trillions, where it is the only company apparently that is employing blockchain technology and smart contracts to solve the long-lasting problems of the industry, such as insufficient trust, unnecessary intermediaries and manual documentations. Regardless, the tokens have to rise in value.
Remember the competition ends on 1st February so you can track your performance on the leader board.
All the best.
Links to the competition.
https://competitions.trade.io/kratos
https://news.bitcoin.com/pr-trade-io-turns-up-the-heat-with-massive-airdrop-attractive-trading-competition/
Disclaimer: This is not financial advice. Please do your own research before investing in cryptocurrencies or any digital asset. This blog post is done for entertainment and knowledge purpose only.
Thanks for reading