This post shows my efforts towards the promotion of the listing of the Cosmos System Token called ATOM.
Trade.io remains one of the best exchanges we have available. Their low withdrawal fees, zero fees on deposit, 0.1% taker fee and zero maker fee make it amazing.
It is now better, smarter and faster. Trade.io makes it possible for users to exchange Bitcoin and Ethereum for the preferred Alt coin at a fast speed and a convenient interface.
Feel free to read my previous post about the listing and Trade.io Here.
My task promotional activities.
I made a tweet on Twitter.

I then boosted the tweet with some money to enable me to reach my targeted audience. I achieved a reasonable amount of impression and engagement at a fair price.

Twitter Thread Link: https://twitter.com/Wizzybright_2/status/1123584730870501378
I made a post on Instagram. I boosted it through the ads manager. I also achieved a reasonable amount of impression and engagement at the end of the campaign.

Instagram Link: https://www.instagram.com/p/Bw7DDSwANRA/
I made a post on my Steem promotion Facebook page. As at the time of this post, the Facebook campaign is still running. I've already had a good number of engagement and I'm looking forward to achieving more positive response Before the campaign Ends.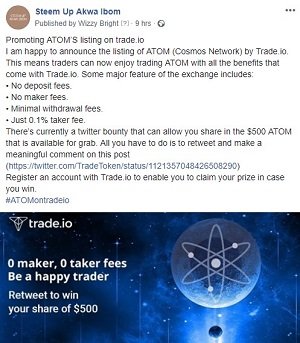 Facebook Link: https://web.facebook.com/permalink.php?story_fbid=1182240118612347&id=879605745542454
I made a comment about the listing and bounty on Reddit.
Reddit Link: https://www.reddit.com/r/TradeIOICO/comments/b6vebu/bitcoin_and_tiox_is_money_for_smart_people_you/em9r0ce?utm_source=share&utm_medium=web2x
I made a post about the Listing and bounty on medium.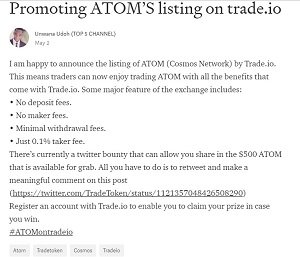 Medium Link: https://medium.com/@dongentlerules2/promoting-atoms-listing-on-trade-io-339b01fbf7a?source=friends_link&sk=07254622fc8a9a1f00e587becb2167e0
Conclusion
I realise that boosting a post with some extra cash gave me more engagement more than my normal post. It was fun playing with the ads targeting and I'll deliver better targeting next time.