Turkish artists - Osman Hamdi Bey (1842 – 1910) - Kaplumbağa Terbiyecisi (Turtle Tracer, 1906)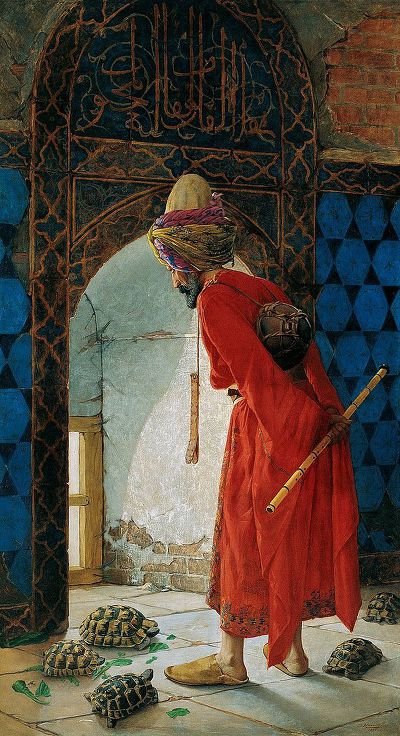 Kaplumbağa Terbiyecisi (Turtle Tracer, 1906)
---
There are two different versions of the Turtle Tracer, 1906 and 1907. This is the 1906 version you see in this article. The main difference between the two versions is that there are 5 turtles in version 1906 and 6 turtles in version 1907.
This table of Osman Hamdi Bey was interpreted as a tired state of an intellectual trying to modernize a backward society, especially when there was no clear knowledge of the source of inspiration. It is suggested that the source of inspiration for the tortoises is the turtles released during the Sadabad fun at the Tulip Era by stitching candles on their backs after the weather. According to this comment, Osman Hamdi Bey, who undertook the task of establishing and managing many institutions such as Sanay-i Nefise, Asar-i Atika Museum, Duyun-u Umumiye, showed that the tabola as self-trainer, turtles trying to reach to eat, they are satirizing them.
According to other interpretations, the man who is standing thoughtfully hopes to accomplish the task of finishing the tortoise, a hard work that requires patience, by stealing the nakkareki in his hand and his back. According to this comment, the trainer is Osman Hamdi Bey himself. Osman Hamdi Bey also tried to bring a changing society to contemporary level through art, so he emphasized that he was attempting to open an art school and a museum.