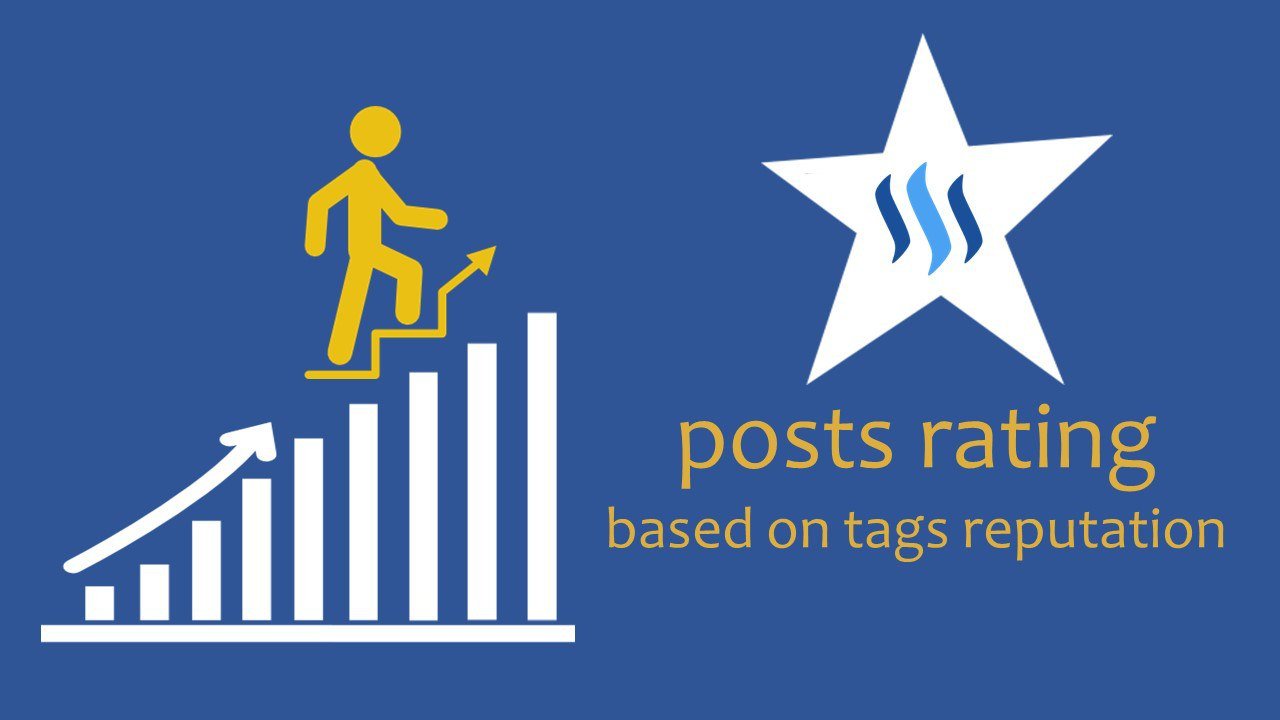 It is alternative point of view to STEEM TOPs.
How it works
Do you know how USA president is elected? It is the same for rating TOPs (+ tags reputation) - user is the voter and delegates own "preference" to author by upvoting his posts (elector with tags reputation). Each author chooses best posts according to his tags reputation. As result, rating TOP is the sum of authors (electors) votes.
The example of rating idea:
Bob made a post with tag "steem" and received X reputation for this post (for the tag "steem"). It means that he has X reputation for the tag "steem" and zero for other tags!
So when Peter published the post with the tag "photos" and Bob will voted it, Peter received a zero rating for tag "photo".
But Kate published a post with tag "steem" as Bob, Bob voted her post, and Kate got X reputation in the ranking tag "steem" from Bob.
It means that Bob is specialist only in a tags which are used in posts and just as much as rated by other) decentralization in all its glory !!!
What is the benefit from using of the rating?
Protection from bot cheating - they would not have posts at all and the reputation for influence to rating OR the reputation weakened over time OR will be the reputation only for some tags (not many); It is impossible to contain a lot of bots and make posts for them with good quality for all tags!
Rating is created by authors, that make good quality posts permanently;
On the first place is quality value, it is not quantitative! One good post it better than a large number of poor and give main contribution to the posts rating;
Rating and tag reputation are not static and increasing with users reputation. When you do not have good posts for a long time your contribution to rating is decreasing;
Steem power do not give rating contribution (it is only indirect dependence). Thus we get some "concept" of specialized(by tags) posts rating;
Self votes are excluded;
Lets look what we get for top tags!!!
16.12.2017
Best from all tags (26707 posts)
Tag "life" (6827 posts)
Tag "photography" (4483 posts)
Tag "art" (2296 posts)
Tag "cn" (305 posts)
Tag "steemit" (2180 posts)
Tag "blog" (2313 posts)
Tag "spanish" (724 posts)
Tag "nature" (1326 posts)
Tag "kr" (540 posts)
Tag "writing" (837 posts)
* - pending reward
---
Your feedback is very important, do not hesitate tell your thinks
thanks @xroni for the pic)
p.s.
Use site http://rating.mysteemit.xyz/en/steem/rating [interface: RU,EN,DE,ES,CN,KR] to see your more rating by tags? tags curators and users posts sorted by tags)
The reward program exists for those who are got in the rating!
---