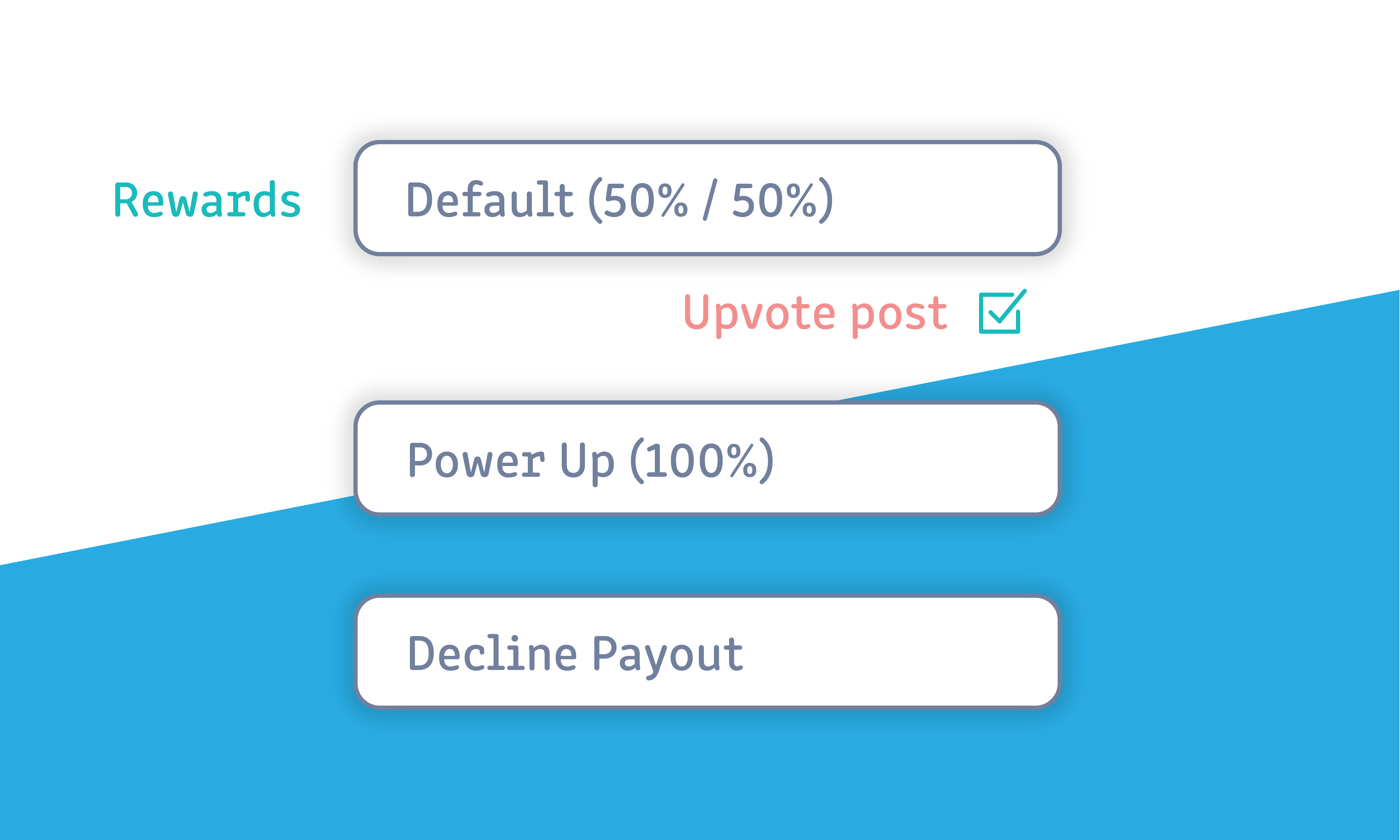 How Do Payouts Work?
---
In our last guide, we explained how an upvote works as a mechanism to distribute tokens from the reward pool each day. Those rewards accumulate in posts / comments and amount to your eventual "payout." In today's Toolkit, we'll explain how to the payout process work from start to finish and what each number means.

Choosing Your Post Payout
---
Each time you click the "Submit a Story" button in preparation of post, you'll have the option to choose 1 of 3 payout types - Default (50%/50%), Power Up 100%, and Decline Payout. What does each one mean?

The default 50% / 50% option splits your payout rewards between STEEM Power and Steem Dollars (SBD). The split is based on a 3.5 day average value of both currencies in relation to the US Dollar. The STEEM Power will be vested into your account while the SBD will be readily available for you to withdraw or exchange. (Learn more about the differences between the two, here.)

Power Up 100% converts all of your payout to STEEM Power. This is an efficient option for new users to quickly build their voting power while they focus on familiarizing themselves with the technology, platform, and community. (Learn more about SP here.)

Decline Payout is just that - declining to take any rewards for the post or comment you made. You'll notice some of the bigger accounts on Steemit (the whales) declining payouts so that they don't drain the daily reward pool. In many cases, it's an announcement / etiquette thing.
---
No matter which option you choose, your post or comment will "pay out" exactly 7 days after initial time of posting. During that time, clicking on the dollar amount will show you the approximate time before payout.

Payout Breakdown
---
When a post is paid out, you'll see the division between rewards Authors and Curators.

As touched upon briefly in the Upvote Guide, a percentage of payouts are distributed amongs the "curators" that upvoted your post or comment and the majority to your account. The distribution is approximately 75% to the author, 25% to the curator(s). You can read more on the detailed nuances of calculating curation percentages here.
Redeeming Rewards
---
After the 7-day period, the payout will appear in your Wallet tab like this. Clicking Redeem Rewards will transfer the amounts to your account. Curation rewards are also redeemed in this way.

Exploring More @sndbox Steemit Toolkits
---
Thanks for reading! We hope you found this "Upvote Guide" useful. If you have any questions please don't hesitate to reach out in the comment section. Check out our other toolkit posts for helpful tips and ideas :