The Sprtshub Token Offering Ends in 7 Days. Reserve your stake now!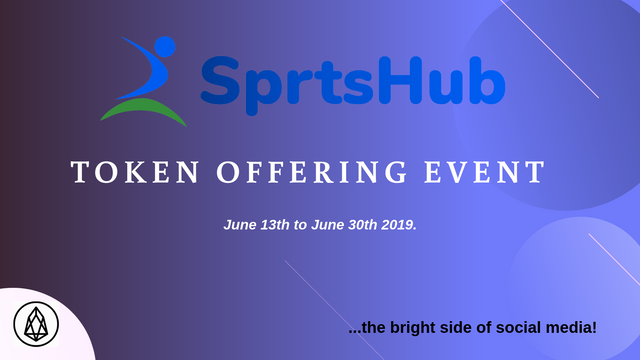 The Sprtshub Token Offering is on and it ends in 7 days.
Yes, in 7 days, we will be closing the Token Offering to make way for listing and subsequent planned development to deliver a social media platform that is all about engagement, interaction and fun.
---
---
Minimum and Maximum buy ins.
As we are at the end of this offering, we are reducing the minimum amount of token that can be purchased to 1000SHC and Maximum to 2000000 per user. Users and communities can take advantage of this offering to enable them secure their stake which will determine their rewarding power and also determine that original contents gets rewarded as against shit posts.
---
How to get SHC.
Participating users must own EOS accounts to be able to participate as the tokens will be transferred to their accounts on verification of purchase. You can participate in this offer with EOS, Steem, WLS, BTC and ETH.
Send EOS to sprtshubcoin on EOS wallet, (with EOS account name as Memo).
Send Steem to @sprtshub on Steemit.com, (with EOS account name as Memo).
Send WLS to @sprtshub account on Whaleshares, (with EOS account name as Memo).
Send BTC to 1LTGNHmyGw377BNb5vBo3C51VWa1g8a5qE (with EOS account name as Memo).
Send ETH to 0x5fccf293f8d5479c67f11bddd7700a60b9d522d3 (with EOS account name as Memo).
The Amount of token being paid for should be written in the memo together with user's Eos account. e.g 1000 SHC to 'myeosaccount'.
Token will be transferred to users EOS account after verification.
---
Thank you for joining us on this journey to the bright side of social media!
---
Our Social Media platforms.
Sprtshub is building a community that will involve individuals from various works of life and you can find us on Telegram.
Twitter,
Facebook.
Steemit.
Whaleshares.
Instagram.
Discord.