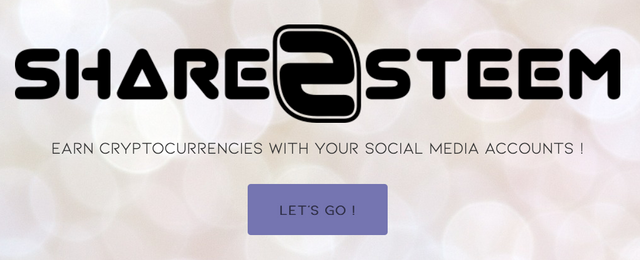 For those of you who have used the
@Share2Steem
service, which is connecting posts on social media to Steemit, you will definitely see the format of the default title when the post is successfully posted to Steemit.
Examples of titles on content posted via Instagram using the Share2Steem service before editing:

You see, right, that default title in my opinion looks very unprofessional. So, usually users have to edit the title again to make it look good for users in Steemit.
I will give tips, how to change the post title that is posted using the Share2Steem service, automatically, but need to edit from the Steemit interface.
The following is how:
First, please log in to your Share2Steem dashboard.
Select the "Social Network" menu then click on your account.
After the title and body post settings appear as below, then you can simply enter the post title that you want in the box provided. Then click save.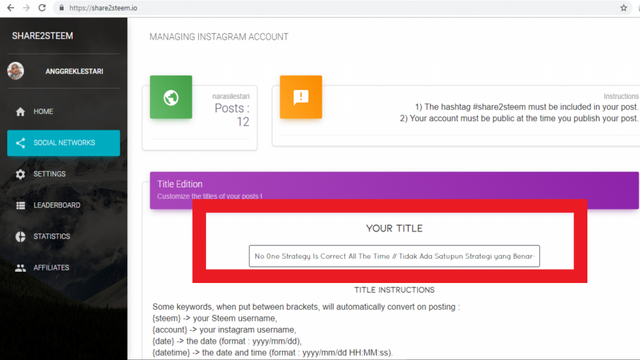 Your title will automatically match the title that typed in the post title settings box.
So, you don't need to edit the post title again through these posts in Steemit.
For those of you who don't know how to earn Steem from your social media post like Instagram, Twitter and Youtube, you can start by clicking bit.ly/share2steemio


Please visit the tutorial on how to earn steem with Share2Steem. Click HERE.


BAHASA: Cara Mengubah Judul Postingan Secara Otomatis di Share2Steem
Bagi Anda yang telah menggunakan layanan
Share2Steem
yaitu mengkoneksikan postingan di media sosial ke Steemit, Anda pasti melihat format judul default ketika postingan tersebut berhasil terpost ke Steemit.
Contoh judul pada konten yang dipost melalui instagram menggunakan layanan Share2Steem sebelum diedit:

Anda lihat, kan, judul bawaan seperti itu menurut saya terlihat sangat tidak profesional. Jadi, biasanya pengguna harus mengedit lagi judul tersebut agar terlihat bagus untuk pengguna di Steemit.
Saya akan memberikan tips, bagaimana caranya mengubah judul postingan yang diposting menggunakan layanan Share2Steem, secara otomatis, tapi perlu mengedit dari Steemit interface.
Berikut ini adalah caranya:
Pertama, silakan masuk ke dashboard Share2Steem milik Anda.
Pilih menu "Social Network" lalu klik pada akun Anda.
Setelah muncul pengaturan judul dan body post seperti di bawah ini, maka Anda cukup memasukkan judul postingan yang Anda inginkan pada kotak yang disediakan. Lalu klik save.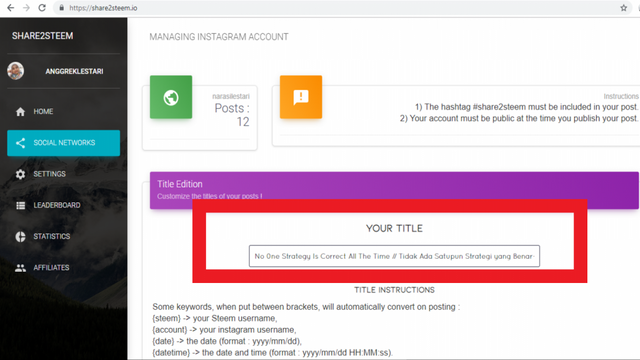 Secara otomatis judul Anda akan sesuai dengan judul yang ketik pada kotak pengaturan judul postingan tadi.
Jadi, Anda tidak perlu mengedit lagi judul postingan melalui postingan tersebut di Steemit.
Bagi Anda yang belum mengetahui bagaimana cara menghasilkan Steem dari postingan Anda di media sosial seperti Instagram, Twitter, dan Youtube, Anda bisa memulai dengan mengklik bit.ly/share2steemio


Kunjungi pula tutorial cara menghasilkan steem dengan Share2Steem: KLIK DI SINI UNTUK MEMBACA
Semoga bermanfaat.
---
Monetize Your Social Media Post by click bit.ly/share2steemio

http://narasilestari.com/how-to-change-title-of-post-automatically-in-share2steem-cara-mengubah-judul-postingan-secara-otomatis-di-share2steem/
---