Dumaguete is a place known as motorcycle capital of the Philippines. Most of the people who are living in here owned at least 1 motorcycle unit. There are no Taxi's in this city, but there are Pedecabs or known as Trycicle. You can ride them and take you to anywhere you want, less expenses than Taxi and safe.
If you owned a motorycle in Dumaguete City, its very easy for you to access where ever you want to go. Just bare with the heat of sun light.
People are not into buying cars for service, they chose to drive motorcycle going to school and work. When you go to downtown, you can experience traffic but most of it are motorcycle. You cant't find space in downtown without motorcycle in it and even in free parking space, most vehicle who dominates the are is Motorcycle.
This is why Parking Boy's Exist. These are the people who are authorized by the city to watch and park your motorcycle in a proper place and guard it until the end of the day. You are not required to pay, but just for the sake of their effort to secure your motorcycle against parking violation and even from bad people, you can give them any amount you want.
I met Jerwin, A 12 years old Parking boy who earned 200 php a day to buy foods for his family

At his younger age, Jerwin skipped his study due to financial problem and chose to be a Parking boy and earned money from it.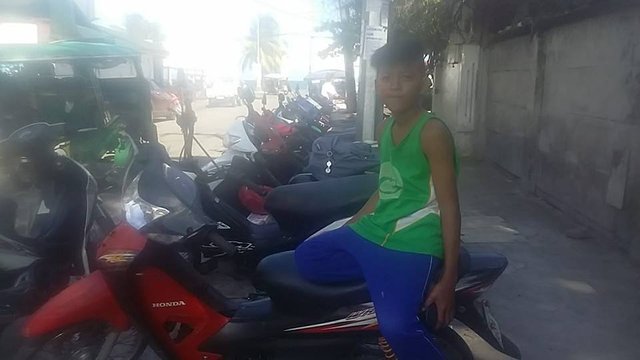 In Front Sans Rival, You can find this little young boy. He is there before the Store will open until the store will close. He is just outside of the store, waiting for someone who will park their motorcycle and he will be the one to put it in place and watch it over until you come back.
For every motorcycle he earned 5 to 10 pesos which he made 200 to 300 in one day. But it is not easy job for him, he need to exert strength to push and pull motorcycle from one place to another. At the end of the day, he is very happy to hand over his earnings to his mom to buy foods for their dinner and for the following days.
I was inspired by this little boy, so i spend time asking question and talk to him while waiting for the motorcycle owner to come back. According to him, this work is better than begging from anywhere like what others did. Its the only work that no need to apply he said.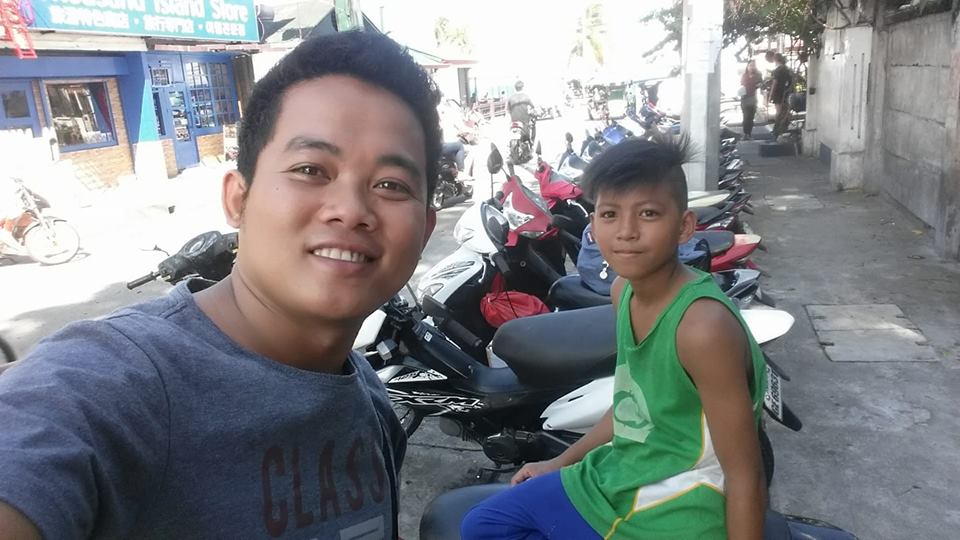 It was afternoon when we took selfie together. After few questions i made, i gave him 100 php to add to his income during that day. I asked permission from him to blog about his story and use his photos, in return i will comeback after a week and i will give something to him, if i can find him there still.
He was to excited about it and he was so happy to hear about it. I saw a lot of kids like him just roaming around, they are homeless, beggars and some of them are doing bad things like stealing, snatching and etc. But this boy has full of initiative and has the responsibility to carry on at his younger age. Very inspiring indeed!
Steemit can do something for this kind of kid?

I remember last year, when i started my campaign helping less fortunate using steemit as a tool. I featured several people who have nothing in life, in their stories was published in steemit that gains a little amount and all of it was given to them.
This kid reminds of something that i need to push through as i am doing my campaign in steemit. He deserves a reward and i will take the step of doing it. If this little kid knows how steemit, he could share his stories and experiences but he cant...So i need to do it in behalf of him. Whatever i earned from this post, i will be given to this young boy on the following weeks.
This is something to ponder, when we are in the situation that seems the world doesn't care about us we just simply hold on to our hope and Trust God. This is the only thing we have. If this kid can do something for his family, we can do something better.


Our mentor @surpassinggoogle has been very supportive of our group and other groups too. Please support him as a witness by voting him at https://steemit.com/~witnesses and type in "steemgigs" at the first search box.
If you want to give him witness voting decisions on your behalf, visit https://steemit.com/~witnesses again and type in "surpassinggoogle" in the second box as a proxy.
Others that are good: @beanz, @teamsteem, @good-karma, @busy.org, @esteemapp, @hr1, @arcange @bayanihan, @acidyo, @anomadsoul, @steemitph, @henry-grant and @paradise-found, also the many others who have visited My posts. Pls. support them too. I am grateful for that and for everyone who has helped me and my friends. Thank you very much.