This article will provide you information regarding close relationship between 3Speak video platform and STEEM blockchain, and some of the crucial links between the two.
The links, if used properly, will allow you to propel your career in new direction and start building something completely new in this world.
As most of you know, 3Speak is a promising new platform built on STEEM blockchain, that aims to become a safe haven for de-platformed content creators.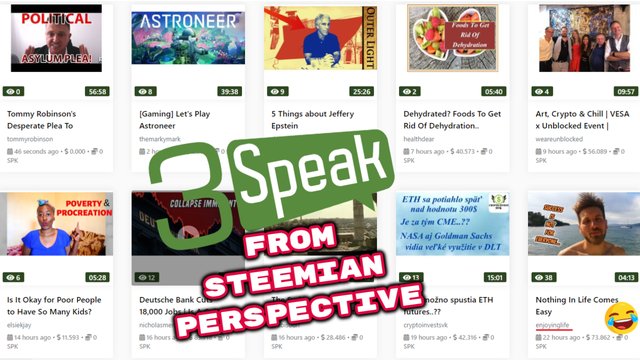 In times like these, that is truly exciting considering the fact we are witnessing suppression of various truths on a daily basis.
For a platform like this, there is no better place in this world to be built on than STEEM blockchain.
If you are new, you are probably still trying to figure what STEEM blockchain is.
How STEEM official page states: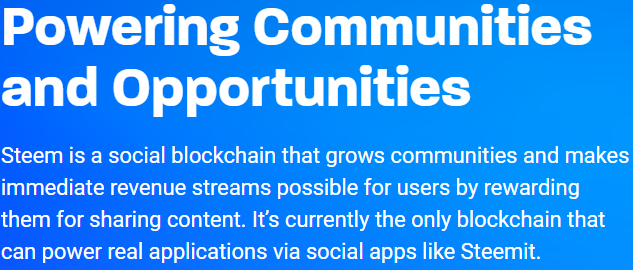 When you combine this with 3Speak, delivering HD videos with smooth rendering... you have a recipe to build something new, different.
You got yourself a platform that can potentially bring a huge content creator overnight, just a bit of dissatisfaction is needed. When the time comes, I'm sure the moves will be played right since team is making sure everything is thought of.
Having that in mind, I feel like we need not to overlook the huge potential STEEM blockhain has for a content creator.
Not only you can safely store your content here, at the same time you can empower your community.
Utilization of opportunities unlike you've ever seen before. Moreover, I feel it is necessity to educate future content creators of the huge potential that lays here with us.
Therefore, I feel you should not use 3Speak as a tool just to post your videos. This is something much more.
This is a place where you can step by step build your abundance and motivate your most loyal followers through currencies you haven't seen before: STEEM & Steem Blockchain Dollars.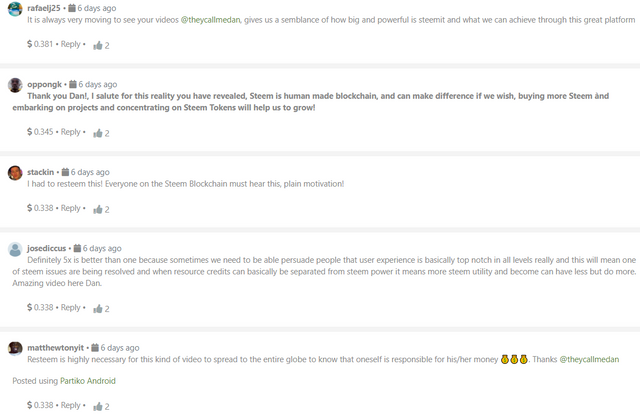 Unlike on other, profit-oriented platforms, not a single person will ever be left out on 3Speak.
If you have something meaningful and creative to share with your favorite content creators, most of the times you will get rewarded in form of crypto.
This maybe doesn't look like a big deal to you, but these are potentially great investments that will be held in your personal encrypted wallet.
Maybe you interact with platform outside of STEEM, that is definitely a no biggie. Even though you don't have a STEEM acc at this moment, the team made sure you can still interact on blockchain. Not only that, all the earnings you would have earned if you had an account will be calculated until you are ready to claim your free STEEM account.

The more STEEM you acquire over time, more of it you'll be able to invest in your STEEM Power.
STEEM power gives you bigger voting power and stronger monetary impact on the platform, in short.
It is in your best interest to collect as much STEEM as you can, rather than sell it right away. Not only you'll be able to lucratively reward your audience, at the same time you will earn more through inflation, curation rewards and making crypto connections in general.
You'll then be able to delegate to various projects, which will allow you to earn passive income in form of STEEM and dozen various tokens.

At the same time, you'll most likely get passionate about this chain of blocks. That will be super beneficial to all of us, as you'll probably inform your audience about it.
That is the kind of traction we are trying to start, something that would greatly impact STEEM as a whole - all the creators, investors, but regular users as well.
This is a win-win situation and whoever plays some kind of role, will emerge victorious in the end.
Having that in mind, I feel like sharing some tips and tricks when uploading your first 3Speak video.
As an experienced content creator on STEEM, I can help everyone to position themselves better here.
1. Utilization of Proper Tags
Tags are how we find content on STEEM blockchain, tags are how we know which categories are trending and which are not.
If you are using wrong tags you'll simply miss the readers that love to visit a certain tag.
Even worse, if you go with completely made up tag, you will promote your video with tag no one ever visits or even knows about.
That's why, good thing might be to check Explore Tab on STEEM's application Steemit
You get there by pressing 3 lines in the upper right corner, next to your avatar.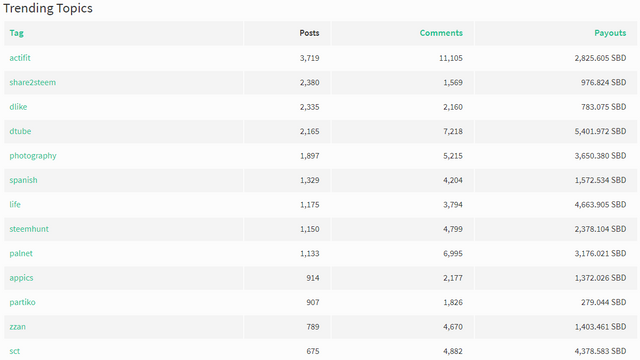 Here you can observe which tags are the most active ones, and where the money is going. This might be a good indicator where to position your post. Obviously, it's not right to put an activism related post in food, but you can always throw it in life which is one of the most visited categories. So keep that in mind, people love life lol.
Even though there is no crazy traffic activity here currently, when the time comes many more people will search for content they might find appealing...
Therefore it is good to master the usage of proper tagging your videos, now. :D
By proper tag usage, my video was one of the most viewed yesterday, out of all the new videos on 3Speak. Even though it was my first one and I have 0 subscribers!
2. High Definition Thumbnail
This 1 is especially important, since whoever interacts with your content will see your visuals in form like this: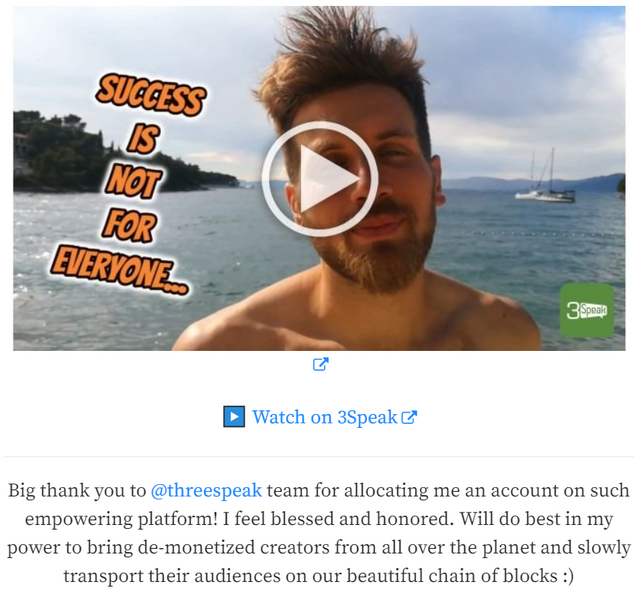 (The image is clickable btw)
I need not to tell you, what kind of difference does a catchy, high definition thumbnail makes.
It is the first thing revealed to your audience. on 3Speak and STEEM, therefore you need to play it right.
Simultaneously, it acts as a crown for your blog, sitting on the top of it.
The bigger the image quality, the better - since everything will look flashy and how people expect it to be.
There is no worse thing than a low quality thumbnail posted on STEEM... it's something like a bad promo for all of us creating here daily.
3. Meaningful, Creative Description
As you can see on the image below, when someone is interacting with your video on blogging interfaces, this is how he sees your description.
I put it in Italic cause that's not what it really is, I mean on 3Speak platform it is - but on other interfaces that's more like a blog of yours you can attach to your video.
Coming from Youtube where the catch is to make things as simple as possible, I understand this might sound like a different story... but its much much better
You can attach a whole beautiful blog to your video, with visuals and banners of all kinds and anything else.
The more work you'll put in, you should have easier time gaining traction.
P.S. I'm aware how my description in this video was not that good, I was out of time!
4. Use Palnet.io & Steemleo.com
These 2 are standalone communities built on top of STEEM blockchain, which allow you to earn their unique tokens for your contributions.
You log into them with your STEEM keys, but earn completely different tokens for the same content.
Simply by putting palnet and steemleo in your tags, your videos will be available on these platforms ready to earn you some new tokens.

Afterwards you can head to Steem-Engine if you wish and trade those tokens for STEEM.
Conclusion
These are probably all the tips I have for new content creators on STEEM blockchain. Regarding everything else, its pretty much the same like everywhere.
Build your Steem Power and interact wisely, in a matter of no time you'll find how you are in abundant place where there are no limits. Let yourself innerstand and you will acquire the mentality of Steempreneur. :D
This kind of mentality will grant you many benefits in the future. Especially ones regarding to free time and not having to work for anyone else but rather WITH everyone else. :)
Yours sincerely,
@enjoyinglife - 3Speak & Oracle-D Content Creator