Conspiracy Theory: Avril Lavigne Has Died Since 2004!
Actually this theory has long been heard by Hollywood music lovers especially Avril Lavigne fans. Avril Ramona Lavigne, or better known as Avril Lavigne is indeed very famous in the genre of pop punk music in early 2000, even himself was touted as "The Pop Punk Queen" in his era. The figure of women bleeding Canada began to boom when released a third album entitled "The Best Damn Thing". But do you know about the rumor that Avril was replaced by 'twin' named Melissa Vandella since 2003?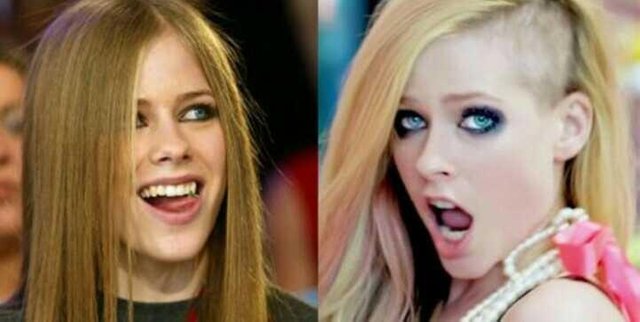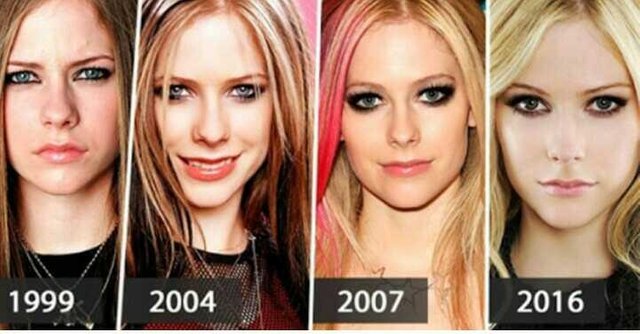 A theory says that Avril Lavigne was under heavy pressure at the peak of her successful career in early 2000. At that moment, Avril and his record company began to deliberately look for someone very similar to Avril to help Avril work as a singer.
They also very quickly become familiar, and twin aka body double was often replace Avril on several occasions. Until one day, Avril also decided to teach Melissa sing and act like it.
So at one time, the grandfather of Avril died. The accident is no doubt to make Avril depression was worse and resulted in himself to commit suicide. He was found dead in his apartment by hanging himself.
Recording company that shade Avril certainly not willing to release the popularity of Avril at the time. Therefore, they also close the news of Avril's death meetings. Then, they also recruited Avril's 'body double' rumored named Melissa Vandella to replace Avril Lavigne's full-time figure and continue her brilliant career. Melissa name appears after Avril undergo a photoshoot which on the surface of his hand is written Melissa. This photo was also found by a twitter account named @ kellyblaus.
update: new piece of evidence found by @kellyblaus iM SHOOK pic.twitter.com/MeuO5ZhATg
— yeehaw girl (@givenchyass) May 14, 2017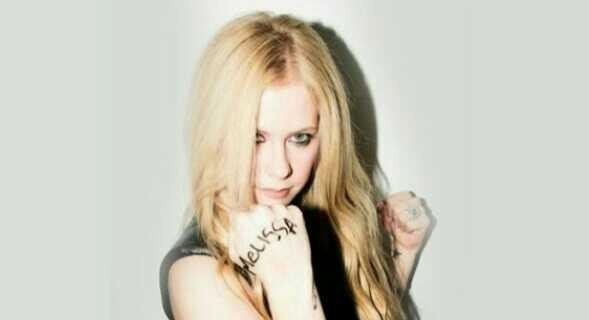 Creepy much, right?
Some also claim, that Avril has given clue of his desire to end life through the lyrics of his song. So before the event of suicide, Avril had time to write songs and record for the next album. Even so depressed over the death of his grandfather, he had several times crying on the sidelines of the recording process.
Here is the hint quoted from the lyrics of his song:
His hit song Nobody's Home in 2004 has such dark lyrics,
She wants to go home, but nobody's home. It's where she lies, broken inside. With no place to go, no place to go to dry her eyes. Broken inside.
She's fallen behind. She can not find her place. She's losing her faith. She's fallen from grace. She's all over the place.
Another hit song entitled 'My Happy Ending', also seems to tell her heartache so deeply.
Do not leave me hangin '
In a city so dead
Help up so high
On such a breakable thread.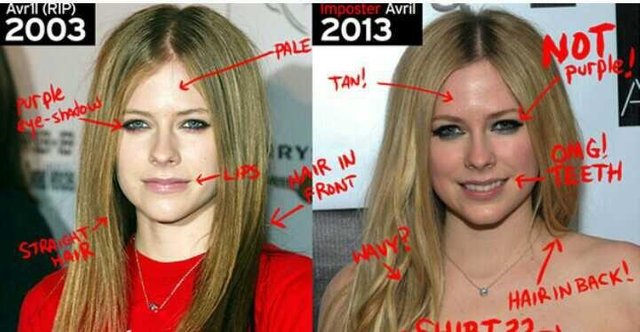 Here is a video showing the difference between Avril's past and present. Among others there are comparing the differences in Avril's voice that was once low raspy and now that turned into a soprano. There are also differences in personality and attitude when he was interviewed first and now. And the action of the stage is clearly different. So spooky.
You guys have to watch this video.
Once again bro sis, this is a conspiracy theory which means it is uncertain true and unconfirmed. Moreover, many berseliweran various conspiracy theories of Hollywood celebrities. Yet indeed, among all theories, Avril Lavigne's death theory is indeed the most convincing sound. Or maybe this rumor is deliberately made so that the name Avril constantly discussed?
Here is also a tweet from an account called @onlymodelz who commented when suddenly Melissa, oops, Avril tweeted her picture with the mother on Mother's Day.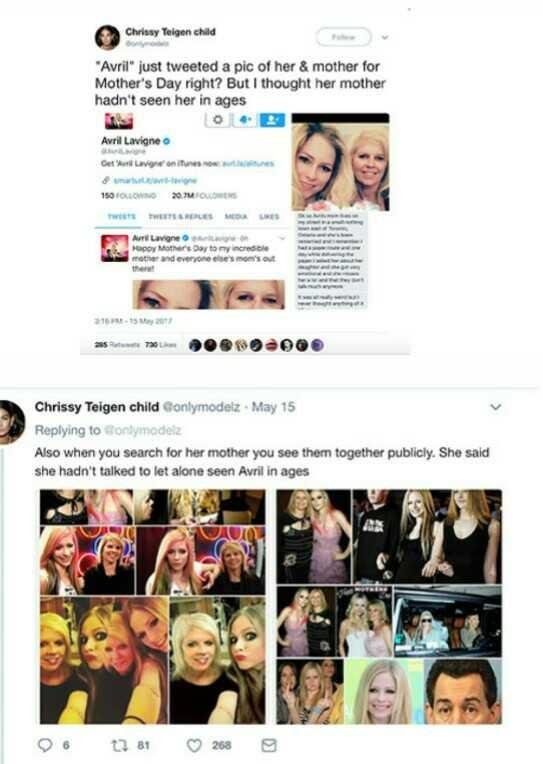 What do you think? Honestly, the author believes little about the death of Avril. Why Avril who once was punk and tomboy, suddenly changed her style and appeared with her new song entitled 'Hello Kitty' It just does not make any sense! In addition, Avril until now has never showed his punk side through his new album. Avril who once famous to look cool with crop top and jeans, why suddenly now turned into totally feminine? The sounds and behaviors of the interviewers also changed dramatically!