TheCanCoin - A Large Frontier Market
The legal cannabis industry is a multibillion-dollar market encompassing sectors such as healthcare, pharmaceuticals, FMCG, and industrials. The Euromonitor has projected an increase in legal cannabis sales from $30 billion in 2020 to $95 billion by 2025.
Time to reach 375 million people
Europe, in particular, represents the next frontier. The legislation of legal cannabis is currently spreading at 3x the rate of North America. As of today, over 375 million Europeans have access to medical cannabis. This is expected to continually grow over the next five years.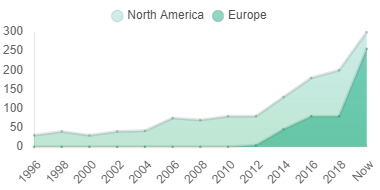 Addressing The Friction Points
While the rapid development in the cannabis industry has coincided with a wide range of legislative reforms at the local level, there is a lack of harmonised legislation at the national level. This combined with the historic negative stigma associated with cannabis has resulted in limited coverage from multi-national service providers, such as financial institutions, software providers, monitoring systems, and more. CanCoin aims to solve these issues.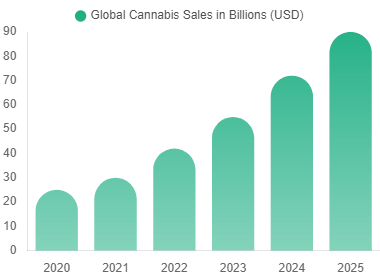 Why TheCanCoin?
Track & Trace
To finance seed-to-shelf tracking technologies (from genetics to finished products).

DNA Storage
To finance DNA software storage and tracking technologies that allow for the customisation of plant-based medicine based on each individual's DNA.

Medical Use
To finance the development of a monitoring app for medical cannabis patients, as well as the development of secure medical ID cards for cannabis patients.

Payment
To finance new payment gateway solutions for cannabis products (TheCanCoin wallet).

New Standard
Establish a new industry standard currency for global payments and processing.

Tokenized Crowdfunding
Application of "TheCanCoin" to crowdfund emerging private cannabis businesses.
Tokenomics
Token adress: 0xcBed7180e61f82Aa9bBC1f59aFAA7D57faB588Ac
Symbol: CANNA
Decimal: 18
Max supply: 420.000.000
Circulating supply:210.000.000
Consensus model:Proof of Reputation (PoR)
Platform:Binance Smart Chain (BSC)
Utility:Decentralised Oracle Services (DOS),
Dynamic Non-Fungible Tokens (NFTs),
Distributed LedgerTechnology (DLT)
What is DOS?
Dos Network describes itself as a decentralised oracle service supporting multiple heterogeneous blockchains. about Network purports to bring real-world data, event, and computation power to smart contracts in a secure, reliable, efficient and scalable way.
I. Production agents can upload the manufacturing process to the blockchain
II. Production agents can upload the manufacturing process to the blockchain
What are Dynamic NFTs?
Dynamic NFTs are non-fungible tokens which trigger a series of actions, often through the use of an oracle: for example, they can trigger real-world events in off-chain systems, be triggered by real-world events or interact with other on-chain components, like smart contracts and other NFTs
Token Distribution
40%For the token generation event
15%Is held i reserve serves as liquidity pool to manage token volatility
5%For Pre and post token bounty
15%For immediate team with vesting (20% of this for advisors before, during and after ICO)
25%For contributors and reward parties that contribute assets, IP or services in the ecosystem
Our team is compounded of veterans within funding, finance, DeFi, crypto, cannabis and marketing
Daniel Daboczy, CEO / Stockholm / Singapore
Daniel is a veteran within FinTech and equity crowdfunding (founder of FundedByMe) and has helped with the successful funding of more than 650 companies. He also has a great eye for marketing and knows what is needed to reach the next level. Before Daniel got into FinTech, he was an art curator of very successful exhibitions in Sweden, and he uses this knowledge to innovate creative NFT collaborations with new and experienced artists within music, art and digital works.
David Bonnier & Amaury de Poret
David Bonnier and Amaury de Poret are the co-founders and investment managers of Enexis AB, one of the first cannabis investment companies in Europe.​ Being investment professionals with more than 40 years of combined experience in the financial industry and alternative assets speak for itself.
Technicorum Group
Technicorum is a Singapore based company with major experience and has developed multiple projects within DeFi and blockchain. With a team of specialists within blockchain, crypto, advisory, marketing, tech, regulatory and compliance services, Technicorum is a natural partner in the CanCoin project.
information
Author