CanCoin - Blockchain application in the legal cannabis industry
The cannabis industry faces problems and solutions
Blockchain technology has become a leading technology of its time, possessing many preeminent features and proved to be outstanding in applications for many socio-economic fields. In particular, the application of blockchain in the cannabis industry promises to bring many significant benefits, creating a revolution in global supply chain management.
First of all, blockchain solves the problem of information validation. Specifically, the blockchain system records all transactions that take place and everyone present on the system can see and have the right to verify the accuracy of that transaction. This solves a very important issue in the buying and selling of cannabis products - trust in product quality. With blockchain technology, this problem is completely solved. Information of sold products is always saved in the most detailed process, allowing customers to know from the origin, to the still transferring party, to the supplier...
The supply chain of the cannabis industry is challenged by the competition of illicit markets. Additionally, most cannabis business ventures are nascent and consist of nascent startups that lack proper funding from investors, especially during COVID-19. Finally, establishing a vertical supply chain is difficult for most cannabis companies that lack transparency and trust in the ecosystem. As for the processing of payments, for example, cannabis terminals need to process most transactions in cash, which has become even more complicated with the pandemic. In addition, inadequate record keeping prevents the cannabis business from expanding.
Blockchain is a transparent ledger that securely records transactions on "one block" and by issuing cryptocurrency that can be used to process payments and transactions, blockchain can settle most of the tough spots in the cannabis business. To address the above concerns, The CanCoin is developing the use of blockchain technology as a solution that can provide transparency to the complex cannabis supply chain.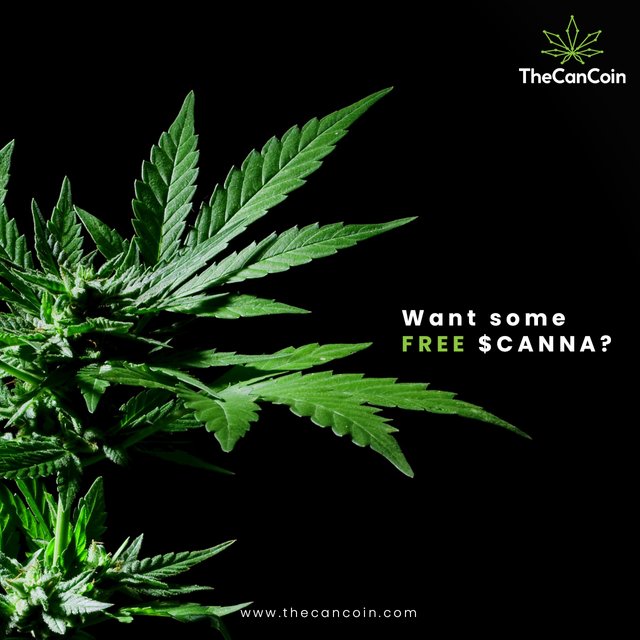 Why The CanCoin?
Track & Trace
To finance seed-to-shelf tracking technologies (from genetics to finished products).
DNA Storage
To finance DNA software storage and tracking technologies that allow for the customisation of plant-based medicine based on each individual's DNA.
Medical Use
To finance the development of a monitoring app for medical cannabis patients, as well as the development of secure medical ID cards for cannabis patients.
Payment
To finance new payment gateway solutions for cannabis products (TheCanCoin wallet).
New Standard
Establish a new industry standard currency for global payments and processing.
Tokenized Crowdfunding
Application of "TheCanCoin" to crowdfund emerging private cannabis businesses.

Tokenomics
Symbol: CANNA
Decimal: 18
Max supply: 420.000.000
Circulating supply:210.000.000
Consensus model:Proof of Reputation (PoR)
Platform:Binance Smart Chain (BSC)
Utility:Decentralised Oracle Services (DOS),
Dynamic Non-Fungible Tokens (NFTs),
Distributed LedgerTechnology (DLT)
Token Distribution
• 40%For the token generation event
• 15%Is held i reserve serves as liquidity pool to manage token volatility
• 5%For Pre and post token bounty
• 15%For immediate team with vesting (20% of this for advisors before, during and after ICO)
• 25%For contributors and reward parties that contribute assets, IP or services in the ecosystem
The Team
The CanCoin team consists of prominent names, with expertise and experience in the blockchain technology and cryptocurrency industry. The CanCoin works closely with some of the industry's best experts in the cryptocurrency, blockchain, finance, and cannabis industries. You can see detailed information about members on The CanCoin official website below.
CONCLUSION
Great prospects await cannabis businesses as the adoption of innovative blockchain solutions develops. From payments to supply chains, blockchain could be the answer to the cannabis industry's hardest hit to this day.
While consumer shopping is the most likely use of cryptocurrency in the industry, it has yet to take place on a large scale. Over the next few years, as awareness of cryptocurrencies and marijuana grows, I expect more consumers to find ways to pay with such currencies.
In summary, I foresee a day in the future when the public will demand transparency of regulated substances through a publicly accessible blockchain and paying with cryptocurrency will be as easy as any other application. mobile or any other payment method.
For More Information :
Website: https://thecancoin.com/
Facebook: https://www.facebook.com/thecancoin
Instagram: https://www.instagram.com/thecancoin/
LinkedIn: https://www.linkedin.com/company/the-cancoin/
Telegram: https://t.me/thecancoinofficial
Telegram https://t.me/sofico_ann
Twitter: https://twitter.com/thecancoin
Article written by
Bitcointalk username: huanbouty
Bitcointalk profile URL: https://bitcointalk.org/index.php?action=profile;u=1948566