CanCoin is the new industry token for the cannabis industry

Cannabis or marijuana comes from a plant called Cannabis sativa. This one plant has 100 different chemicals called cannabinoids. Each ingredient has a different effect on the body.
Delta-9-tetrahydrocannabinol (THC) and cannabidol (CBD) are the main chemicals that are often used in medicine. Keep in mind, THC is a compound that makes you feel drunk or high.
Cannabinoid compounds are actually produced by the body naturally to help regulate concentration, body movements, appetite, pain, to sensations in the senses. But in marijuana, some of these compounds are very strong and can cause serious health effects if abused.
Cannabis can be a drug if processed medically. Dustin Sulak, a professor of surgery, researches and manufactures cannabis for medical use. Sulak recommends several types of Cannabis to his patients and gets surprising results.
The "Cannabis Industry" refers to all activities and professionals involved directly or in an additional or tangential role to the production, transportation, sale and legal consumption of medical marijuana, recreational marijuana and hemp and all products derived from them.
The cannabis industry is rapidly becoming a competitive sector. Big industry players are fighting for market share and driving innovation in hopes of attracting more customers to their products. In just five years the market capitalization of publicly traded cannabis companies has grown to over 100 Billion.
The European cannabis market has lagged far behind North America, which has shown how cannabis tax revenues and profits can create more opportunities. Marijuana is not only an opportunity to catch up but actually maximize opportunities in Europe while ensuring a safe and serious approach to this fast-growing industry and the expected wave of legalization. The CanCoin has been designed to solve current market frictions and monetization in the European cannabis market.
What is CanCoin?
CanCoin is a new industry token for the fast growing cannabis industry and a blockchain based solution for industrial solutions. This solves some of the friction problems as well as ensures that drives a fast acceptance rate. The cannabis industry will benefit from a currency focused on streamlining as well as acceptance of legalization bodies if blockchain solutions are implemented, accepted and widely used.
CanCoin Mission
CanCoin's mission is to resolve the friction points currently affecting cannabis industry participants. It will differentiate itself from other cannabis-related tokens through a comprehensive blockchain powered cannabis solution that combines five key technologies, Blockchain, Artificial Intelligence, Smart Database, Automated Incentive Token, Smartphone Application.
CanCoin Features
CanCoin aims to penetrate the market by offering quality tools and user experiences to companies across the cannabis value chain
Track and Trace Solutions to increase transparency - CanCoin integrates seed-to-shelf technology, emulating a vertically integrated network. It helps to trace the flower's journey from genetics to retail of the finished product through cultivation, processing, extraction and transformation. It will also track the shelf life of the product. With this, companies can closely monitor their supply chain and inventory management, ensure timely distribution of products and minimize stock surplus.

Payment Solutions - Featuring the CanCoin wallet, CanCoin offers a financial payment gateway solution. With the availability of cryptocurrencies and high-stakes payment portal platforms such as Cloudpay technology, trading cannabis-related finances has become easier. With CanCoin, businesses can transact without restrictions as they are not subject to any restrictions imposed by banks thanks to the immutable and open ledger based blockchain technology.

Storage & DNS Records - CanCoin features technology to store and track DNA. The data gathered together with CanCoin's machine learning and AI capabilities can enable businesses to further enhance and customize their offerings enabling a better match to customer needs. Customers can also benefit from a customized plant-based medicine experience that is specifically tailored to each individual's DNA and buying behavior history.

Digital Medical Identity & Patient Data - The CanCoin platform features an encrypted digital medical ID card to identify legitimate medical marijuana patients. To further improve patient data outcomes, CanCoin will allow patients to integrate their DNA profiles into an encrypted platform. Research shows a person's DNA profile plays an important role in how medical marijuana interacts with that person's endocannabinoid system.

Augmented Reality NFT - One of the main differentiators is its Augmented reality NFT. This exciting feature allows users to grow and grow their virtual cannabis plant and grow their virtual cannabis plant anywhere via their mobile phone. Additionally, NFT can be used to redeem in-store discounts on marijuana or its derivatives.

NFT Game - Users will have access to a virtual farm where they can have lots of NFT Cannabis growing. In the virtual environment, they can grow their crops by using their water/fertilizer NFT to make their plate grow. This not only allows users to unlock store discounts by growing their crops to the maximum level, but also have fun while doing so and win prizes from projects.
CanCoin Ecosystem
Decentralized oracle service - CanCoin uses Decentralized Oracle Service (DOS) Chainlink to extract information from the real world into the blockchain. CanCoin is revolutionizing the Cannabis Supply Chain industry by leveraging DOS, enabling its innovative solutions such as dynamic NFT and distributed ledger technology to track products.

Dynamic NFT - A dynamic NFT is a non-exchangeable token that triggers a series of actions, often through the use of oracles: for example, whenever a user with CanCoin NFT makes an in-store purchase, oracle Chainlink retrieves the transaction log and automatically updates the NFT, allowing this user to earn discount for future purchases.

Distributed Ledger Technology - Use of DLT to track products from seed to shelf. Key internal stakeholders will be able to monitor and view product movement details, ensure operational security and continue business operations. The public on the other hand will be able to see if the submission was successful.

CanCoin Wallet - CanCoin will have a mobile wallet. It will be easier to use and offer a safe place to store your CanCoin tokens. This will make sending and receiving CanCoin tokens quick and easy. The CanCoin Wallet will be available for free for download on Windows, Linux, and OSX. CanCoin can be purchased directly into your wallet without the need for CEX or DEX. Users can make purchases via CacCoin tokens using QR Code scanning. NFT stakes and unlocks will be immediately available in the wallet.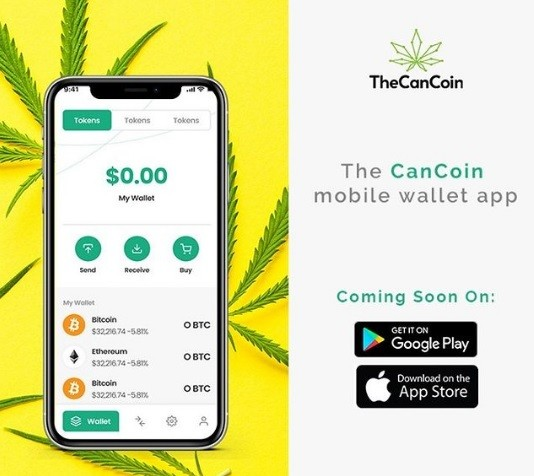 What is the CanCoin Token ( CANNA)?
CANNA is the backbone of the CanCoin ecosystem. Being the platform's native currency, it has a variety of use cases. Stores and pharmacies can provide additional offerings to drive CanCoin token payments to achieve rapid mass adoption.
Token Utility
Price Discounts - Discount offers on the CanCoin Store.
Main Items - Buy NFT and unlock higher tired discounts.
Extra Items - Buy one get one free from CanCoin offer types.
Free Samples- CanCoin buy and get free samples of goods.
Tokonomics
Token Name - CanCoin
Token Ticker - CANNA
Blockchain - Binance Smart Chain
Total Supply - 420.000.000
Circulating supply - 210,000,000
Roadmap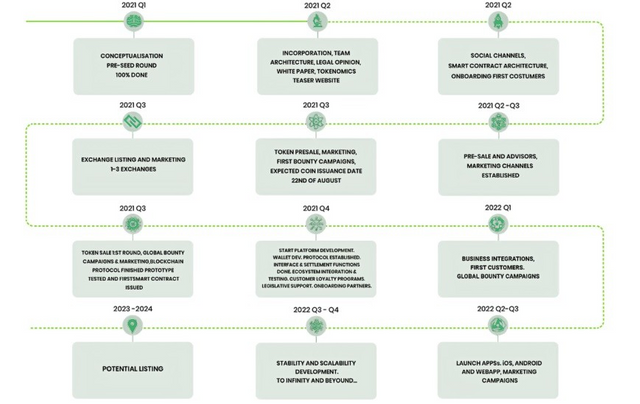 Team

Conclusion
CanCoin uses blockchain to streamline payments and processing, medical cannabis inventory and card management, patient monitoring, and seed-to-shelf tracking and introduces NFT and DeFi into the ecosystem. TheCanCoin is not only an opportunity to catch up but actually maximize opportunities in Europe while ensuring a safe and serious approach to this fast-growing industry and the expected wave of legalization.
Detailed Information:
web: https://thecancoin.com/
Twitter: https://twitter.com/thecancoin
Telegram: https://t.me/joinchat/HJKFSURmgGQzMTM1
Linkedin: https://www.linkedin.com/company/the-cancoin/
Author :Amild
Bitcointalk : https://bitcointalk.org/index.php?action=profile;u=2583828
My BSC Wallet : 0xbf00577895715883E63C6694D33dA51b1cDEBDa8