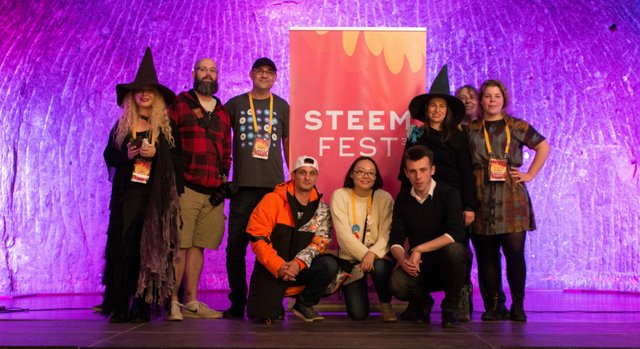 Pictured - @yidneth, @derangedvisions, @gmuxx, @enginewitty, @elizacheng, @guyfawkes4-20, @katrina-ariel, @rhondak & @soyrosa. Not pictured - @velimir
(photo taken by @hedac & edited by Witty)
The Fam @ SteemFest 3
Something is to be said about meeting people in real life. From the eyes of Witty, it is a comfortable reassurance that - yes - this whole kit-n-kaboodle is a reality. Sometimes, there is an awkward ice breaking moment, but after that, it's all smiles and laughs. I'm sure many memories were made by all of the individuals present and we hope that as we reacclimate to our usual (or not so usual) routines, that we can effectively share some of those joys with you.
Pictures Are Worth
more to those that took them, but still have a story that can be told. Much of this post will be pictures I was lucky enough to remember to take. I implore and beg anyone that has pictures of us to please drop the link of the post or pictures down there in the comments. If that is uncomfortable, please DM them to me (
@enginewitty
) on Discord or
@partiko
. I do hope people enjoy the endearing family ride through the eyes of Witty.
| Wes, @gtg & Katrina | Priscilla Hernandez |
| --- | --- |
| Wes taking pictures | Witty & Hokule`a |
| --- | --- |
| Priscilla Hernandez | Mr. Fawkes & Witty |
| --- | --- |
Yipee-kai-yay?
Was an absolute blast hanging out and etching smiles into history this past week. SteemFest is more than just a crypto-conference, it's embracing in the physical world what community is really all about. I look forward to seeing people sharing their experiences with all of us and urge you to drop the links in the comments so we can all check them out. STeeM oN fam, see ya at the next one, AND REMEMBER TO BE YOU!
A rising tide lifts all boats!
If one of us lifts up, we can all lift up!
We simply help each other. Like family.
~ @bluefinstudios ~


Want to join us? Read this first.
Want to support the fam too?
Join #thealliance curation trail!
Delegate to the @alliedforces!
10SP - 20SP - 50SP - 100SP - 250SP - 500SP - 1000SP - 5000SP
Are you on @themothership? Well, climb aboard!
Do you need ground support? Enlist the help of @a11y!