7 Days of Good Stuff
This challenge was started by
@conradt
, and I was nominated by
@snowpea
in
on her 5th day
. The purpose of this challenge is to spread around some positivity here on Steemit, and you know me, I never back down from a challenge! Well, almost never LOL!
Random Acts of Kindness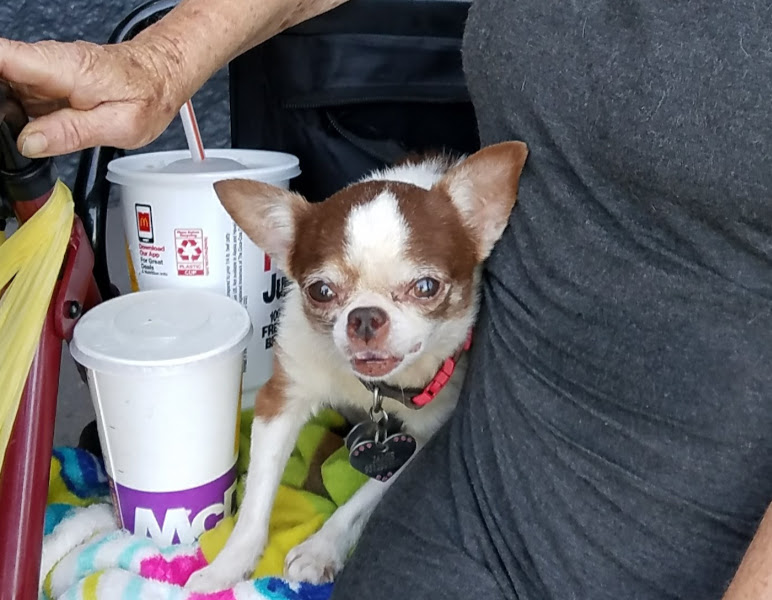 We are fortunate, as a family. We have a roof over our heads, our bellies have no need or want of food, all the amenities one would like we have. Some people though, and even animals, are not so lucky. See this picture here? Say hello to Katie.
Katie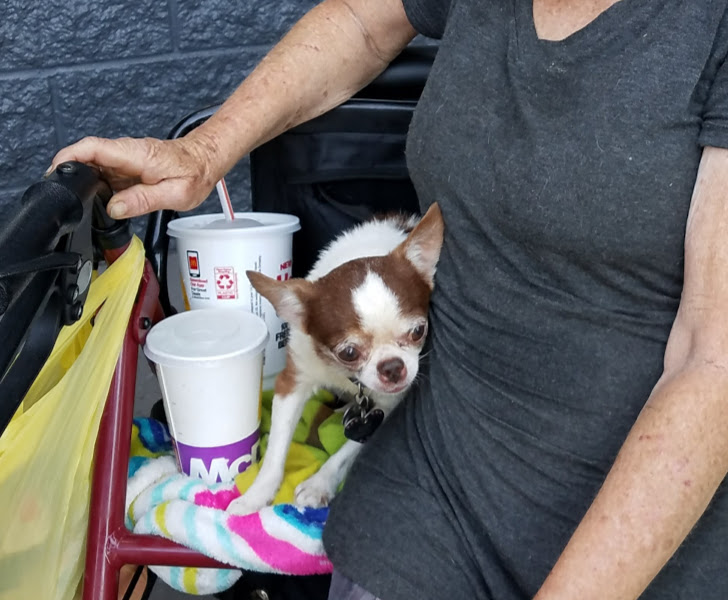 Katie is a ten year old Chihuahua. Ya, so what, dogs get older than that. Well, this dog has no roof. She has no food dish aside from her master's lap. Her nails are long and look painfully under-maintained. Add that to a bad case of either whooping cough or pneumonia (I'm no veterinarian) and you have to feel a little sympathy for the poor doggie. It kept coughing or wheezing like it was gonna chuck up a hairball.
Jamie
This is Jamie, Katie's master. I met her outside of McDonald's the other day after I had taken the girls to the lake.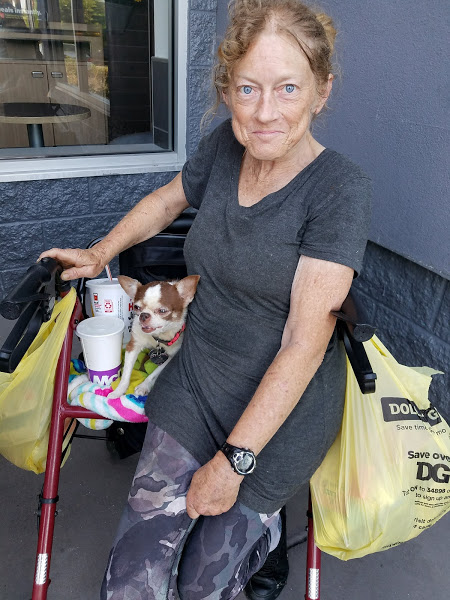 We played on the indoor playground and enjoyed a good meal. As we were leaving, the girls wanted to pet Katie. Jamie asked me for some money. Without a second thought, I reached in and gave her what I had in my pocket. Was $10 cash USD. She thanked me and explained how she has been sleeping under a bush the past week and she has a crushed hip, thus the sitting aid. It's not what she needs, she can't afford what she needs. Top that off with her phone and wallet being stolen, and well, you get the picture. If I had more, I would have given her more, but I know from the smile on her face, that she was thankful. At least that night, they would have a hot meal.
Believe It or Not
I do random things like this all the time. What I have, I give. Generosity maybe or a kind soul. Or maybe it's the Jedi training? LOL There are probably a few out there that can attest. I'm one of those guys that makes sure he has at least a little cash with him because you never know who is going to need it. People on the interstate ramps, selling newspapers, shining your window, or just someone that looks like they need it like this guy that collects cans here in town whom I know for a fact, sleeps under a rock ledge in a dirt pit a half mile behind the Methodist Church deep in Ensor Sink City Park. He gets surprise bags full of cans sometimes with little notes attached.
Fortune Favors the Bold
Are you brave enough to admit you have enough? Does your pride prevent you from being a considerate person? Do you rush past the missionaries standing outside the shops at Christmas time? Do you look the other way when a person with holes in their shoes and shirt enters an establishment looking for a handout or even to try and apply for a job? Who are you...really?
Your Turn:
Write a post about something you have to be postive about today - this could be anything from being thankful for your current situation, someone being nice to you, being thankful for your friends and family, or even being thankful for the oppurtunity you have been given here on Steemit - just keep it positive :)
Do this for 7 days in a row if you get nominated
Mention three people who should do this on each day.
Tag it with #sevendaypositivity (can try 7daypositivitychallenge but Steemit doesn't like numbers) and include these rules at the bottom of your post
Include a picture of something positive (related to your story if possible).
I nominate @battleaxe, @crisangel, and @ilhuna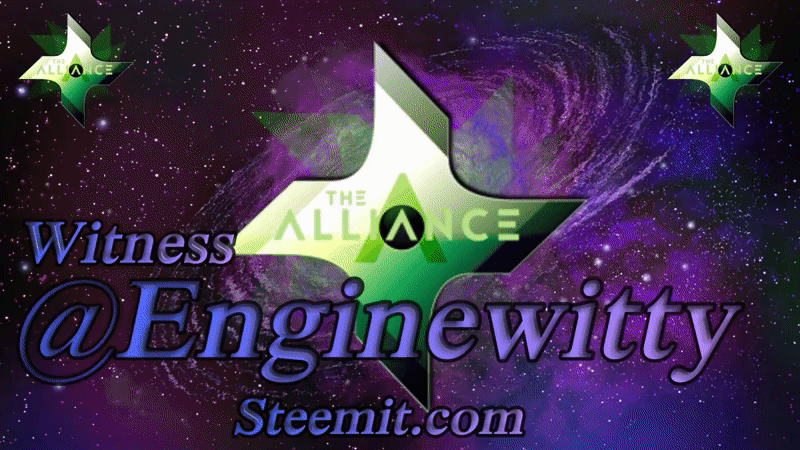 @snook made this badass gif