I would likely not drive in Bangkok, mostly because I don't know the lay of the land or traffic patterns. Not being aware of a particular turn or off-ramp can result in you needing to drive for a very long time in the wrong direction before you can make a u-turn. Therefore, I leave it up to the professional when I am there. For many, this can be a very frightening situation because motorbikes, and especially motorbike taxis drive somewhat aggressively.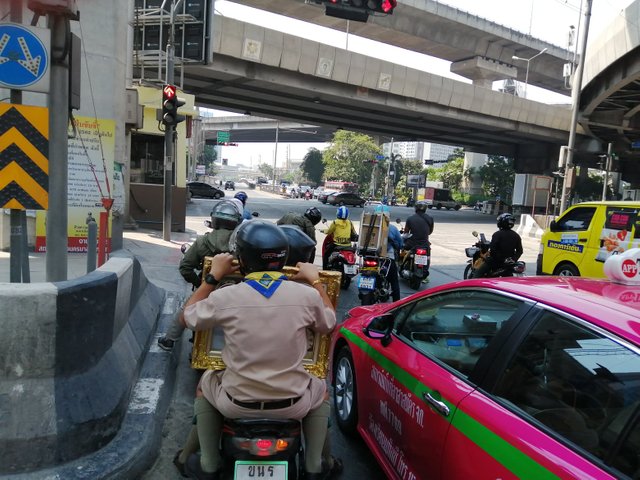 There actually are lanes in Bangkok, and the rest of Thailand, but these don't really apply to motorbikes who just fit their vehicle wherever they can fit. It is normally much faster to get around on motorbike simply because they are always going to end up at the front of any traffic light. Another thing that happens is that motorbike taxis tend to "bob and weave" through the flow of traffic even when it is moving. This can be a little frightening to the uninitiated.
I see people who are hanging on for dear life as their driver zips this way and that changing lanes and planning the road ahead of him as if it were a racing video game. Yet you will see Thai people on the taxis who aren't even holding on and don't seem very worried at all.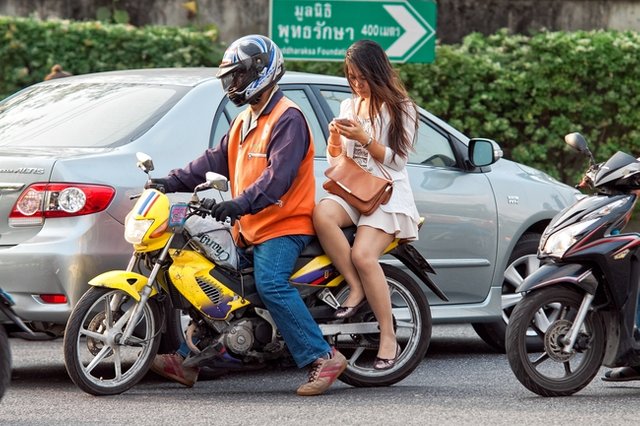 I think I know the reason why this ends up being the case: The Thais are obviously more familiar with the situation and how for the most part, it is not dangerous. There are a lot of road accidents in Thailand, but these are very rarely motorbike taxi drivers in Bangkok while they have fares on board. We are on the back of the bike worrying about how this guy is going to get us killed yet this guy does this for a living every single day and he isn't dead.
I encourage you to just take it easy and enjoy the ride if you ever find yourself on a moto-taxi in Bangkok, it's actually quite a lot of fun, especially if you enjoy video games because that is exactly how it feels to me :)
Oh and by the way I did this trip and took these photos weeks ago: I am not running around during the C-19 times as this country is in lockdown as well.