This one comes from another one of those shops that just sells drinks (of the non alcohol variety) and it has always seemed a bit amazing to me that they make enough money to stay in business. This is especially true when you consider that at any particular point in time there are at least two people on staff there.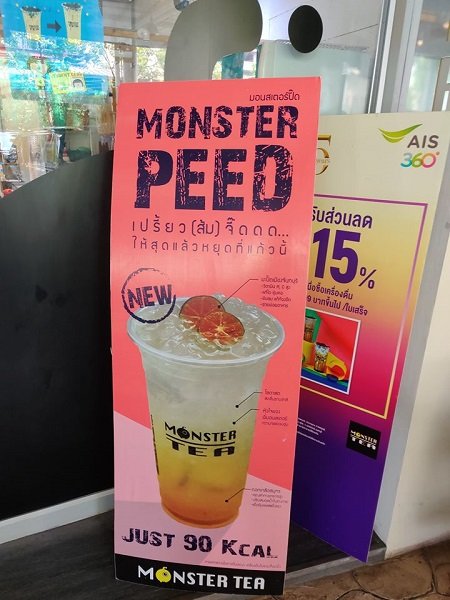 I have never been to Monster Tea, but I do have to say that this sign does catch your eye. While I would be willing to bet that this is an accident naming something after "urine" it is effective in getting you to look at it if English is your first language.
I was tempted to try it just to see what it is all about but there is one caveat if you are ever considering buying pretty much any Thai beverage and that is the relatively insane amount of sugar they add to just about anything. The 90 calories... I don't think I believe that because there is very little truth in advertising in this country.
I'm one of those people that tries to get as little processed sugar in my day-to-day as possible and one of these Monster Peed drinks probably has twice as much as I would normally ingest in an entire day.
So I'll pass for now.