How to Exchange Steem or SBD into Thai Baht
Would you like to read how you can change your Steem or SBD directly into Thai Baht (THB) because if you live in Thailand and want to cash your Steemit rewards this might be the solution you are looking for?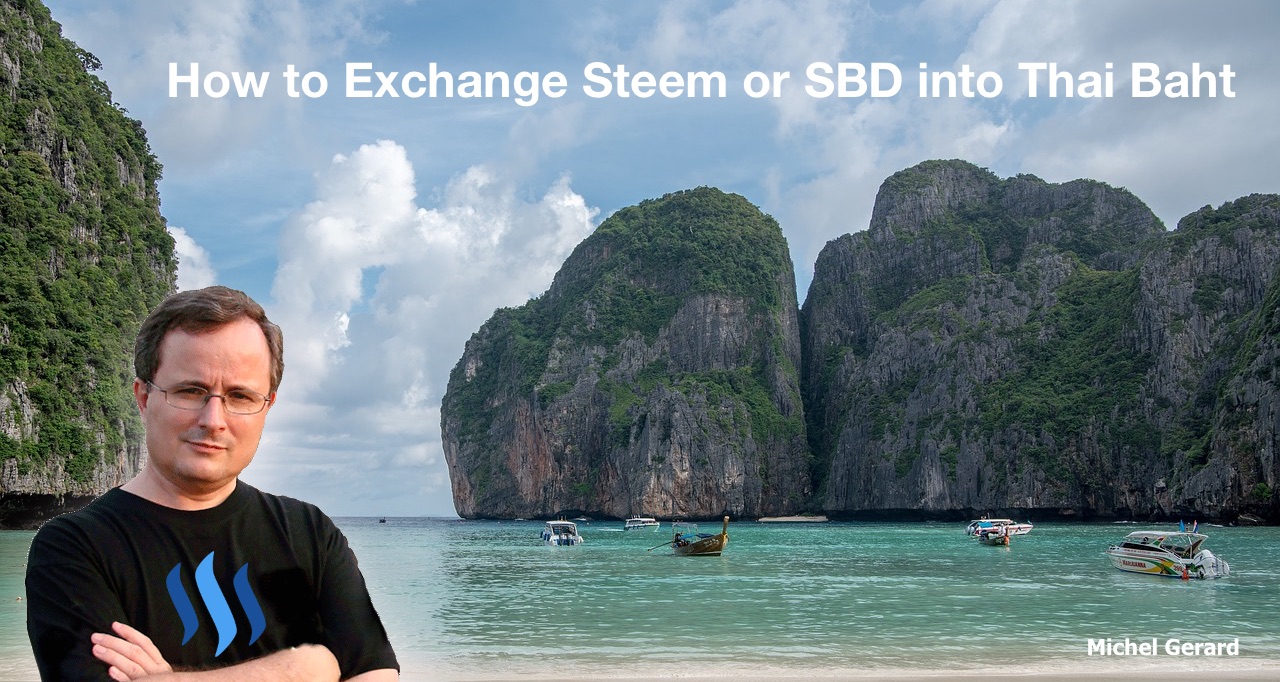 In my first post I showed you step by step how to register for BX.in.th, the Thai cryptocurrency exchange that I am using to transfer money from abroad and save 1,000+ THB in bank fees.
If you are still not registered with BX.in.th, would you please use my referral link to register https://bx.in.th/ref/428Ht5/ because I will get 15% on all trading fees that you pay to them, at no additional cost to you? It is free to join BX.in.th.
>> Read this post: How To Exchange 10 Altcoins Into Thai Baht?
In my second post I showed you how to send Litecoin from Coinbase, or any other LTC wallet, to BX.in.th and exchange it to Thai Baht (THB) that you can withdraw then in your Thai bank account.
>> Read this post: Learn How to Exchange Litecoin into Thai Baht
In this post I'm going to show step by step how to exchange your Steem or Steem Backed Dollars into Thai Baht (THB) in the easiest possible way, that you can withdraw to your Thai bank account.
How to Exchange Steem or SBD into Thai Baht

The purpose of this tutorial is to offer you a way to exchange Steem or SBD without using Bitcoin and cash this in Thai Baht (THB).
The process is simple, we are going to use BlockTrades.us to exchange our Steem or SBD from our wallet on Steemit and exchange it for Litecoin we then send to the BX.in.th Litecoin (LTC) wallet.
If you have Poloniex or Bittrex, what you can only do is change your Steem/SBD into Bitcoin (BTC), and then change again into Litcoin again before sending to BX.in.th, and this is not the fastest or cheapest way.
Let's get started!
Get your Litecoin address in BX.in.th

In order to do the exchange on BX.in.th you first need to be verified and have a Thai bank account approved as well. Read my first post if these steps are not completed: How To Exchange 10 Altcoins Into Thai Baht?
You have to login in BX.in.th and locate your Litecoin address first.
Click the "My Funds" tab and click "Deposit." Scroll down or select "LTC Litecoin" in the menu.

Copy the deposit Litecoin address like you would do for Bitcoin.

That's the LTC address you will send your Litecoin to.
Use BlockTrades to exchange your Steem/SBD into Litecoin 

Now, go to BlockTrades.us and follow these steps. It is preferable to register and login in the site because you will have an history of all your transactions with them. 
Select Steem Dollar at the left (or Steem), and then Litecoin at the right.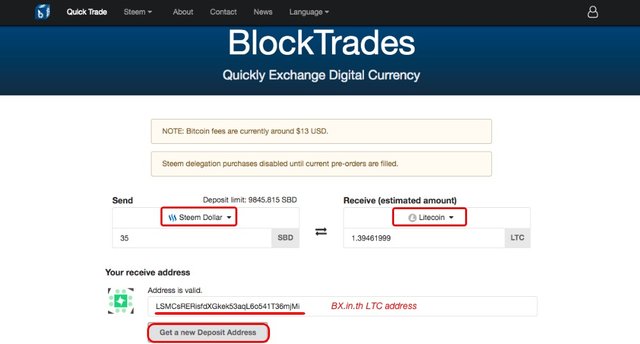 In the receive address, paste your Litecoin address from BX.in.th.
Then click the "Get a new Deposit Address" button.
This shows you the instructions to deposit your SBD.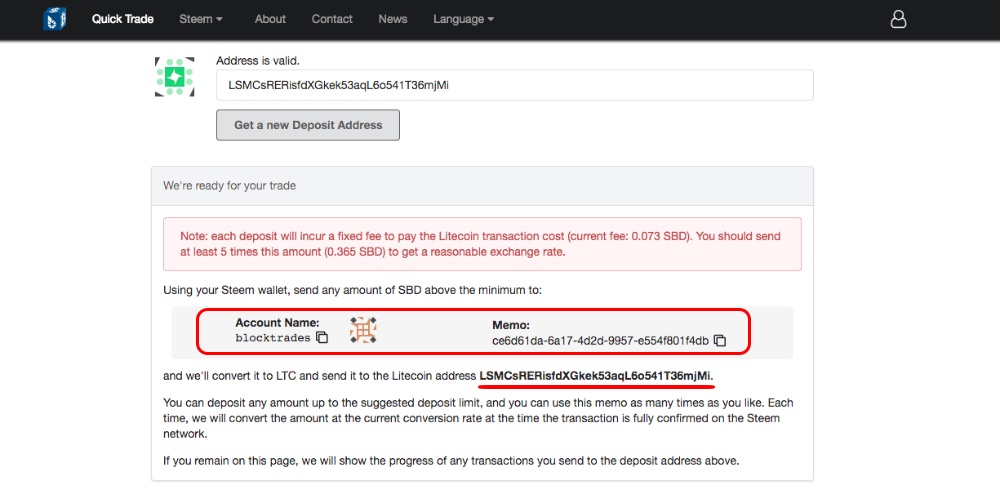 You have to go to your Steemit wallet, and then send your SBD to the account "blocktrades" and the memo that they provide. Verify that the LTC address is correct.
Go to your Steemit wallet and select "Transfer" for the Steem Dollars section.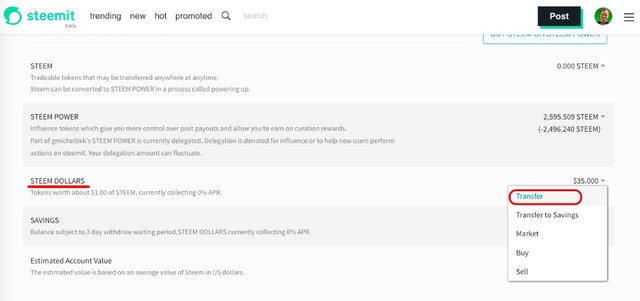 In the next screen, enter "blocktrades" as the recipient, the amount you want to send and the memo they provided.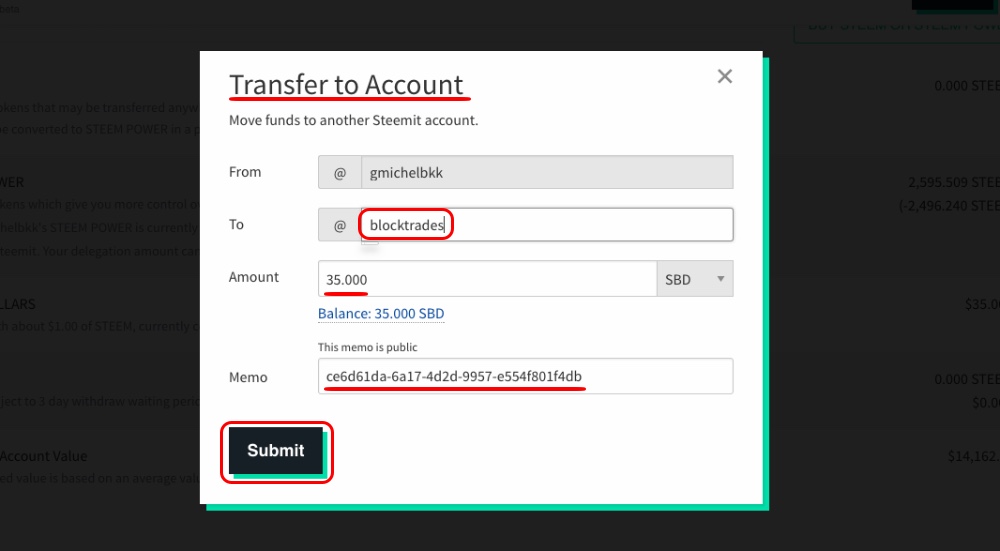 Click "Submit."
Steemit will ask for your password or Active key in order to do the transfer.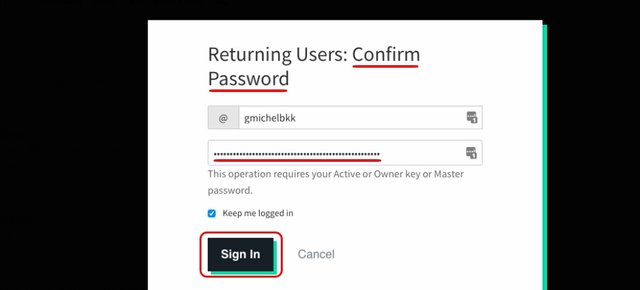 Click "Sign in."
The transfer is done and you will see it in the "History."

BlockTrades.us will show the transaction as completed.

Now what you just did is send your SBD to the BlockTrades account on Steemit and you will not see the transaction processing immediately on BX.in.th as if you sent your LTC directly from your own wallet, like shown in this post: Learn How to Exchange Litecoin into Thai Baht
BlockTrades has to exchange your SBD into LTC and send them to your LTC wallet using the reference in the memo. This takes some time, but 20 minutes later, you should see the transaction completed on BX.in.th.

You will receive an email when the deposit is done.

Now, we are ready to exchange our LTC in Thai Baht (THB).
How to exchange your Litcoin into Thai Baht

Now let's do the exchange.
The first step is to go to the "Trading" tab and click on the "THB Markets."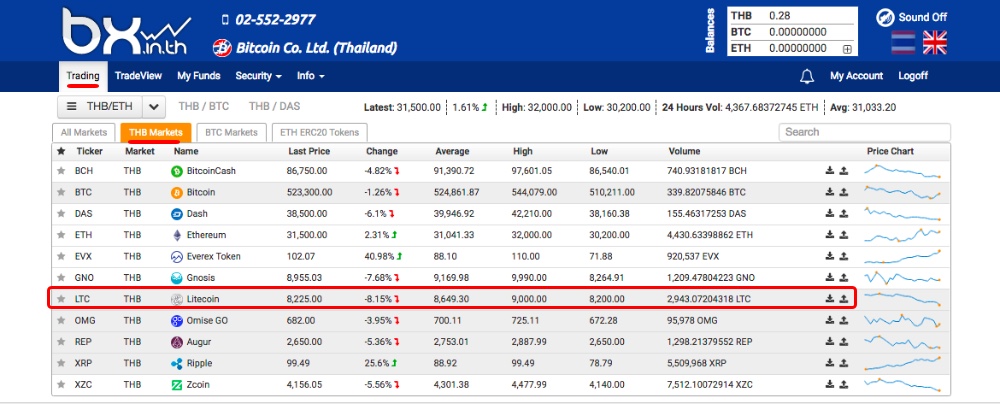 Click on the Litecoin market and create a "Sell" order.
Click on the small "All" link to sell all your Litecoin, and select, "Limit Order."
If you chose "Market Order" it will change at the best rate for you.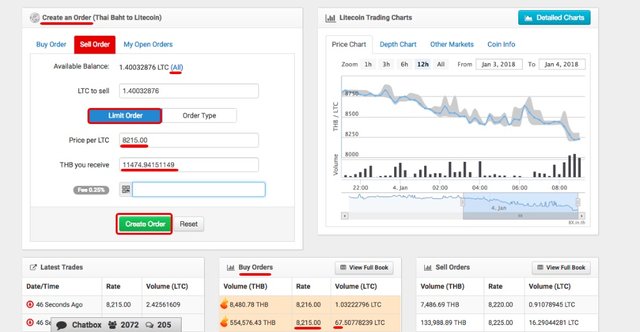 I looked at the buy orders and clicked the second one at 8,215 THB per LTC because they want to buy 67 LTC, which covers my 1.40 LTC sell order, and it's only 1 THB less than the first one.
This populates the price per LTC and gives me 11,474 Thai Baht.
Enter your 2FA code and click "Create Order."
You will have to confirm.

Click "Yes, Confirm Order."
The trade is almost instantaneous and you will receive an email when it's done, as well as a notification on the dashboard.
If you check your balances, you will see it.
You will also see a notification.

An email will be sent to confirm the transaction.

I wanted to see how much in USD I had after the transaction. I sent $350 in SBD, and when I convert 11,482 THB, it's $355.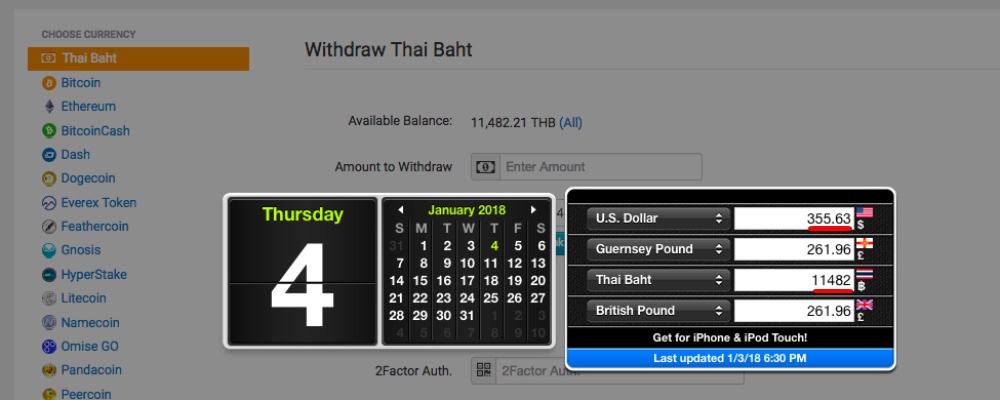 That's $5 more, so the rate is not bad at all. 
How to withdraw your Thai Baht to your Bank account

This is the last step and then your money will be in your bank account. It is relatively fast for BX.in.th to confirm your transfer and send the money to your bank, but depending on your bank it will take several hours to show in your account.
In my last post I used the UOB bank and it took 24 hours, this time I'm using Bangkok Bank and it is much faster. The money showed up the same day, five hours later on the first working day after new year. It can be even faster.
On the "My Funds" tab, click on "Withdraw."
Select the amount you want to withdraw and your Bank account, it will show the small network fee and the final amount you will receive.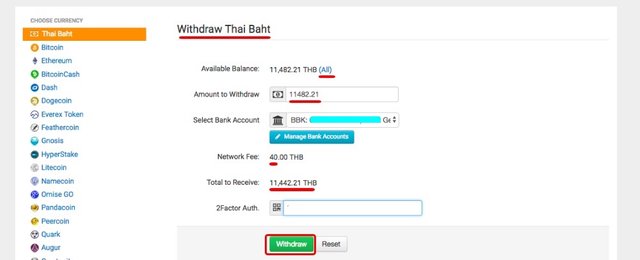 Enter your 2FA code and click "Withdraw."
Then you will see the transaction pending.

You have to check your email and click the link in the message they sent. This is an extra step to make sure you have initiated the withdraw, not someone else.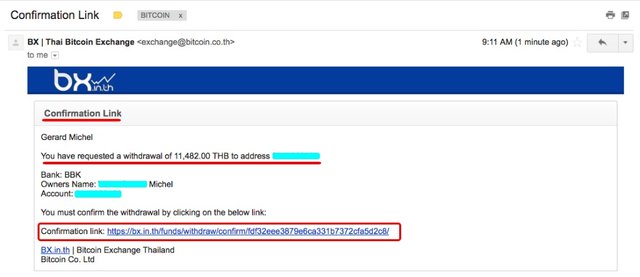 You will then see that it is processing.

When the transfer is done, around 15 minutes later, you will receive an email.

You can also see the status "Completed" under the "Withdrawal History."

I received my Thai Baht (THB) in my Bangkok Bank account the same day, 5 hours later.

Bangkok Bank is much faster than UOB and perhaps other banks. You will have to see how long your bank is taking to credit you the money.
I hope this tutorial is helpful for you. If you have any questions, post a comment below.
Would you upvote this post and follow me for more because this will encourage me to write more tutorials like this one?
Michel Gerard