Thai grilled chicken with Thai suace , after a long time.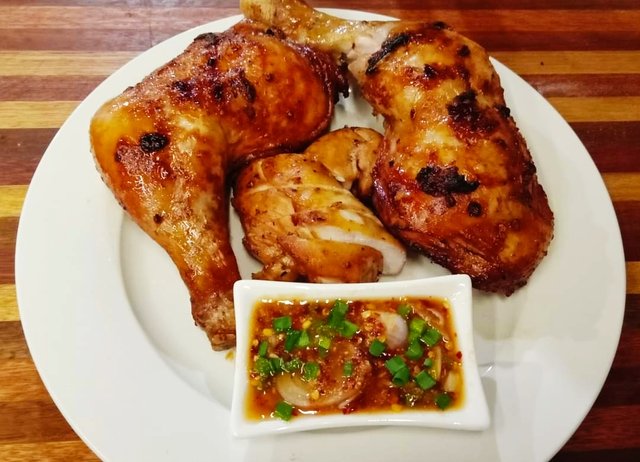 How are you? I hope you are all well. Welcome to my new post, but I have not been able to post,
because I have been very busy for the last few days. I told you my last question,
so from now on I will try to post again. You can see how I made a wonderful Thai Grill Chicken.
I haven't made any more food today. You can see what I made and I will try to tell you the recipe in full detail.
But if you have any questions, you can tell me in the comments. Let me tell you a little bit about ,
how I spent my whole day. I woke up very early in the morning and today because there was a lot of work at home today.
I finished all kinds of work and after that I served breakfast to everyone and the next day. Close it's all you know.
But we have a very different reason here because another announcement made yesterday by our government ,
is that it will be closed tomorrow and a lockdown will be observed from Monday to a week,
except for what is necessary except for emergency things. It has been announced that coronavirus infection,
is spreading very badly and we will be very restrained now and I hope you will abstain from eating outside.
I hope that the current situation in your country or wherever you live is due to me. After breakfast today,
my younger sister and I went to the super shop with Proper Safety to buy a variety of necessities ,
because a week of lockdowns, but I think it will gradually increase. Not going so we bought all kinds of things.
However, the World Health Organization (WHO) has said that another major threat to all of us will,
be the food crisis and that many people will die in it. The simple food I made is the recipe.
Let me tell you a little bit. I hope you understand. I made very few dishes today.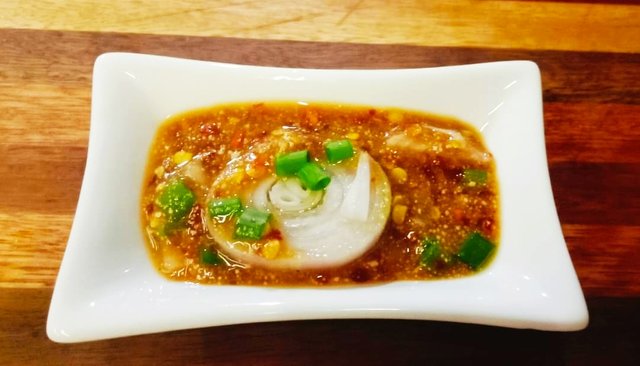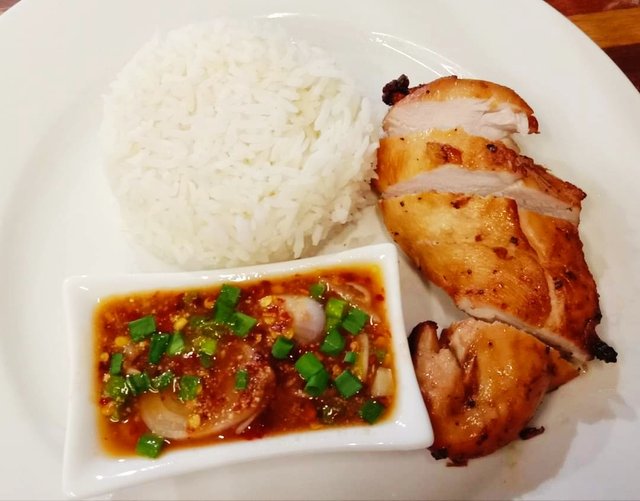 Ingredients at first
2 whole chickens (mine were 1.8 kilos per chicken)
Bamboo sticks or skewers
Charcoal
Grill
For the marinade
4 tablespoons soy sauce
1 tablespoon fish sauce
2 tablespoons palm sugar
1 tablespoon dark sweet soy sauce (substitute some Indonesian kecap manis)
8 tablespoons water
4 heads garlic (30 – 40 cloves)
2 stalks lemongrass
2.5 tablespoons black pepper corns
8 coriander roots
Thai grilled chicken sauce
1.5 tablespoons toasted rice powder (recipe here)
1.5 tablespoons chili flakes
1 tablespoon sugar
3 tablespoons fish sauce
8 tablespoons tamarind watered down (about this amount, but you can add more or less depending on your taste)
Few sprigs of cilantro to garnish
I tried to tell you the whole recipe very well. I hope you all understand and you can see in my picture,
that there was no other recipe to make rice. I hope you like my post and you can eat it in different ways,
if you want. And if you want you can use the ingredients that I have given you to use or you can make,
some changes if you want and if you know a better recipe then you must let me know so those of you who,
have seen my previous post must know that one of our patients There was a hospital where he was,
admitted for a long time. Now he has come to our house and is somewhat healthy.
We thought at first that he had coronavirus but no,
later we have known that he had some heart problem so I hope you all stay healthy and safe.
I hope you all like my post. I will see you again tomorrow