How to use Tezbox Wallet to get your Tezos Tokens - Step by step Guide
How to use Tezbox Wallet to get your Tezos Tokens - Step by step Guide
This is an indepth guide on how to use Tezbox to retrieve your tezos tokens on the betanet ff you have bought during the ICO.
Step 1 : Go to https://tezbox.com/ and below the website you will see two options.
Available on Betanet
Access the online wallet
Available in the chrome web store
Step 2 : Click on the first option it will take you too https://wallet.tezbox.com/#/new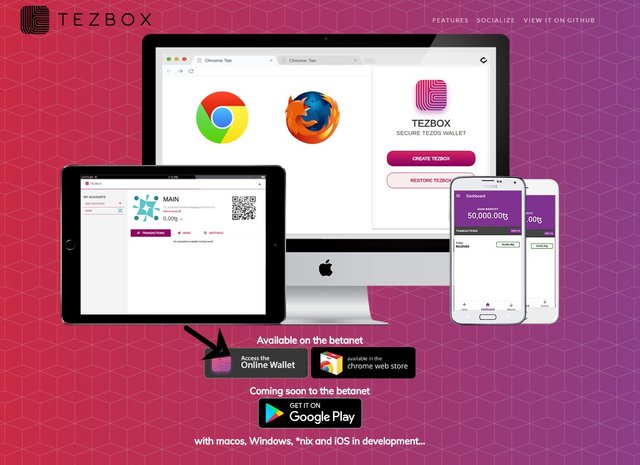 Step 3 : For security reasons make sure there is https is shown in that url and there is a green secure icon shown to the left of the url in your browser ( If you see red don't use this option )
Step 4 : Read and accept the disclaimer by clicking on "I ACCEPT" option.
Now you will be provided with two options
Create Tezbox
Restore Tezbox
Step 5 : For restoring your tezos from your ICO wallet you have to click on the "Restore Tezboz" Option
Step 6 : Then click on the "FUNDRAISER WALLET" Option on the top right corner
Step 7 : Fill in all the details
If you have already activated your wallet with the activation code that you got by completing the KYC you will have to leave this field blank. ( It will show an error if you have entred the Activation code field and if you have already activated using other tool online )
Step 8 : Now after filling the details click on the restore tezbox option. You will now be able to see your tezos on your Tezos wallet address
Step 9 : Now you can either send these tokens to an exchange for trading or delegate to a delegation party to earn tezos rewards or you can even bake on your own if you have 10k tezos.
Step 10 : This is very important . You will be asked for password during this restoration of your tezos wallet.
To access the wallet again you can use the password or you will have to restore again to access your tezos.
Hope this article was helpful. Leave an upvote .
I will be writing more articles about Tezos in the next few days.
Upcoming articles :
How to delegate your tezos to a delegation service.
How to bake tezos on your own if you have 10k tezos