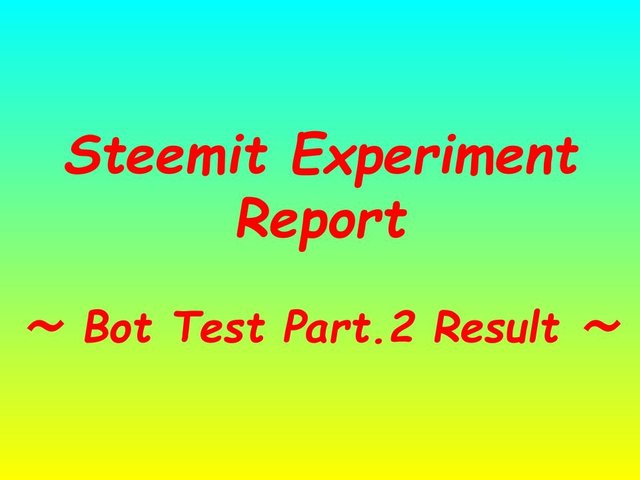 Hello!
The report of the second Bot Test was put together! !
Below, it would be greatly appreciated!
"Bot Test Part 2 Report by Yotaro"
1.Results and discussion
①Differences in upvote due to differences in bot
Basically, I got about the same upvote.
However, there were scenes where @smartsteem was upvoted more than 10% more than a few times.
(Clear cause is unknown)
② Including trend
For life, blog, and cryptocurrency related tags, more STEEM tended to be necessary to get on top of the trend.
(Top classes posted more than a few hundred dollars to over 500 dollars)
On the other hand, tags such as food, art, and travel, in some cases, were impressions that even if it is under 100 dollars, it seems to be aiming for the top trend.
③ Other
Compared with last time, I almost never got to sleep in the middle of the night.
(I was worried, I got up in the middle of the night, several times)
2.Summary
It will be a summary of the past examining the whole test,
It is a feeling that inconsistencies in profit will inevitably come out.
(In this test, there was also a case where it became a substantial deficit)
Using Bot to anticipate a stable posting fee is severe when it is current.
However, if you change your viewpoint and think "paying STEEM as advertising expenses", it will be different.
In other words, using Bot aiming to enter the trend,
I think that the significance of using Bot will come out if more people are asked to see posts.
Also, there were some people who actively took curation reward for my posts.
Personally, I thought that it was possible to build "win-win" relationship by welcome thing.
I also felt that "I made a contribution to circulating STEEM somewhat".
Especially, as the price of the entire cryptocurrency is decreasing now, I think that we could have taken measures to boost even a little.
As a conclusion that I thought in total, I will continue to do it for a while in the direction to post using Bot strategically in the future.
---
こんにちは!
2回目のBot Testのレポートがまとまりました!!
以下、ご覧いただけますと幸いです!
「 Bot Test Part.2 Report by Yotaro」
1.結果、考察
①Botの違いによるupvoteの違いについて
基本的には、同じくらいのupvoteをしてもらいました。
しかし、数回、 @smartsteem の方が、10%以上多く、upvoteしてもらう場面もありました。
(明確な原因は、不明)
②トレンド入り
life,blog,そして、暗号通貨関連のタグは、トレンドの上位に入り込むには、より多くのSTEEMが、必要な傾向にありました。
(トップクラスは、数百ドル〜500ドル以上の投稿が見受けられました)
一方、food,art,travelなどのタグは、場合によっては、100ドル以下でも、トレンド上位を狙えそうな印象でした。
③その他
前回と比べて、夜中に眠れなくなるということは、殆どありませんでした。
(気になって、夜中に起きてしまったことは、何度かありましたが・・・)
2.まとめ
これまでの、テスト全体を振り返っての総括になりますが、
収益のバラツキが、どうしても出てしまう感じです。
(今回のテストで、実質的な赤字になった事例もありました)
Botを使って、安定した投稿報酬を見込むのは、現状だと厳しい印象です。
しかし、見方を変えて「支払ったSTEEMを、広告宣伝費として考える」なら、また違ってきます。
つまり、Botを使って、トレンド入りを目指し、
より多くの人に、投稿を見てもらうということであれば、Botを使う意義が出てくると考えます。
それと、自分の投稿の、キュレーション報酬を、積極的に取りに来てる方が、何人かいらっしゃいましたね。
個人的には、ウェルカムなことで、「win-win」の関係を築けたのではないかと思いました。
また「STEEMを循環させること」に、多少なりとも貢献ができたとも感じました。
特に、今、暗号通貨全体の、相場が下がってますので、少しでも盛り上げるための施策を打てたと思います。
トータルで考えた結論として、今後も、戦略的にBotを使って投稿していく方向で、しばらくやっていこうと思います。