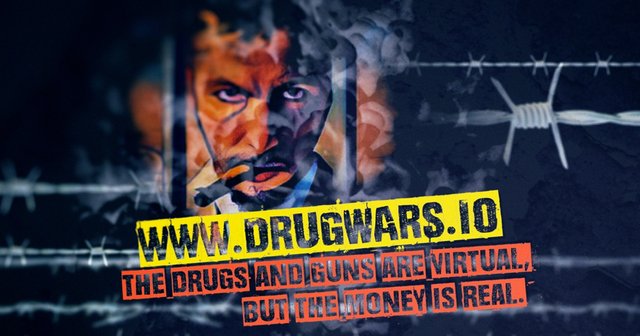 source
Are you a gamer and new to the Steem blockchain? Or are you just like me, who has been on steem for over a year and only recently just realized the existence of some revolutionary decentralized applications built on the blockchain? Or are you a totally unaware about the Steem blockchain and its relative dapps? This post is just for you. One of those revolutionary dapps I'm writing about is the Drugwars, and it's about the hottest thing going on Steem right now.
As a tech lover and Steem blockchain enthusiast, I'm usually quick to follow up on updates and developments in the blockchain, however, Drugwars is one of the dapps that I didn't discover quite as early. Few weeks ago, while surfing the net and checking through the steem's state of the dapps website, - State of the ÐApps is a curated directory of Decentralized Applications, also called ÐApps, on various blockchains. There it was, Drugwars.io, at number 5, with already so much activity going on and growing number of active users. It was worth a try.
Usually, games like Call of Duty, God of War, Far Cry, first person shooter action/adventure games are my go-to type of games, it's all fun and exciting playing these games and going higher in stages while sometimes acquiring a ton of un-usable virtual coins and clout that only ends in my living room. However, the Steem blockchain is revolutionizing that old pattern of gameplay, with the game dapps on steem like the Steem monsters and Drugwars, every player can now be rewarded for their time, effort, strategy and involvement with steem cryptocurrency in real time!
With lush graphics, simple interface, exceptional style of gameplay and exquisite reward system, Drugwars, stands as the highlight and go to game where you can make cool drug money, okay maybe that sounds too illegal, how about, virtual drug - real cool money, sound better? A free to play multiplayer strategy and simulation game on the steem blockchain.
The game is really simple, your objective is to produce as much alcohol, guns, and drugs as possible while building an army alongside which will help you steal other users resources while also protecting yours. You're also going to build your office, storage and manufacturing facilities, you're practically going to become a drug lord, a Pablo, yes and you're going to be rewarded with cool steem for your rascality and endeavours. Are you excited yet?
I have a horrible habbit of not reading through manuals or how-to's especially when it has to do with games, I have an opinion that figuring it out is part of the game and so the first time I played Drugwars, I was pretty lost for most of the time I spent on it. At that time, there were still bugs in the system that needed fixing, some functions were yet to be live and some things just weren't clear, fast forward to now, there are countless improvements which proves a serious and dedicated development team behind the game, almost all bugs have been fixed, the new graphical interface is jaw dropping and the game play will literally make you feel like a drug lord, virtually.
It does not end there, very recently one of the functions which has been the highlight of the game was made to go live. The battle function, this is where you put the army you've been able to raise to work, either in defence of your office and resources or in going to attack other drug lords to loot theirs, which makes you grow your resources faster.
Essentially, the more drugs you are able to produce, the more your rewards in steem. Making drug money in 3D! Also, there is a new option to post your battles at the end of each fight, with at most 3 guaranteed upvotes from the Drugwars community, talk about awesome!For me, I rate Drugwars a 4 star DAPP.
Today, the Drugwars is ranked number 2 in the steems state of dapps list, with a daily record of over 5,000 active users driving close to 2,000 transactions over a 30 days span, it is evident that the game is only a time bomb waiting to explode to the masses given a little more time and promotional effort.


The game can be played through any mobile device with internet connection, but is more enjoyable with a large screened system, a P.C for example. I look forward to the game creating its own native application for mobile devices and the desktop computer as well, and I hope adequate attention and marketing schemes are developed and implemented to help show the world what revolution the Drugwars is.
Okay, enough introduction, how do you get into the game? It's simple, sign up here, I'm a ruthless drug lord right now(virtually) so you stand a chance to be friends with me, I could help you attack your attackers and loot their resources, or better still, turn on you and come for yours.
There's a revolution in the reward system in online gaming industry, Drugwars and Steemmonsters are spearheading this revolution. For some people this is a dream come true, while for others, it's still merely a fantasy, while I leave you to make your choice, I need to go make some virtual drug for real money.
Welcome to the future!