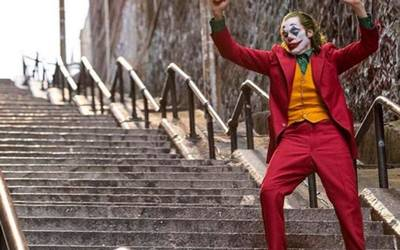 Source img: https: //www.elsoldemexico.com.mx/gossip/joker-pelicula-spoiler-escaleras-existen-joaquin-phoenix-google-maps-4291585.html
Much has been speculated about the Joker movie. Too many interpretations of a political nature prove that people have lost the pleasure of art for art.
Something very bad happens in our society. Very serious. People have lost their innocence. The ability to be happy. The viewer watches a movie, and begins to assemble his own. Ideological blockbusters ready to fit into a narrative. The puzzle for your worldview. A lie introduced with lubricant.
I don't know if the Joker is left or right. It doesn't worry me either. What worries me is the dust of controversy uncovered. A controversy that gut a malaise. A restlessness and an inquina, capable of absorbing broad layers of society.
Joker is a film about oppression The oppression of who? Good question: there are interpretations coming into play. The ideologies It may be the oppression of the individual in a dehumanized scheme; the oppression suffered by the people; the tyranny of the rich; that suffered by involuntary celibates.
A pudding of rages loaded and about to shoot.
Society is trapped and poisoned. Like a bullying boy who accumulates grievances; Go online and contact communities similar to yours. Little by little, he sculpts his hatred and plans his revenge. It is traced with stealth and care.
And one day he executes it.
When will be that day? Nobody knows. It can be in 10 years or tomorrow. The world is a meaningless powder magazine, a charged wick about to explode. Joker fantasizes about destruction, warps her and leads a movement eager to do what she likes so much.
Fire and see the world burn.
Young people today are raised without a purpose. There is nothing offered by the system, capable of satisfying them. The promises of a house and three daily meals could seduce their grandparents, but they have been given to them. They need more. The postmodern world has ripped off their work, ability, religion and study. Today everything is bounded by the economy and politically correct. The woke world.
And there hate is fermented.
Destruction and decay have been taking over the West for years. Europe represents nothing, being an empty geographical demarcation of values. In that scenario, it is logical that radical movements begin to gain weight. Islam gains more positions every day. That which once looked solid, begins to collapse on a house of cards.
Joker talks about the anguish. The nervous tension suffered by the protagonist is vivid for each one of us. Crushed beings about to explode. One day we will do it. In the most unexpected moment and the most unthinkable place. And then chaos will reign.
A sweet drug from which we will not get anything good.