OpenAI from Elon Musk won against world's best Dota 2 players!
During the Valve's yearly Dota 2 tournament a bot from Elon Musk-backed startup OpenAI won the game against E-sports players.
They claim the AI learned to play the game in 2 weeks.
Two Weeks of constantly playing the game and learning using a neural network.
So what basicly happened is that the AI played the game a lot of times, constantly keeping track of what it was doing wrong and avoid making these mistakes again,...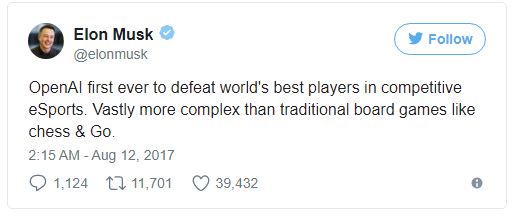 This is a big achievement for the AI technology!
And shows us how advanced our systems are already. 🚀