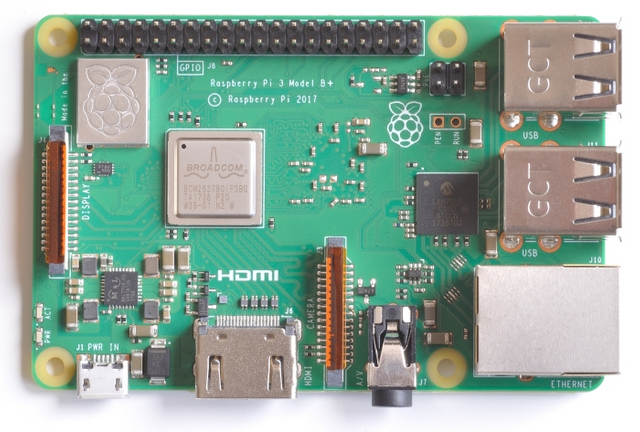 Raspberry Pi Foundation announced a new Raspberry Pi, not a huge improvement over the Pi 3 but some nice improvements that make it definitely worth the extra $0.00 over the existing Pi 3.
Yup, the price is still $35 for this marvel!
There are no huge improvements with the Raspberry Pi 3B+. The Raspberry Pi Foundation isn't really focused on the consumer Raspberry Pi line anymore and more focused on embedded applications.
What's new?
CPU
The Raspberry Pi is cheap because almost all the functionality is contained in one chip. The CPU is basically the same as the Pi 3 but has been improved to allow for higher clock rates. The Pi 3B+ is a quad 1.4GHz CPU, a 200Mhz improvement over the Pi3. To do this they had to improve the cooling as the Pi 3 was significantly hotter than the Pi 2.
Wifi
The Pi 3B+ now supports 802.11ac wireless, which means it has 5GHz support. This results in higher speeds and less interference from microwaves and certain pieces of equipment. It also means it has shorter range and doesn't go through walls as well. 2.4GHz is still supported.
Ethernet
One of the biggest improvements is the Ethernet performance. As the Pi uses a single chip for the CPU, USB, Ethernet, and more, it can not support 1GBit Ethernet, it didn't even do 100 Mbit well (capped out around 60 MBit real life performance).
The Pi 3B+ now supports 1GBit Ethernet at a reduced rate, only 330MHz. Roughly 1/3rd 1Gbit potential speeds. This is a huge improvement over 60Mbit but still falls short of most systems these days. Still very usable for a $35 computer.
PoE
Finally!! Power over Ethernet, one thing that would really make the Pi amazing. Unfortunately, it isn't ready yet and is not included on the main board. BOO! Apparently, the PoE functionality will be an added module down the road.
Overall, it's a disappointing upgrade for those looking for a breakthrough improvement on the Pi. Likely why it is a Pi 3B+ and not a Pi 4. With the improvements of the Pi 3 (USD & Network Boot) and PoE, it makes a powerful device where you want to deploy many of these without outlets and hard disks. These two features are much bigger deal for some applications than most would assume.
Performance improvements are around 13% according to testers who got the device early.
While I plan on getting a few of these to replace my current Raspberry Pi's on my 3D printers, Home Theater System, and Game Consoles, I am disappointed it isn't a Pi 4. My biggest gripe about the Pi is the bus speed is so terribly slow even high-speed 95Mb/s SD cards run as slow as 0.50 MB/s during random writes. There are only two available cards I would ever recommend for a Pi as almost all of them perform very poorly with the underpowered SD bus. The small improvement of the Samsung EVO+ (first choice) and Sandisk Ultra Extreme results in a huge real-world performance improvement. Faster Ethernet is a really nice improvement and was much needed. I was really hoping for 4K but I know that's a pipe dream at this point as major improvements to the Raspberry Pi won't likely ever happen anytime soon.
The best part, true to their mission, the Raspberry Pi Foundation kept the price at $35. I highly recommend this device to anyone that has any interest in programming or electronics (or both!). It is an amazing device and makes fantastic gifts for children and even better bonding experiences for parents.
It will be a while before you can get your hands on the Pi 3B+ unless you live in the UK but it will be worth the wait. If this is your first Pi, you might want to try to snag a cheap Pi 3 that will likely be available cheap.
Image property of Raspberry Pi Foundation.

Witness & Administrator of four full nodes
X48EJ

My recent popular posts
The truth and lies about 25% curation, why what you know is FAKE NEWS
WTF is a hardware wallet, and why should you have one?
GINABOT - The Secret to your Sanity on Steemit
How to calculate post rewards
Use SSH all the time? Time for a big boy SSH Client
How to change your recovery account
How curation rewards work and how to be a kick ass curator
Markdown 101 - How to make kick ass posts on Steemit
Work ON your business, not in your business! - How to succeed as a small business
You are not entitled to an audience, you need to earn it!
How to properly setup SSH Key Authentication - If you are logging into your server with root, you are doing it wrong!
Building a Portable Game Console