Hi everyone,
Today, I've released v1.1 of SteemPoster: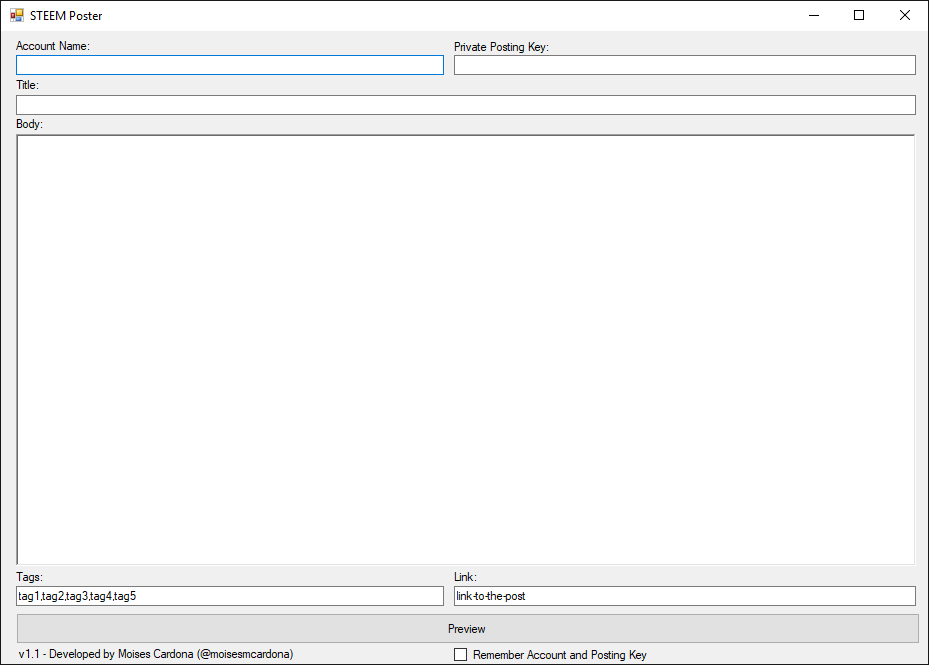 This release fixes the TabIndex of the elements so when you press the Tab key, you'll move to the next field correctly. This release also fixes a problem that the version number and the CheckBox to remember the username and posting key were not moved correctly when maximizing the window. Now the GUI (Graphical User Interface) will look correctly when maximized and you can write your posts without any issues.
SteemPoster is a simple software for the Windows operating system that allows you to write your posts right from your desktop. You don't need to login in order to use the software. Just place your account username and Private Posting Key and write your post! You can even set a customized link for your post!
The software is open sourced and can be downloaded from GitHub right here: https://github.com/moisesmcardona/SteemPoster/releases/tag/v1.1
Source Code: https://github.com/moisesmcardona/SteemPoster
Hope you enjoy another great software release by me! Shall you have any questions or comments, let me know in the comments.
---
Remember that I'm a Witness! Read more about it over here and if you liked this post, remember to vote for me!
Go here to vote for me and type my name as shown below: