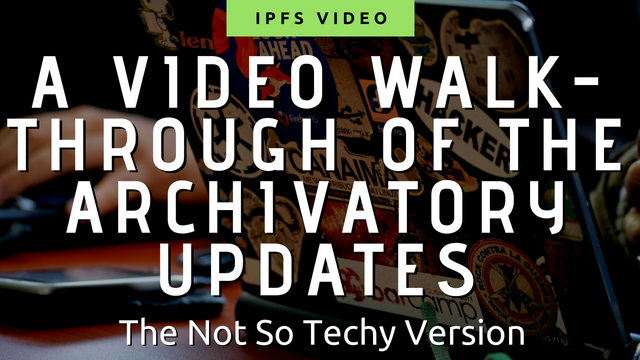 ---
The full Utopian update post gets much more in depth as to how these features work and the code behind them. In this video, you get none of that and solely see the updates in action. It has already been a crazy ride since starting up this project, and I'm excited to see what comes of it as time progresses.
The future updates will include features like RSS feeds, Playlists, ability to delete content, user account deletion, and user profile pages to display content and playlists. If you have an idea that you would like to see implemented into Archivatory, please let us know in our Discord Chat. You should also make it a @utopian-io post following this template to earn some extra STEEM.
If you want to start up a personal Archivatory server, there will be a script in the coming weeks that will set up as much as possible for an Ubuntu Server (probably based on 16.04). There are some settings that you will have to manually adjust in the php.ini file to accommodate for the size of the data you plan to upload.
My goal is to make this a federated service because what's the point of using all these cool apps if everything hinges on a single server. The makers of IPFS also are working on a cryptocurrency that will pay out to users "selling" their storage space to the IPFS network called Filecoin. If that gets out to the public in a timely fashion, it may be better to go that route for storage but only time will tell.
Thanks For Watching!
All images came from royalty and attribution free sources unless specified.
---
Looking to take your Steem based creations to the next level?
Join us over at the Creators' Guild Discord group! We are here to encourage, support and increase the creation of quality content.
---
If you have any questions about the future of Steem
or my witness please feel free to message jrswab#3134 on Discord.

Click here to vote with SteemConnect!
Or go to https://steemit.com/~witnesses
You can see all active witnesses on @drakos' steemian.info
---
Click here to join the mailing list and get exclusive SDB/STEEM giveaways!
Looking to support my content creation efforts outside of the Steem Blockchain?
Check out jrswab.com/support
---
Mastodon | Keybase | Twitter | Gitlab | Hacker Culture Podcast