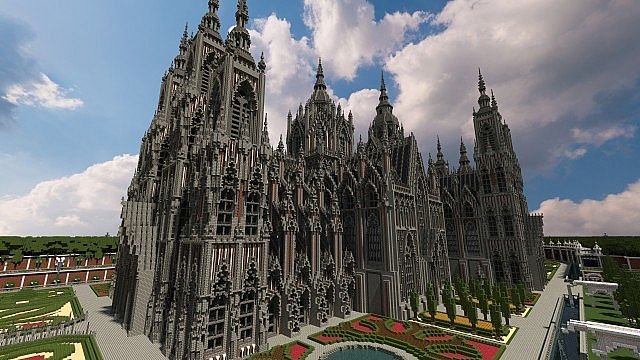 Why are beautiful buildings now mostly constructed digitally, like here in Minecraft? Source
Todays buildings are build slow, expensive and need much skilled labor. That is mostly because every building is made from similar ground material: bricks, mortar, rebar, drywall and some wood. These parts have to be assembled with high accuracy for each part. The labor needed for this is highly specialised.
This can be compared to manufacturing of cars before the invention of the assembly line by Ford. Each car was assembled by few people, that knew every single step.
This leap can be translated to housing construction with pre manufactured buildings. It is already for smaller house construction and it just recently started with high rises by Broad Sustainable Building (BSB).
If you read this report, you will get an idea about the benefits and a glimps in the construction market in the next decades. I will refrain from going into detail about it here.
The caveat is that, even thought they are cheap and fast to build, these buildings mostly look all the same and are very boring, except for their size and the technical details for nerds.
Example: Impressively fast construction (or rather assembly) of a rather boring tower.
How to build beautiful buildings?
A building can be made beautiful by involving fractal geometry, that simulates the beauty of infinity in nature. Fractals are repeating patterns that seems to have a relaxing effect on the human brain. Maybe they are easier to process in the human brain and thus invoke a familiar feeling.
To solve this problem the principles of gothic architecture could be used, wich is base on fractals and proportions. To start of, the whole building is constructed using proportions: Without any calculators, the builders could use geometrical drawing to reconstruct shapes and proportions as needed. Today all needed measurements are given to the millimeter, but this certainly was not possible in the middle ages.


Construction Ad Quadratum and Ad Triangulum: (left) Milan Cathedral plan and section, (middle) partial section at Chartres Cathedral, and (right) Viollet-le-Duc's cross-section of Notre-Dame in Paris. Source
Construction from proportions has a wonderful benefit: Expanding a building can be done by keeping the proportions. This keeps it symmetrical and balanced.
Most of the churches in Europe were build in stages over centuries, keeping the proportions, and thus the different construction episodes hard to distinguish.
Geometrical Precision
Since gothic architecture is heavily based on geometrical rules, it is possible to have a model computer generated through procedural generation.
Speedchurch: A CAD program for procedural generation of gothic architecture.
Expanding on this method, the ground model could be generated. After that different aspects are changed: A big window here, increasing the size of a tower. More and more details could be added, to transform the generic model into a unique piece of art.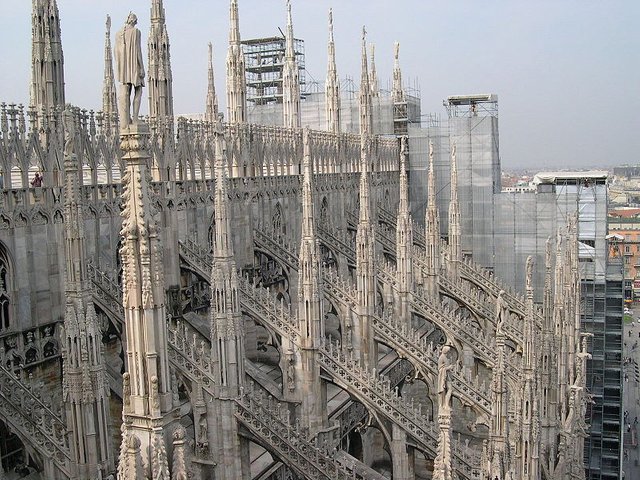 Milan Cathedral: Repeating details Are kept over different proportions. Source
Every small detail would be automatically designed by the algorithm, strict after the geometrical principles that were defined previously.
Once the model fits the wishes of the constructor, it could be calculated into building modules. These would be similar to those used by BSB: They include piping, plumbing, electricity, walls, floors, ect. and one or more of them fit on a truck.
Conclusion
A beautiful building design could be generated in a computer, send to a factory for prefabrication and build in just a few days.
It would be aesthetically pleasing, cheap, robust against earthquakes (as claimed by broad sustainable building) and designed individually to the constructors wishes.
Thank you for reading!
---
If you like this article, I would be very happy if you did me a favor and resteem it!
Follow me also for more on Engineering and Technology.
---
When you are interested in building your own product, read my 13 Steps to your Product.
If you have further questions, feel free to contact me on: