For a long time now, Facebook has refused to introduce a dislike button. Back in 2015 Mark Zuckerberg the CEO of facebook responded to a question about his refusal saying:
"We didn't want to build a dislike button because we don't want to turn facebook into a community where people are voting up and down on people's posts".

But today screenshots revealing a new down vote button on Facebook, began circulating on twitter. Although the company have officially comfirmed the test to "Tech Crunch". But politely request that this new feature should not be mistaken for a dislike button.
Here's the statement Facebook provided:
"We are not testing a dislike button. We are exploring a new feature for users to give us feedback about comments on public page posts. This is currently running for about 5% of users in the U.S. only."
5% of English based facebook users in the U.S. by my maths implies that about 10-million people are seeing this right now.
According to Facebook, this is a short-term test that doesn't affect the ranking of the comment, post, or Page. It's designed as a way to give feedback to Facebook, not the commenter, and there will be no publicly visible count of how many down votes a comment gets.
How Facebook Down Votes works:
Most of us probably might have associated the idea of down votes with Steemit. But Facebook's down vote feature isn't quite the same. Instead of being used to burry irrelevant contents it is rather used to notify Facebook.

When clicked you're asked to required to report if comment is "offensive", "misleading", "off-topic" or inappropriate in any other form. The motive behind this is to enable facebook check if the comment is irrelevant or questionable I.e fake news etc.
Below is the down vote button in a comment thread with what happens when you click on it. Screenshots from "Christina Hudler".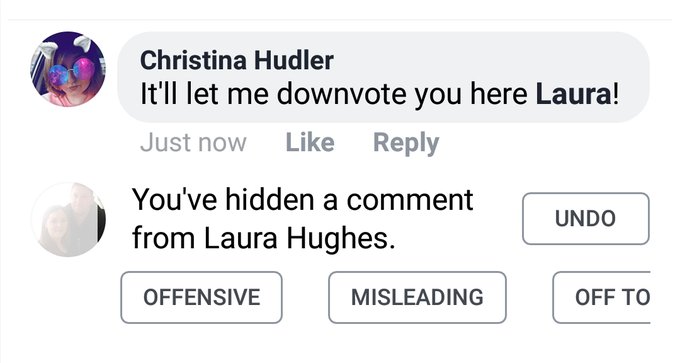 In my opinion depicting the fact that the the new Facebook "down vote" button does not carry out the action we associate with down vote. The name Facebook has chosen for it might not be best.
Well there's probably more to it than revealed. As it still remain unclear how this new "downvote" button differ from the Report button that allows you to flag posts and comments for abuse (aside from simply being more visible).
Thanks for reading😇👍.
Please feel free to comment and share your opinions concerning this new facebook down vote button.
Please upvote if you like this post, resteem if you think your followers will like it as well and...
To receive facts, motivation, technological and crypto-news🙂.