Google chrome browser has completed 10 years on 1 Sep 2018. It was launched 10 years back on 1 Sep 2008. It was launched with a tag line "A fresh take on the browser" and it was posted by Sundar Pichai the CEO of Google company. At that time, he was Vice president of Google product management. This product called Google Chrome browser is highly popular in its category. Prior to Chrome launch in 2008 there were only two known browser options were available. One was Microsoft Internet Explorer and another Mozilla Firefox. Apple safari was also being used by people but wasn't so popular.
This was the time when Google was trying to increase its presence and it was not like today. After the launch of Chrome, the way we used to surf internet is changed. Personally, I have been using Chrome browser since 2008 and now I only use chrome. Even in my MacBook I use Chrome instead of Safari.
I liked the data sync in multiple devices through same login and this was something introduced by Google only. Since the beginning many things have changes in the browser which are mentioned below-
Clean and better user Interface: When chrome was launched in 2008, it was the only browser with clean and user-friendly interface. However, internet explorer was quite different as compare to it.
Chrome browser works so fast and it continues the same. It's even faster than Mozilla Firefox. If we do compare between leader Microsoft Internet explorer, then chrome was 56 times faster than IE. Internet explorer could never get the same position after chrome launch and continued to stay behind.
Chrome offered many options to users which were not available earlier. There was no option like "Incognito Mode" and its introduced by google only. Apart from it ad blocking feature in chrome also grabbed huge attention of internet users.
If we talk about current market share, then currently chrome run in approximately 60% PC across the world and Microsoft have 12% market share after Google. The best part of it is that its uses Google ecosystem. Once you do login in in chrome browser then you can access any of google service with just a single click.
Now it offers multiple user login option and there is a password manager as well which can be accessed anywhere and and its an awesome feature.
On 1 Sep 2018, there was tweet shared through Chrome twitter handle that it's their birthday and they are planning for bigger surprise for users and it will be announced tomorrow on Tuesday 4 Sep 2018. There are high chances that they might change the design of chrome browser as it's been a long time since the major changes happened to its design.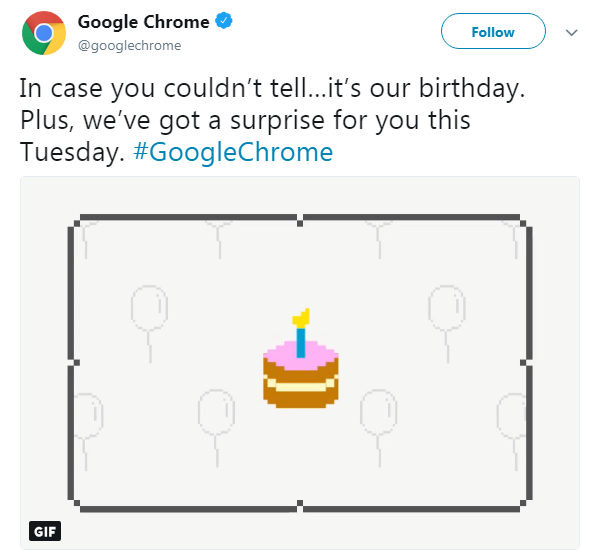 Have a great time.
Thank you.
Follow: @alokkumar121