I'm back with my most ambitious indicator yet :)
This combines my previous indicators and adds new features to help detect trend changes early.
When used with a 1hr timeframe (or modified yourself - see source) it can show you the 1 week average steem usd price that steemit uses internally !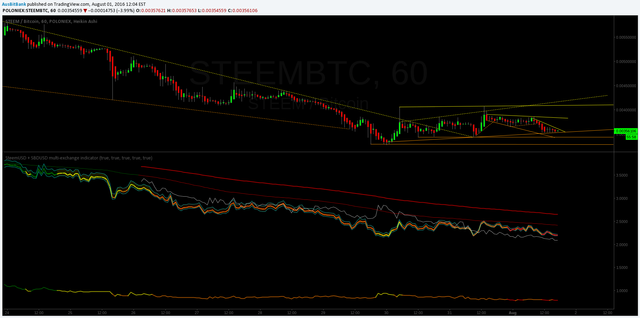 https://www.tradingview.com/chart/SkINGKNk
View the chart above to see it in action, along with my updated trendlines for STEEM .
You can save the indicator to your tradingview favourites or examine the source here
https://www.tradingview.com/script/hmDV95Ap-SteemUSD-SBDUSD-multi-exchange-indicator/
You can fullscreen the indicator by double-clicking in the background for a better view, and you can click the little gear icon next to its name to customize it to your liking.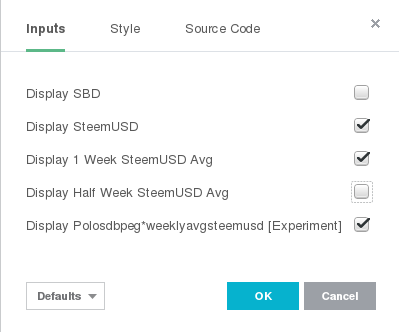 Hide SBD for a more detailed view of SteemUSD movements - colored according to SBD value
I've also added a bonus experiment I've been messing around with, shows up as a white line by default. I need more time with it, but it may show possible ideal trading times between Steem/SBD to not get bitten by the discount or premium.
I hope steemit finds this valuable , I will keep experimenting to try to find more useful visual tools to help make sense of this market :)
Please leave your feedback and/or feature requests. What would you like to see me make next ?

Happy trading people! Upvote if you find my posts useful

@ausbitbank
and my partner
@krystle
!
Donate to wikileaks via
@steemleak