The sound of my baby crying woke me up very early in the morning. When I looked up the clock, it was only 3 a.m. She was hungry, I know, so I fed her and put her back to sleep.
As for me, I tried really hard to go back to bed and fall asleep but it only frustrated me. I couldn't let myself sleep anymore. When I lifted the curtain up, all I could see was darkness outside the window.
Then I asked myself, "Why?"
Maybe I was just sooo excited to spend another quality time alone with my ex-boyfriend, now my husband. Maybe I was just a little bit too overwhelmed when my husband asked me out. And lastly, I was really so excited to eat at a newly opened restaurant in the mall.
I did many things just to kill the time. I played games on my phone, visited my favorite apps and watched my babies soundly sleeping. When I felt stiffness on my neck I tried to stand and walked towards the kitchen. When I opened the window, the sight of the beautiful sunrise has greeted me. What a wonderful start of my day!
Before we left the house, my hubby asked if we should go or not since thick clouds were already starting to form. But of course, I won the argument so we headed towards the city.
But after just more or less 30-minute travel, just halfway through the city, we got stranded because raindrops started to fall. The sound of the rain pouring through the roof of the waiting shed and the cool air made me so frustrated.
I'M Soooo Coooold!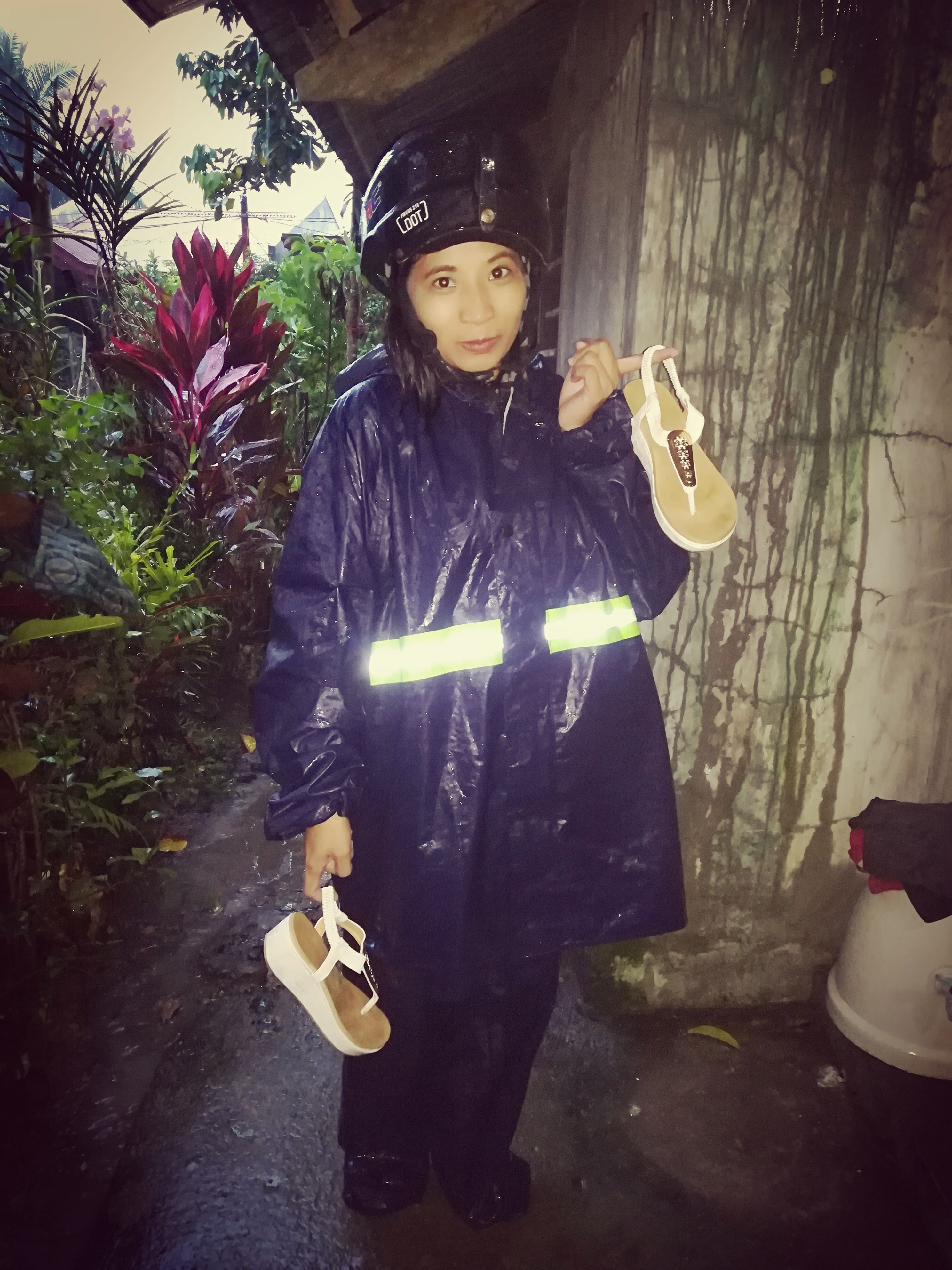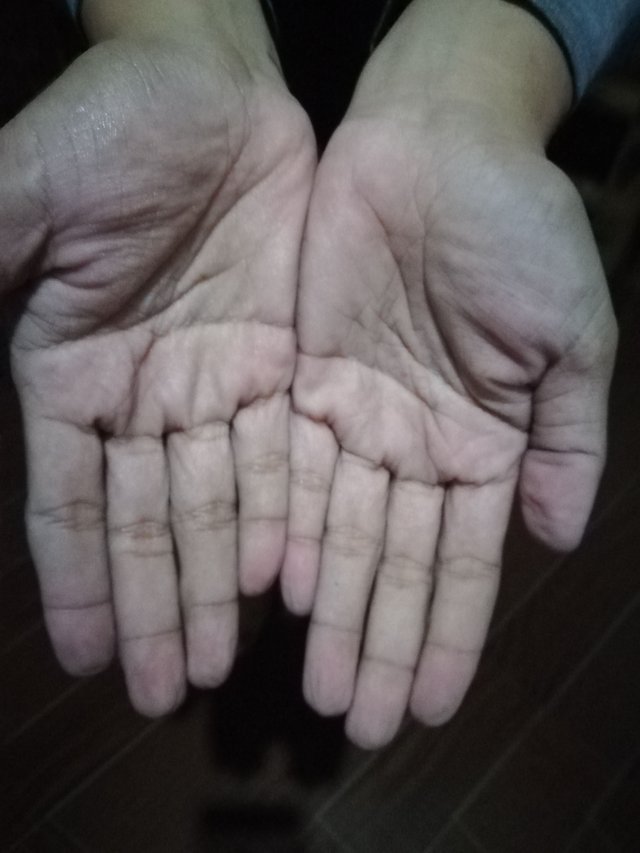 We spent almost two hours for our first stop, then another 30 minutes on our second stop. When we checked our time, it was almost 5 p.m. Then when we tried to examine the sky condition, we already know that the rain will not stop soon. It was already getting late so we were left with no choice but to turn around and just go home.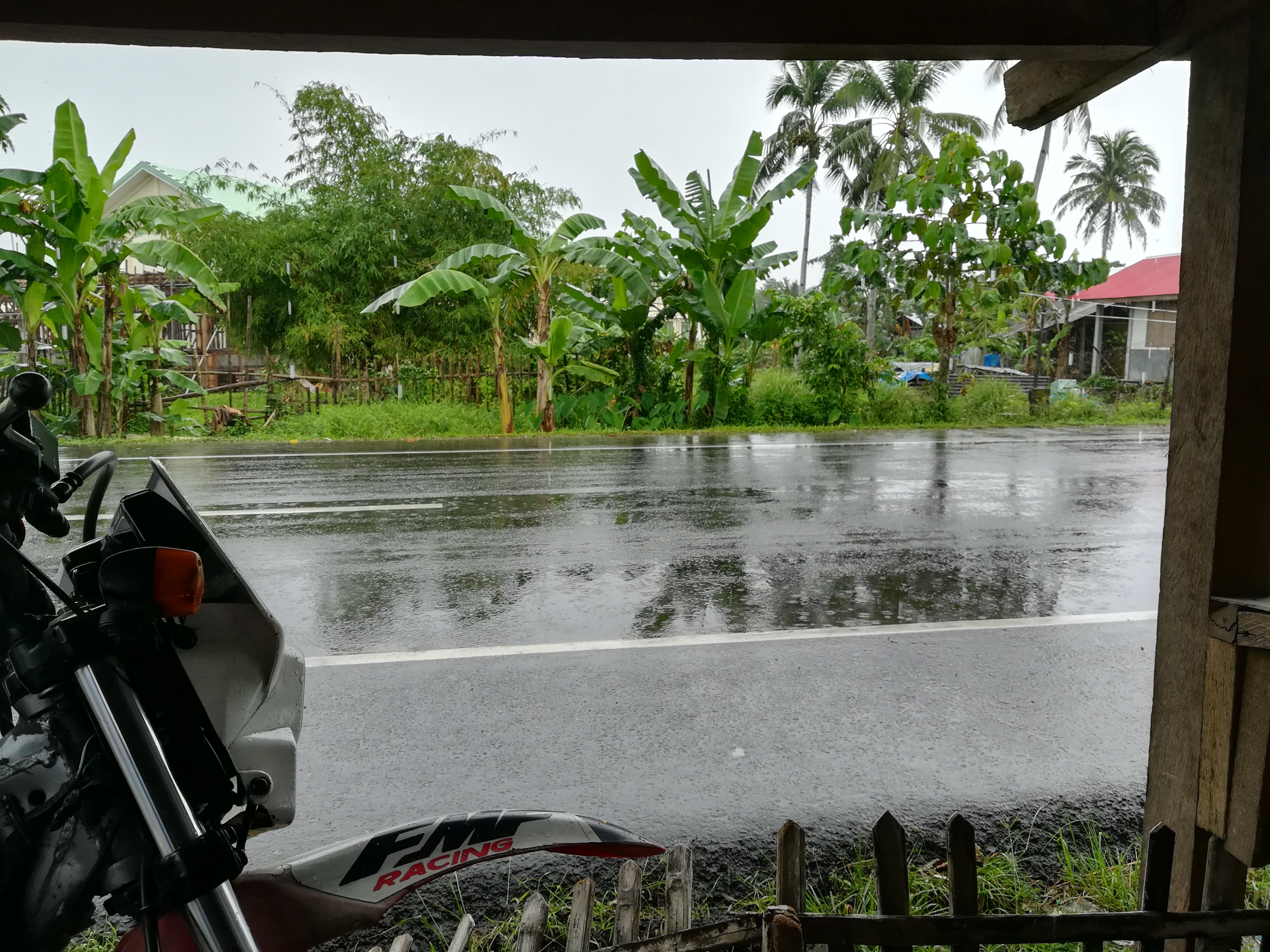 Yes, I was definitely heartbroken.
When we were on our way home, the rain was still pouring so hard. I was sooo sorry for my husband because we were only able to bring 1 set of raincoat and he let me use it. So he was totally wet from head to foot when we arrived home. I also took off my brand new sandals which he bought for me so I was riding our motorcycle barefooted.
The raindrops falling on my cheeks were like knives and blades. I felt as if they were piercing through my skin. How much more for my husband since he was the one driving.
Then, all of a sudden, I heard my husband singing, shouting then laughing as he was driving. I asked him why. He just said that he was already feeling cold and he was sorry we were not able to push through with our plan.
Guess what happened next?
Well, I joined him in singing under the rain while traveling. Who would have thought it could still bring simple happiness and fun ride?
Yes, we just tried to enjoy our roadtrip under the rain. Our trip back home was filled with songs and laughters and of course a shivering experience.
Lesson Learned:
For the Girls
Sometimes it is also good to let your husband win in an argument. hahahah
If only I listened to him before heading out, we could have spent more fun moment with each other even just at home.
For everyone
Do not be frustrated over some bad things that may happen to you. Don't feel so down. You should always try to look at your struggles on their brighter side. It is all up to you on how well you handle your own situation. Always remember to be thankful for all the things that are given to you, may it be a blessing or an obstacle, because they would only make you stronger and a better you.
Thanks for reading.
Follow me @yanzel4lyf.
Our mentor @surpassinggoogle has been very supportive of our group #SteemitDiversify and other groups too. Please support him as a witness by voting him at https://steemit.com/~witnesses and type in "steemgigs" at the first search box.
If you want to give him witness voting decisions on your behalf, visit https://steemit.com/~witnesses again and type in "surpassinggoogle" in the second box as a proxy.
Others that we should support are: @henry-gant, @kenny-crane, @beanz, @teamsteem, @good-karma, @busy.org, @esteemapp, @hr1, @arcange @bayanihan, @acidyo, @anomadsoul, @steemitph, @jerrybanfield, @darthnava, @paradise-found, @geetharao, @stephenkendal and @richq11; they also have supported us; also the many others who have visited My posts. Pls. support them too. Thank you very much.
I am grateful for them and for everyone who has helped me and my friends.
Special thanks also to @iwrite and @purpledaisy for your support and guidance. God bless you more.😍