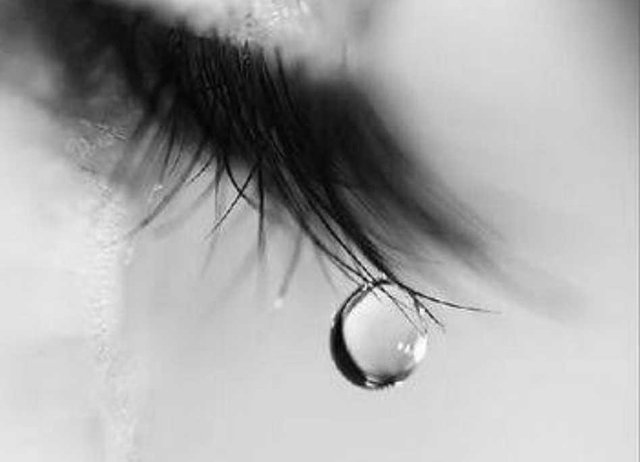 [pixabay]
Wednesday September 11, 2013 my father died, I never thought this happened, the accident took my father's life, I saw my father's unusual figure, I can not see him anymore because his body has been covered in green cloth, I try to hold back these tears because people say we can not cry because the rain out there is the cry of your father. He says my father is much sadder than I am.
But I'm crazy I'm depressed I want to kill myself, everyone says "Adek patiently, ikhlasin your dad let cool just a prayer that you can do now". "Silence you, you do not know how I feel, see the person I care about in the world lying lifeless". The last word I did not hear, you do not know, for months I did not see my father, with hp alone I eliminate my longing but once I meet in a lifeless state. God this wound is painful, he said god dear to his creatures but why is this god.
My father is not breathing anymore
My father has gone, my mother alone. Why do you leave too soon to leave us who do not know obedience, leaving us who need guidance, to achieve success. We can only pray, that you will be welled.
Ever since my father died, the house was like a ship. And the crew did not know anything. We are his children. Like a chicken there is no parent. Wonderful memories together. Lost forever. Like an endless storm. If that's what I remember. I want to cry. Until my tears run out. I want to scream.
Father…
Let me ask. If this is the will of power. I can only surrender. And say. Goodbye father. Now this injury hit me, wounds that can not be healed, even with a doctor though, I screamed even I mencubik my body many times my father will not return. I see the headstone bearing my father's name, "That's my father's name. If this life may be for my father, I sincerely dying to leave this world forever but unfortunately this is the will of god ".
The process of burial, yes my father will be input in this land, this is my destiny my father went never I thought, it was like to see my father put in the ground made me unable to hold back tears I was helpless to stand up again I fell but not fell because of tripping but I fell because I could not hold the wound, the body feels helpless, my blood does not flow if God wants me to die also let me be with my father.
The funeral is over, the rain came down, I went back to the house to see my house was full of crying and crying, my mother hysterical and my brother slept helpless and I was just pensive to see in the middle of this ceramic my father no longer, I think I want to die alone, I want my dad to take me off with him. I want to sleep so I can dream my father when I sleep I dreamed my father sat with a smile but I am strange I can not approach him I can only see, my father is not talking is also really strange ".
Is it true in my dream that my father, or if it is just a flower bed, I woke up and that's when I was pensive to eat was not tasteful. On the eve of the night everyone reads yasin, now I read yasin for my dad who has died. I did not hear my father's footsteps again, "I do not have a father anymore !!!!!!".
Now all I can do is pray for my father. God please take my life, give the same person who needs me do not need this life that I need to meet my father is nearby.
Day after day passed this is the night of my father's 40th day, yes read yasin but this time yasin its different, the difference because there is a picture of my father, I cry again because I can not forget my father. This injury is so painful I will not know when it will heal. God is another choice in my life
I pass this past few days, I reflect on it the longer I get my father. When I got sick I was driving my father to take me to the doctor, I was afraid to run my life now, a life that just breathes no more beautiful stories. Sometimes I dream but the unknown dream just feel there is my father in my dream.
I laughed to cover up my wound, I tried to close my ears when my friends friends are proud of his father, I try to close my eyes when my friends at his father Dipesantren dipengantren. Our Lord says we should not be jealous of others. But I beg God to forgive me because I envy my friend but not that I am not jealous of the stuff he has but I envy him because they have a father.
God thou shalt tempt the creatures not beyond his ability. But if I can be honest God I can not pass this trial, I must be sincere yes I am sincerely God for the sake of my father's composure. But if may ask me do not want to live in the world of your creation is ya God I saturated God does not mean I oppose you but I actually appreciate you ya god I do not want to trouble you every prayer I pray always complain to you. But if you do not want to take my life this is an option for me Lord. The choice to choose between the present and the past when you rotate that time I will choose to return to God's past. The time when I was still living without pain, a time when I can still cry because of emotion. Not because of the sadness of seeing my father facing you.
I try to accept life and fate, it can look messy, mysterious, fantastic and sporadic, but every element is the regular subsystem of a perfect holistic design. Receiving life means accepting the fact that nothing small happens by chance. This is an undeniable fact of creation. If life is like a railway in Einsten's relativity experiment, the experience after experience that strikes us from time to time is the dull light in the carriage above this
The experimental analogy is nothing else, the speed of light is equal and absolute, and the relative time depends on the speed of the carriage. Then the same experience can happen to anyone, but to what extent, and as quickly as what the same experience was to teach a person, the results will be different, relative to each other.