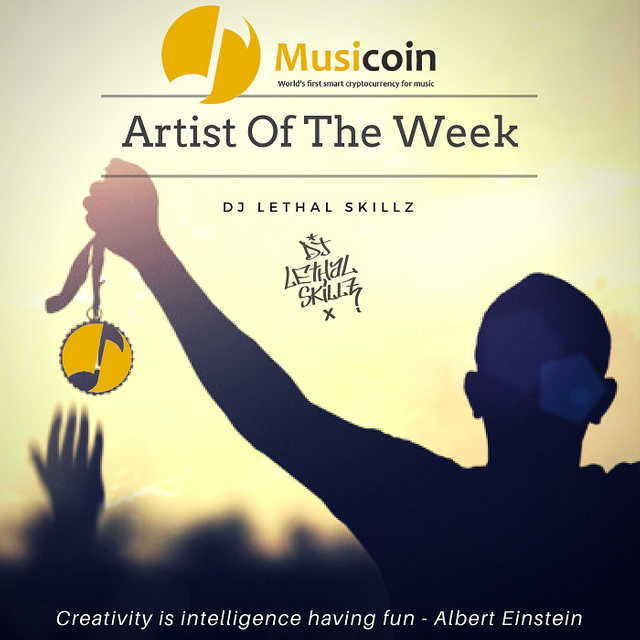 Creativity is intelligence having fun - Albert Einstein
What a great day to be alive!
#blessed
Woke up today to find out that i have been selected and featured as the 'Artist of the Week' on one of my personal favorite decentralized blockchain platform for musicians @Musicoin!!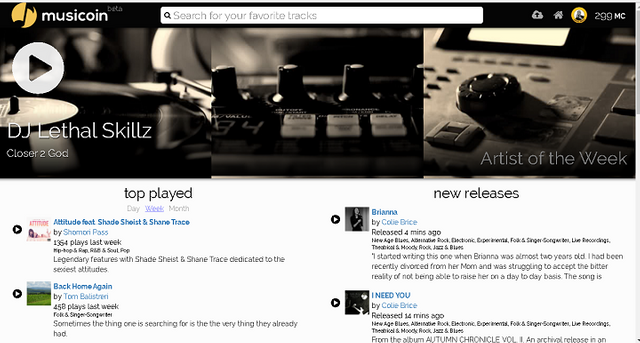 On top of that i got rewarded with a whole bunch of Musicoin crypto, and saw lots of new tweets coming, followers and listeners which translates to extra support in exposure, plays and earning from my music.

Here you can check my Musicoin music catalog and have an idea and feel about this amazing revolutionary platfrom that is going to storm the blockchain and revolutionize the way musicians earn instantly back on their hard work creating beautiful music.
---
Since i joined the community and the blockchain world as a musician not knowing much about anything, I have been on a daily quest researching, learning and testing several decentralized blockchain solutions for musicians in order to find a way to break out of the current corrupt monopoly of the given state in our Music Industry (middle man) and find other platforms that can help me grow as an artist, find like minded people and earn from my musical works.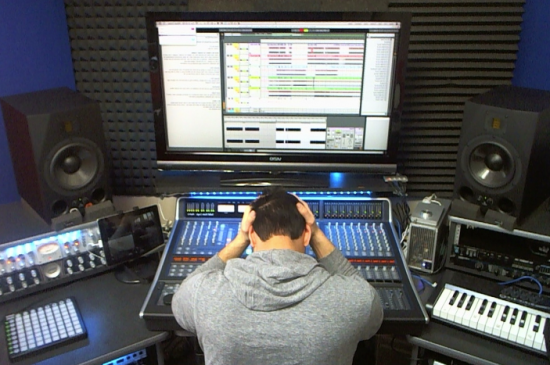 Throughout my blessed overwhelming journey so far on the blockchain which is couple of months only with not much sleep .... i have been sharing and spreading the word about my journey as a musician on the blockchain and the learning and findings found using several means from blogging, writing guides to How to's to bug hunting (Links will be shared at the end) and submitting in our lovely Steemit community and through another great open source community @utopian-io .
---
Why @Musicoin?? At the moment there is over 1,500 verified independent musicians, producers bands and labels using the Musicoin platform and the catalog is growing daily.
From my experience til date testing several decentralized musician solutions on the blockchain Musicoin is the best so far as it enables artists to License, Publish, and Promote their music instantly and directly without the need of the corrupt current industry Middle Men that eats up more then half of the musicians earnings and hard work just we can put our music out not to forget the cost associated to do so is huge which for start up musicians it is impossible to have a proper outlet to promote their music and grow.
Adding to what i mentioned Musicoin is the fastest rewarding platform as you earn money (Musicoin) instantly as soon as a listener hits play on your song, also it provides your listeners the option to tip the artist if they like his music.
Earnings you make are Musicoin crypto (MUSIC) that you can later convert to any other crypto currency or Fiat money...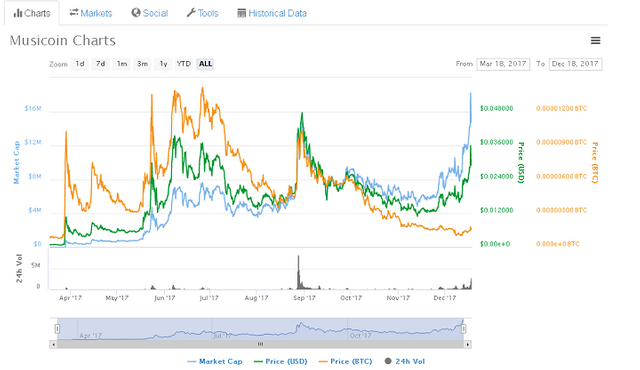 taken from coinmarketcap.com
The value of Musicoin started climbing already and it's going to keep climbing as more people join and support the musicians on the blockchain platform.
---
Now i'm taking it to the next level with the help of a great man that i met recently @bitrocker2020 and #Teammalaysia family by having my first own Musicians on the Blockchain Workshop in Malaysia this coming Friday in the hopes of adding value to the community and assist fellow musicians to grow and earn by sharing my knowledge to see this beautiful ecosystem growing and improving.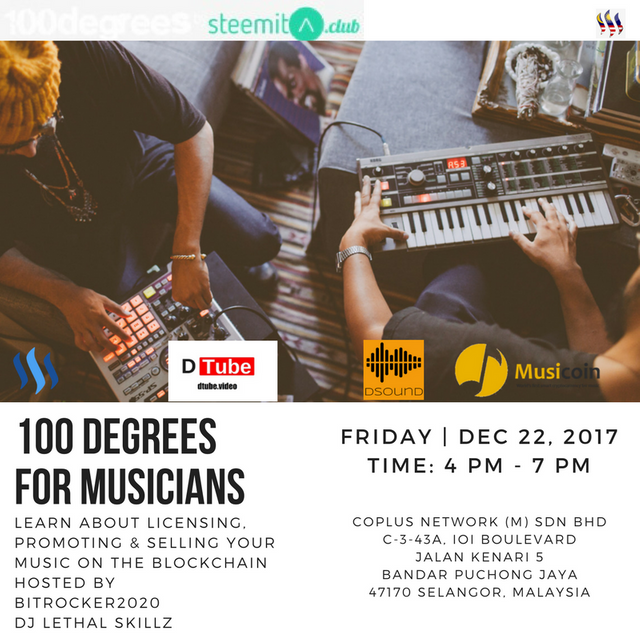 The workshop is Free and open to all Malaysia musicians community to join.
---
WORKSHOP PROGRAMME:
3.30pm
Registration starts
4.00pm
A quick intro to Steemit and some case studies (including how a simple group photo taken can make money by the end of 2 hours!)
5.00pm
Q&A and next steps
6.00pm
Networking, Check on how much everyone is making (yes, you too, if you wrote a post on Steemit)
Workshop Agenda
Steemit Platform that rewards content curators (@Steemit)
Musicians Platforms on the Blockchain (@Dsound, @Dtube
How to start on the Music side of the Blockchain
How to License, Distribute & Sell your Music (Musicoin)
Make Money from your hard work creating music
The places are limited so we have created a Registration Form and more in depth details on the workshop agenda and context on the below link :
https://www.eventbrite.com/e/100-degrees-for-musicians-registration-41274609468
---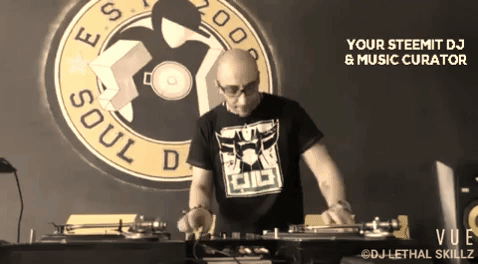 I wanna give a shoutout to da brotha from anotha @vandigital the man who introduced me to the Blockchain and motivated me to join the Steemit community, also extended shout out and big Thank you to all our Steemians in the community for their knowledge sharing and support they showed me so far @krazykrista @akrid @freedomexists and the whole @whaleshares family, @Musicoin family for their revolutionary works for musicians on the blockchain, @prc for the amazing @Dsound all @Dtube Team, @bitrocker2020 and whole #teammalaysia for the love and support, @chiefmappster for the amazing space he created in the community for producers like myself and helped me get more inspired and expand my network with like minded people, not to forget @seveaux and the whole Steemit Music Alliance family #SMA and anyone else i forgot to mention ....
---
Ending 2017 with a Bang and for more community building and elevation to come for 2018 God's willing!
Wishing you all a merry Christmas for those who celebrate and blessed holidays and a Happy new Year full of great health and success to come.
Thank you for taking the time to read, and please do not hesitate to hit me up if you like to know more about anything i mentioned above or would like to support our initiatives.
---
Blessing and Kudos to you all!
Steem On!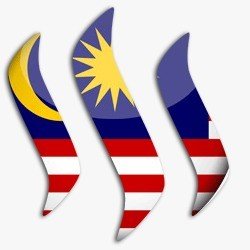 ---
Additional Useful Links :
The Musicians Quick Start Guide On The Blockchain #1 | Blockchain Solutions & Communities for Musicians
The Musicians Quick Start Guide On The Blockchain #2 | OPEN YOUR MUSICOIN ACCOUNT & UPLOAD YOUR FIRST SONG
The Blockchain Musicians Guide #3: How To Transfer Your 'Musicoin' To Your 'Bittrex Wallet'
Suggestion for Musicoin 'Add Playlists, Spotlight and Grouping Tracks Feature'
The Hip Hop Blockchain Revolution Won't Be Televised | To The Moon
'DJ TIPS SERIES' w/ DJ Lethal Skillz #1 | INSIGHT ON 'SERATO DJ SAMPLER' & FREE GOODIES OF FREE SOUNDS & FX
Today was not a Good Day .... It was a GREAT DAY! | #TeamMalaysia 100 DEGREES for Musicians
Introducing: Steemit Record Pool | It's Time to Curate Great Music
Music producers and vocalists looking for each other? Come join the community
Steemit Music League Challenge Week #9 Results
Beat Battle League Week #15 Update