Hello there to all my fellow Steemians,
I've been actively involved with my Steemit community for more than 3 months and during our last casual meetup last month, our community has decided that it is time for us to organize a charity drive as part of our community's initiative to give something back to the people. I was chosen to look into this programme but unfortunately, due to my work commitments, I was unable to execute the task as properly or as best that I can.
I am really grateful to have my trusted fellow Steemian friends who helped me to carve out a plan and do the recce at San Damiano. Many thanks to @veenang, @chanelcalestus, @haroldmark86, @viverridae, @matthewdoughty and our very own Steem Ambassador @danieldoughty. Special thanks to @birtocker2020 for his words of encouragement and guidance for this programme too.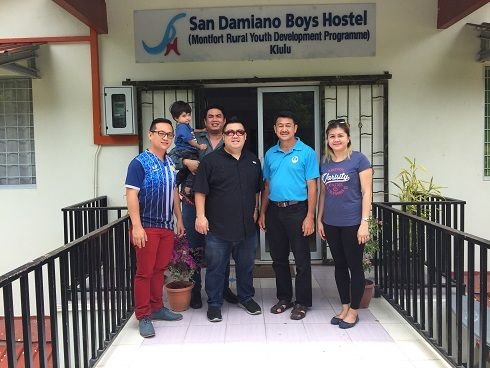 Picture Courtesy of @veenang
When we first started, we line up a few locations and the type of charity work that we should perform, we trimmed it down and at last chose San Damiano as our very first destination. For more insights about San Damiano, kindly refer to @veenang Introductory post at this LINK
Our Goal
We set a goal of RM3000.00 (USD775.00), nonetheless looking at Steem/SBD rates now, it seems quite an uphill task. We would like to encourage everyone who is reading this to support this charity drive. When we had the meeting with warden Vincent, he informed us of some of the items that are needed urgently such as:

Rice (Beras)
Dark / Light Soya Sauce, Salt/Sugar, Tomato / Chilli Sauce
Milo / Nestum / Coffee Powder
Sweet Condensed Milk
Kaya Spread / Peanut Butter
Cooking Oil
Assorted Biscuits
Eggs / Flour
Dish Washing/Clothes Detergent
Apart from purchasing these essential goods, we will also be organizing a special treat for the boys - a simple luncheon and some gifts for the lucky winner of activities and games.
We have pledged, that whatever we were able to make from our post about this Charity Drive for San Damiano, will be 100% contributed to support this initiative. If you are interested to support, please kindly do the following instructions.
Upvote and resteem this post
You may also transfer SBD or Steem to @myach with the memo: Charity Drive San Damiano
Cash Money contribution is also accepted, please contact me @beverlyjoe, @veenang or @danieldoughty to arrange the methods of remittance .
Note: the @myach account is safeguarded by Proxy Witness @bitrocker2020 who pledged to use this platform to serve the community and doing projects such as this.
We really appreciate your kindness, support and contributions. Thank you in advance.