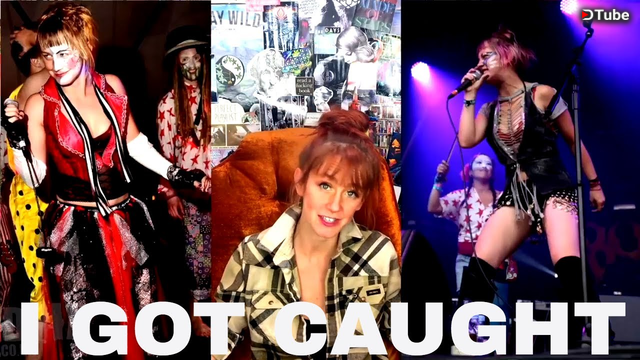 ---
How to Run a Con: Travel Ban Edition
Want to learn from my Travel mistakes so you don't have to make them? Download my FREE guide here: http://mythicalmillenial.ontrapages.com/
✭
Hi all! This is my very first Dtube adventure in uploading. This video is done in the Storytime style that I so adore on. . .
drops voice to stage whisper
". . . YouTube. . . "
One of many stories about my personal trial and travails as a solo female traveler, reformed Hippy, and former Circus Freak :)
I'm curious about this platform of epic potential (Dtube), and I wonder if this sort of content can find a home here? I'm going to make a concerted effort to post a video per day for the next month, and see what we can make of it together as a community. I'm not even sure I have the proper marked down style locked in, but it's all about Process over Perfectionism in these parts, right fam?
Won't you come join me for the ride? ;)
And if anyone has ANY ADVICE WHATSOEVER about Dtube, Dlive, and video content on the Steem Blockchain in general, PLEASE please plllleeeeeeaaase do share!
✭
I am sharing these stories for the sake of those who need not make the mistakes these stories often highlight.
These stories are told with the intention of bringing light to otherwise unknown angles and ideas, in the hopes of protecting young ladies and allowing for conversations that might otherwise be frightening, uncomfortable, or unconventional to take place. I am by no means intending to glorify odd, counter-cultural, or self-destructive behavior, but to discuss it openly. If I laugh, smile, or otherwise indicate humor or enjoyment, this is because memory and emotion are tricky, nebulous things.
These stories are hear-say, warped in the way that personal subjective perspective and time can dramatize anything. There is no evidentiary value or intention to cause harm in the creation and dispersal of these videos.
Saying you did a thing is not the same as doing it.
According to: "corpus delicti" (body of the wrong) rule:
"These statements in a video aren't "confessions" without the additional details, like time and place, to identify a specific crime. An important detail to add is the reason these details are needed: without them, the Double Jeopardy rule cannot be guaranteed."
SOOOO don't go boxing me in, mate.
In case you dwell with one foot on either side of the divide, and move among those of us who call the entire internet our domain, come find me on:
✩ ✩ (those other) SOCIAL MEDIA ✩ ✩
✭ ▶SUBSCRIBE!
✭ https://www.youtube.com/channel/UCPgho-_TIMH0-BnIfL9WCiA
✭ ▶FOLLOW ME ON INSTAGRAM: @stirlingmoriah
✭ https://www.instagram.com/stirlingmoriah/
✭ ▶FOLLOW ME ON TWITTER: @StirlingMoriah
✭ https://twitter.com/StirlingMoriah
✭ ▶FOLLOW ME ON FACEBOOK: @StirlingMoriah
✭ https://facebook.com/StirlingMoriah
✭ ▶PINTEREST:
https://www.pinterest.com/stirlingmoriah/
✩ DEPOP ✩
✭ @basicbitchcraft
✭ https://www.depop.com/basicbitchcraft/
If you're interesting, I'll probably follow you back ;)
✭
✭
✭
---
I do not own the music in this video. All credits go to the rightful owners. No copyright intended.
Copyright Disclaimer Under Section 107 of the Copyright Act 1976, allowance is made for "fair use" for purposes such as criticism, comment, news reporting, teaching, scholarship, and research. Fair use is a use permitted by copyright statute that might otherwise be infringing. Non-profit, educational or personal use tips the balance in favor of fair use.
---
You can check out my second ever Dtube video, and the next part in this series:
How to Make Friends:
https://steemit.com/adsactly/@stirling/jeehkb00
And this conversation on how humor translates across cultures and why we learn what we do about other places in the world:
https://steemit.com/teamgirlpowa/@stirling/3nv20zas

---
▶️ DTube
▶️ IPFS