Liquid paradigm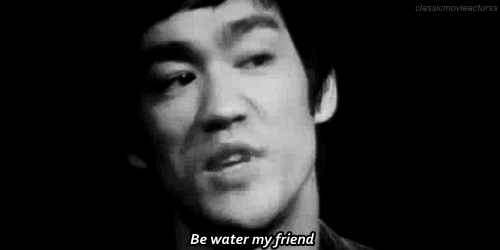 What do I mean by the concept of "liquid platform"? This is merely a re-articulation of the concept of self amendment and self definition. In other words it is very much like an autopoietic design. Bruce Lee once said to "be like water", and the reason is because water can adapt to any environment it is placed it by taking the form of the container it is put into.
So by liquid paradigm I mean that the core feature of true next generation platform design is going to be focused on maximum adaptability.
Feedback loops and the virtuous cycle

How can we have a platform which promotes continuous self improvement? If you have a platform with no hard coded "self" then even the design of the platform is under constant negotiation and creation. This is key because it means Tauchain will be able to adapt quicker than all other competing platforms. Quicker than Tezos because Tezos merely provides self amendment but lacks the virtuous cycle, the meta language, etc.
The Tau Meta Language allows for self definition at the level of languages. This means even the communication mechanism between humans and machines can be updated continuously. This continuous updating is the key design breakthrough of Tauchain because it means Tauchain will always be state of the art in any area. Think of a platform like Wikipedia where anyone can update any part of it in real time continuously so that every part of it is always the state of the art.
Starting at languages, the feedback loop can be created between humans and intelligent machines. Humans must make decision on how to design Tau. These design decisions benefit from the virtuous cycle due to the feedback loop between humans and machines allowing the decision making ability itself to be upgraded. This could even allow for the humans to transcend traditional human capabilities by relying on intelligent machines to assist in design which means better future designs, which means better decision making, which means better future designs which leads to better decision making, this represents the "virtuous cycle" by way of a feedback loop between humans to machines to humans to machines to humans etc. The humans improve the quality of the machines by feeding knowledge, feeding new algorithms, feeding just enough for the machines to become intelligent enough to help the humans to help the machines even more efficiently in the next iteration of Tauchain, over and over again.
Humans and machines will seek more good and less bad for the formal specification of Tau itself. Good and bad designs will be defined collaboratively by the human participants by way of intelligent discussion. As discussion scales, bigger crowds means more human minds involved, which means improved design, which leads eventually to a better and perhaps wiser Tau, which of course would lead to wiser even more intelligent discussions, which can lead to an improved formal specification, and to a better Tau. So that is a loop. It is also a loop between improving Tau, improving society, improving Tau, improving society.
References