Yana Gogo : gogo.tattoo/gogo/design/money_girl
Money girl
gogo.tattoo/gogo/design/money_girl


Today is Free Money Day.
Free Money Day is an annual, global event held since 2011 as a social experiment and to promote sharing and alternative economic ideas.

The day is held annually on September 15, the anniversary of the Lehman Brothers' 2008 filing for bankruptcy. Participants offer their own money to passing strangers at public places, two coins or notes at a time. Recipients are asked to pass on one of the notes or coins to someone else. 68 events were held in 2011.On one past Free Money Day, according to the official website, 138 Free Money Day events were held in 24 countries. In 2012, it was planned to give $3,500 in cash to strangers globally. The money is given without obligation; it is hoped that the event and the transactions will stimulate conversations about the role of money in society, increase awareness about debt and make people think about their "relationship with money". People invented their own methods to give away money. Coffee shop and video rental owners did not charge people for their services and asked them to give the amount to a stranger. In one case a person left a ₤10 note on a toilet seat and tweeted that "it would be the happiest bathroom visit someone will ever have".
The event is initiated/organized by the Post Growth Institute and the global coordinator is Donnie Maclurcan, a co-founder of the Post Growth Institute. In describing the motivation for the event, Maclurcan is quoted as saying "We are looking to alternative economic futures where we don't need to keep growing economically ... One of Post Growth's missions is to promote a steady-state economy or one that remains at a stable size rather than growing more."
wiki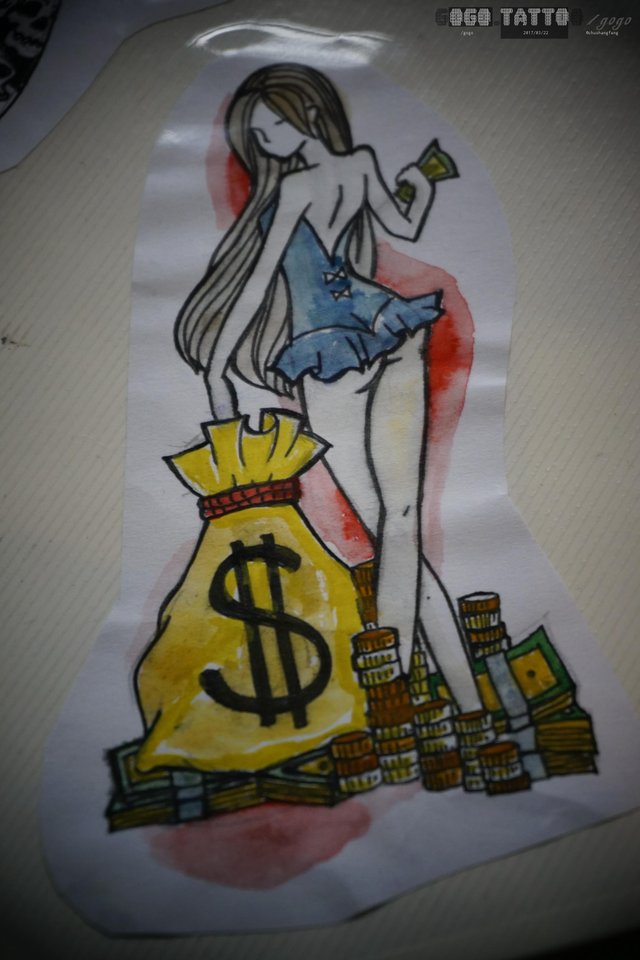 ---
gogo.tattoo/gogo/design/money_girl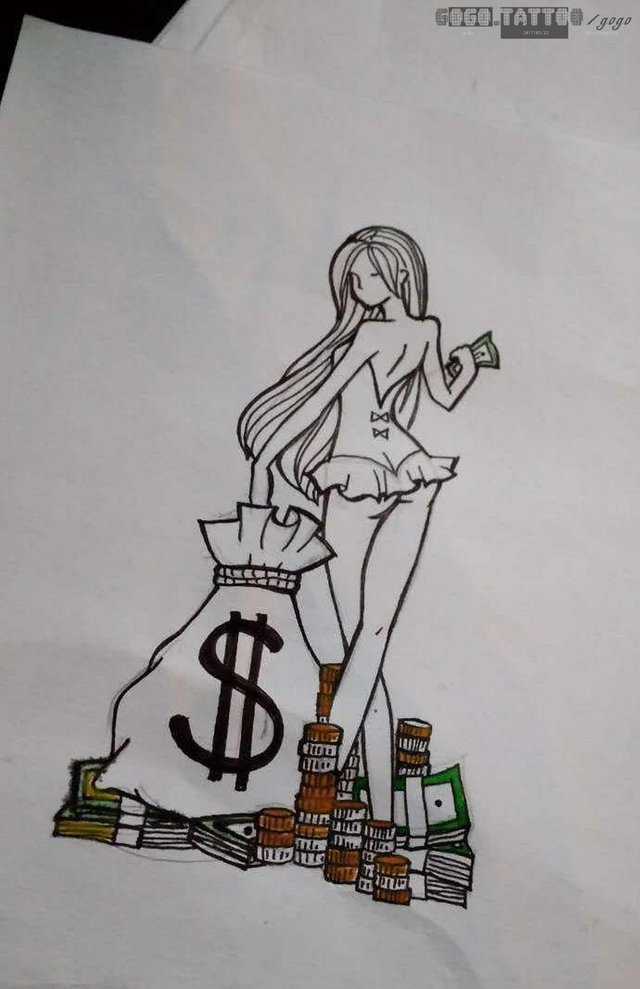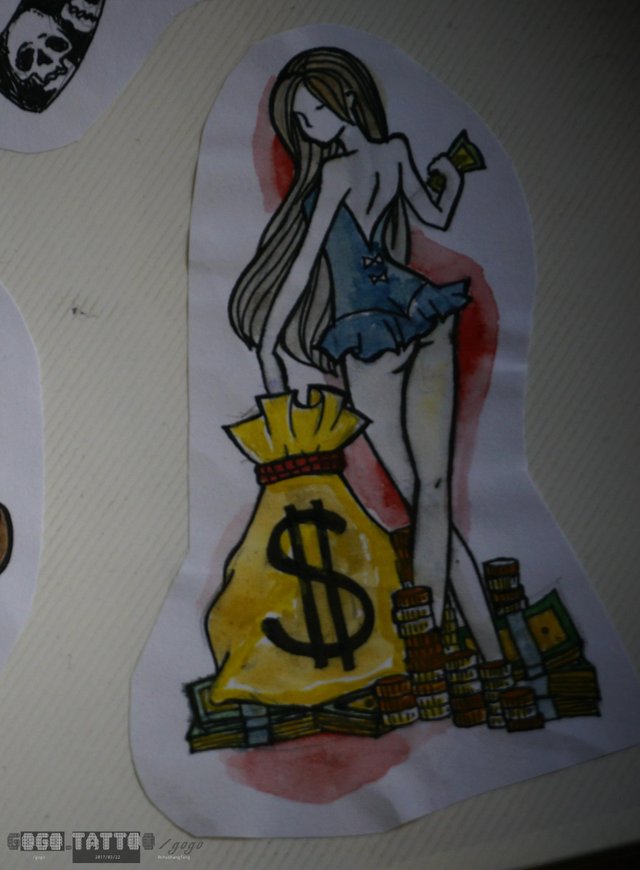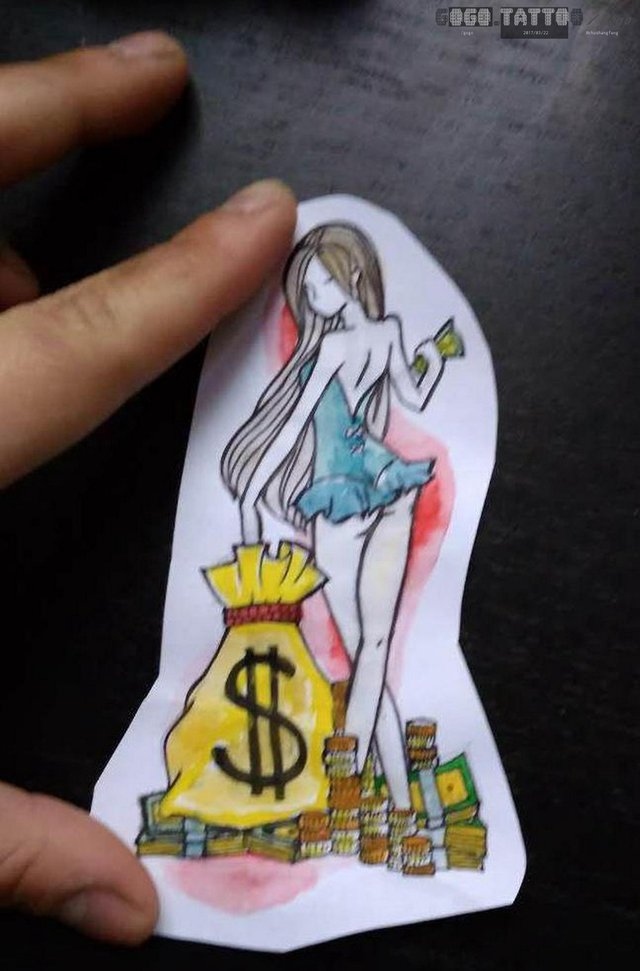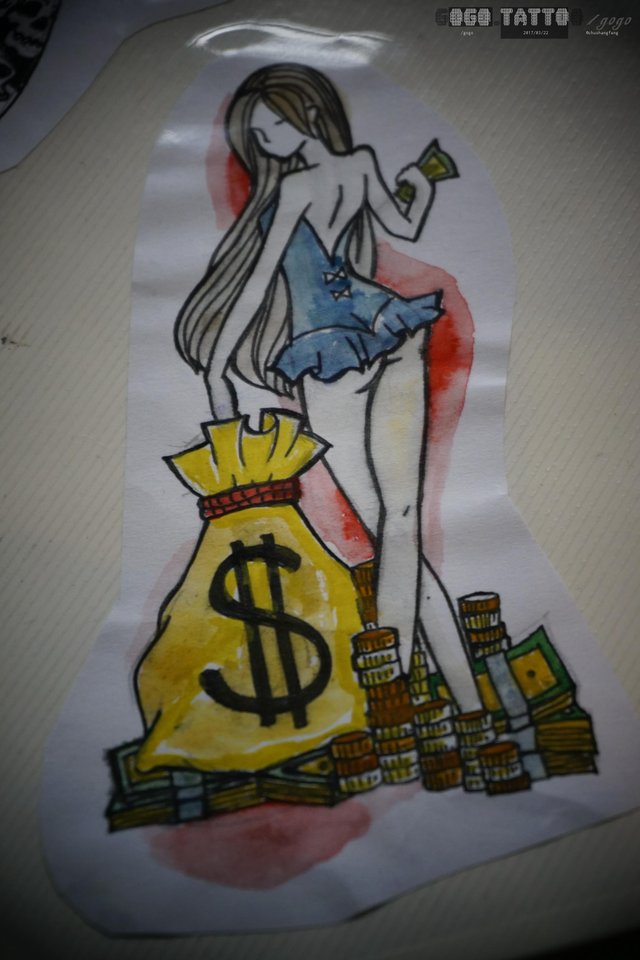 Artist: Yana Gogo
Design Made: 2017/03/15
Published: 2017/03/25
Location: Shanghai, China
Studio: @chushangfeng
Tattoo: gogo.tattoo/gogo/tattoo/money_girl
Tags: money, girl


...QR code...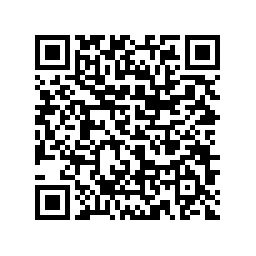 Dear tattoo owner, please feel free to tell us the story of your tattoo.
亲爱的客人们,让我们承载您们的纹身故事吧!
Мы с нетерпением ждём историю тату от автора и её владельца!