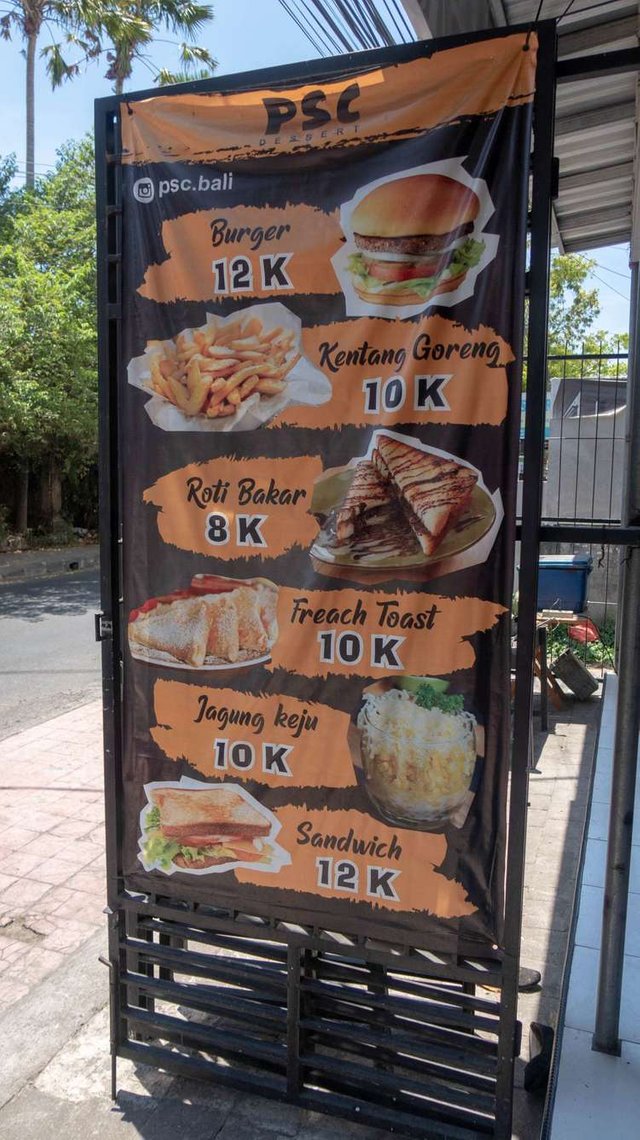 Today I went to a small local food stall in Bedugul street South of Denpasar, Bali. The little stall was called PSC. What a strange name, I thought. It was a new place, so not so many people there yet. I was in a hurry after visiting a place called Bali Art Center then I needed to pick my kids from school. So I need something quick. A burger is a good option, I thought.
I ordered a cheese chicken burger, and orange juice. It was hot day, so orange juice would be great choice for accompanying the burger.
The front side of the food stall.
Five minutes later, the waitress that took my order came with the chicken burger. It was on a ceramic plate. Hmm, that's something different.
The chicken burger on a ceramic plate.
Please eat me, I could hear the burger saying to me.
I took a bite, and thought for a second. Giving myself a time taste the chicken burger. Well, Balinese don't usually eat burger. It's not in our diet. We only eat rice, fish, meat and vegetables.
This burger was a bit spicy. Hidden betwen the bread, and the chicken there was spicy sauce. Hmm, well, this was a Balinese version of cheese chicken burger. I said so because it was spicy. Well, I like spicy food, and spicy burger was one of them.
Meanwhile, there were some other guests here. I think they were finish eating their meal, but they still stayed there just hanging out. They were students of university located nearby the stall.
Some university students were sitting in a table nearby me.
And so that's my spicy burger review. Thanks for reading.
---
Restaurant Information

PSC



Jl. Bedugul, Sidakarya, Kec. Denpasar Sel., Kota Denpasar, Bali, Indonesia
---
Spicy Chicken Burger at PSC
This post participated in the Tasteem contest BBQ & Burgers