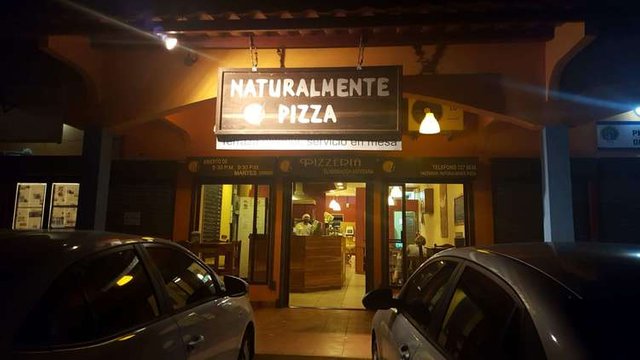 ENGLISH
If last time I let you eat with your eyes the delicacies typical of the Mediterranean cuisine of the Naturalmente Restaurant, rich of all the possible nuances and exotic touches, today I take you with me to Panama to eat ... Pizza!
Of course, pizza, one of the queens among food, the "disc" with an Italian soul that has conquered the entire planet! Exactly for this reason, we can now taste it practically in every corner of the world, even if its international good reputation will always be linked to Italian origins, more precisely, Neapolitan.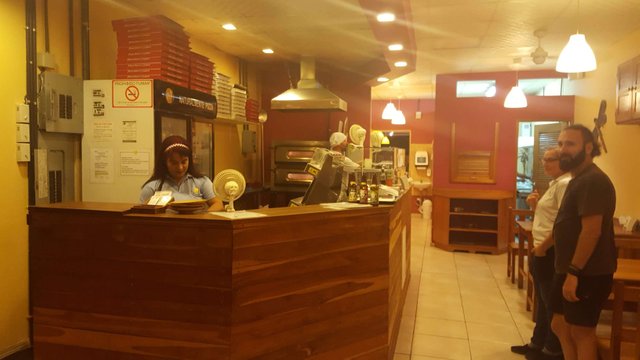 In the place where I will take you today, the pizza maker is not Neapolitan, but without a doubt he is Italian and his name is Gabriele, he comes from Modena and runs with his Catalan business partner, Mrs. Tona, the PIZZERIA NATURALMENTE, which is not a franchise but simply the "progeny" of the homonymous family run restaurant.
Located a few kilometers closer to the center of Las Lajas village, compared to the main restaurant, inside you can breathe the pleasant atmosphere of a small neighborhood or town pizzeria, combined with the typical setting of the veranda on the back, adorned with some tropical plants that contribute to "warming up" the ambience.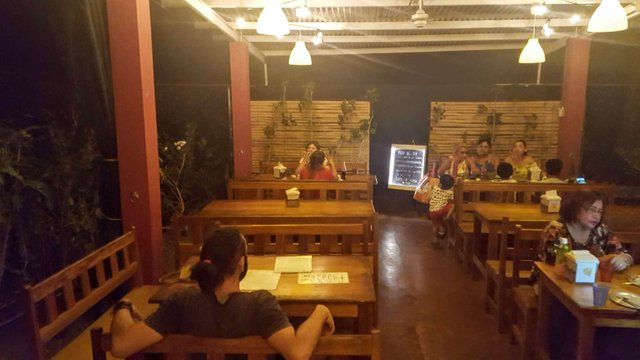 The pizza menu is quite varied, in fact the choice ranges from the most basic and known, to something more elaborate or a little out of the box of the Italian tradition. Hence we find the typical Pizza Margherita, the Marinara and the Capricciosa as very classic choices, while among those a little more "weird", we find the famous Hawaiian (with pineapple), the white pizza with bacon or pizza with chicken, a real treat for the Panamanians who love every chicken-based food.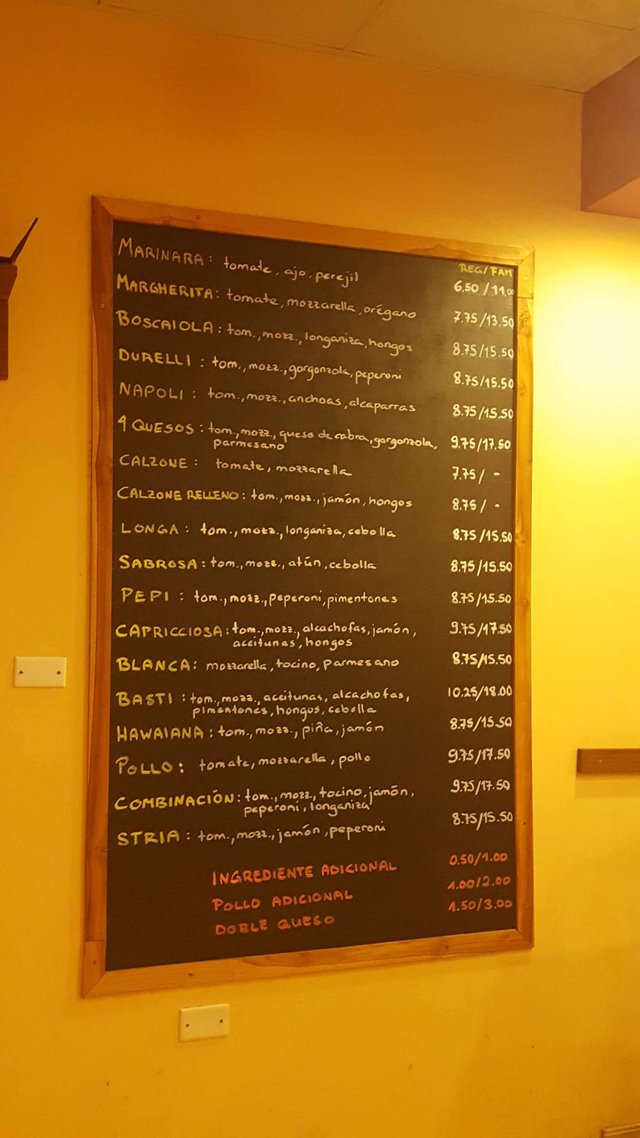 Last but not least, the enigmatic "pizza del dia", i.e. pizza of the day, the surprise for the most refined palates, always eager for novelty and discovery.
For the most demanding, it's possible to mix ingredients to create a customized pizza.
Rely on the taste of Gabriele and Tona, you won't regret it, I promise!
In this case, perhaps more than ever, we can say that it is within "NATURALMENTE" that you can breathe the air of the most classic Italian food derby: PASTA VS PIZZA in Panama!
My favorite is the four cheese pizza (Quattro formaggi) plus onion and champignon mushrooms previously cooked in red wine, but last night the choice fell on a white-based pizza (mozzarella and parmesan without tomato sauce) plus gorgonzola, onion and pepperoni.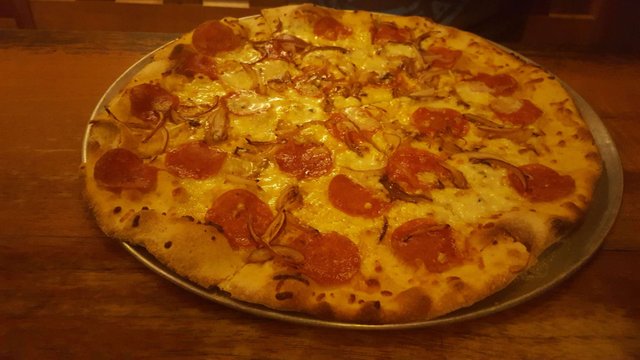 My wife @akireuna chose the pizza of the day, in this case a white pizza with roasted red peppers, caramelized onion and goat cheese.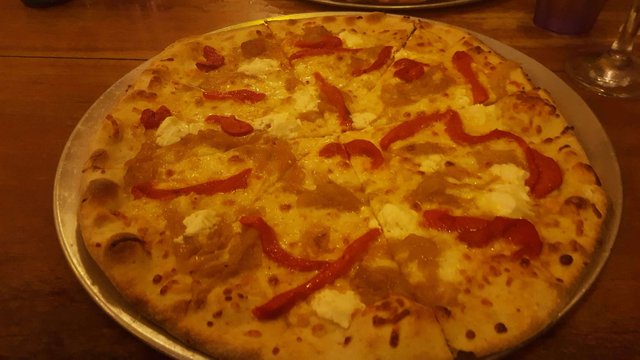 Wide choice also for drinks. In addition to the classic soft drinks, the pizzeria staff prepares natural fruit juices. Moreover a Panamanian craft beer is available in three versions: ale, stout and red.
All to try !!
All the pictures are my property
---
ITALIANO
Se l'ultima volta vi ho fatto mangiare con gli occhi le prelibatezze tipiche della cucina mediterranea del Ristorante Naturalmente, ricca di tutte le sfumature possibili e degli inebrianti tocchi esotici, oggi vi porto con me a Panama a mangiare... La pizza!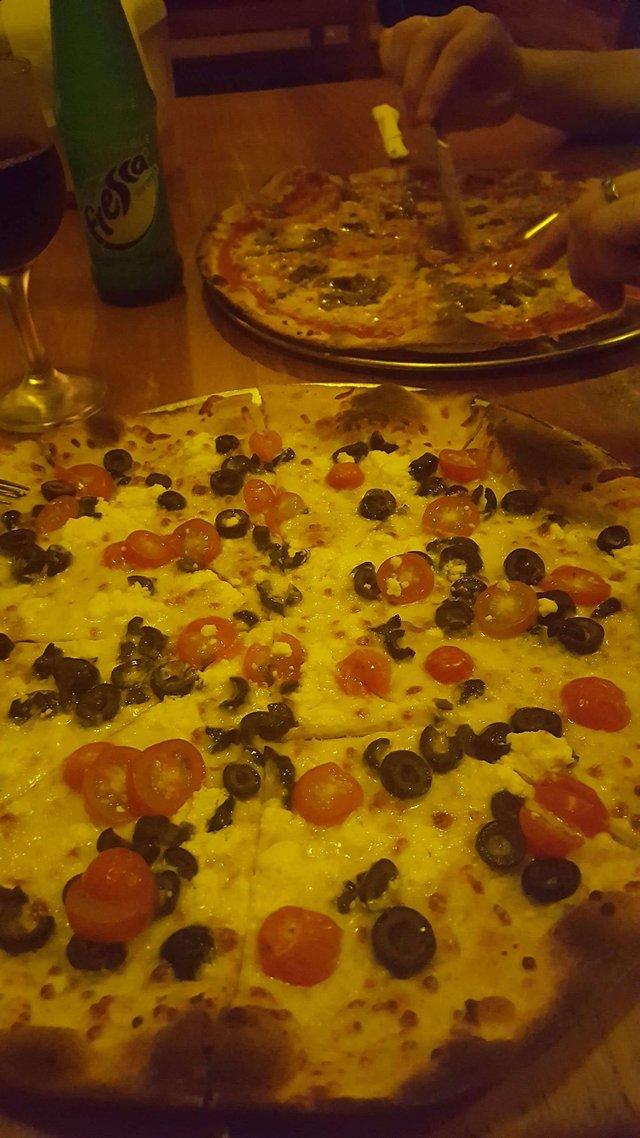 Certo, la pizza, una delle regine fra tutti i cibi del mondo, il "disco" dall'anima italiana che ha conquistato l'intero pianeta, tanto che ormai possiamo degustarla praticamente in ogni angolo del mondo, anche se la buona fama internazionale acquisita da questo mitico alimento rimarrà per sempre legata alle origini italiane, più precisamente, a quelle napoletane.
Nella pizzeria in cui vi porterò oggi, il pizzaiolo non è napoletano, senza dubbio però è italiano e si chiama Gabriele, viene da Modena e gestisce insieme alla sua socia catalana, la signora Tona, la PIZZERIA NATURALMENTE, la quale non è un franchising ma semplicemente la "progenie" dell'omonimo ristorante a conduzione "familiare" di cui ho già parlato qui su Tasteem.
Situata qualche chilometro più verso il centro del paesino di Las Lajas, rispetto al ristorante, al suo interno si respirano l'atmosfera e l'accoglienza tipiche di una piccola pizzeria di quartiere o di paese, unite all'aspetto tropicale della veranda sul retro, adornata da alcune piante autoctone che contribuiscono a "riscaldare" l'ambiente già di suo molto intimo.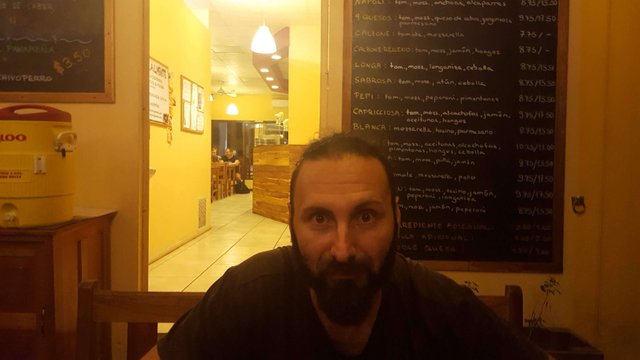 Certo gli ingredienti usati dal pizzaiolo non possono essere, per ovvie questioni logistiche, quelli di elevatissima originalità di cui dispongono le pizzerie italiane, ma rimangono pur sempre freschi e realmente buoni, parola mia. Se non mi credete, venite a provare voi stessi!
---
Il menù delle pizze è piuttosto vario, infatti la scelta spazia fra quelle più basiche e conosciute, fino a qualcosa di più elaborato o un pochino fuori dagli schemi della tradizione italiana. Troviamo infatti la tipica Pizza Margherita, la Marinara e la Capricciosa a tenera alta la bandiera del menù classico, mentre fra quelle un po' più "strane", vi sono a disposizione la comunque celebre Hawaiana (quella con le fette di ananas), la pizza bianca con la pancetta (il bacon) o, udite udite, la pizza con il pollo, vera leccornia per il palato dei locali che adorano tutto ciò che è condito a base di pollame.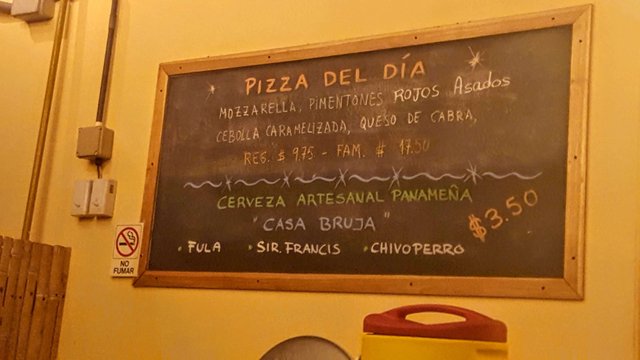 Non ultima, l'enigmatica "pizza del dia", ovvero la pizza del giorno, la sorpresa per i palati più fini, sempre desiderosi di novità e scoperta.
Per i più esigenti è inoltre possibile scegliere gli ingredienti per la propria pizza personalizzata.
Affidatevi al gusto di Gabriele e Tona, non ve ne pentirete, promesso!
In questo caso, forse più che mai, possiamo dire che è all'interno di "NATURALMENTE", si respira l'aria del derby alimentare italiano più classico: PASTA VS PIZZA in quel di Panama!
La mia preferita è la quattro formaggi rossa più cipolla e funghi champignon previamente cotti nel vino rosso, ma ieri sera la scelta è caduta su una pizza a base bianca (mozzarella e parmigiano) più gorgonzola, cipolla e salame.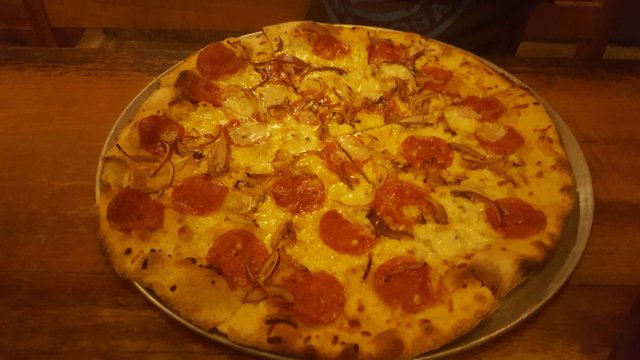 Quella di mia moglie @akireuna era proprio la pizza del giorno, in questo caso una pizza bianca con peperoni rossi arrostiti, cipolla caramellata e formaggio di capra.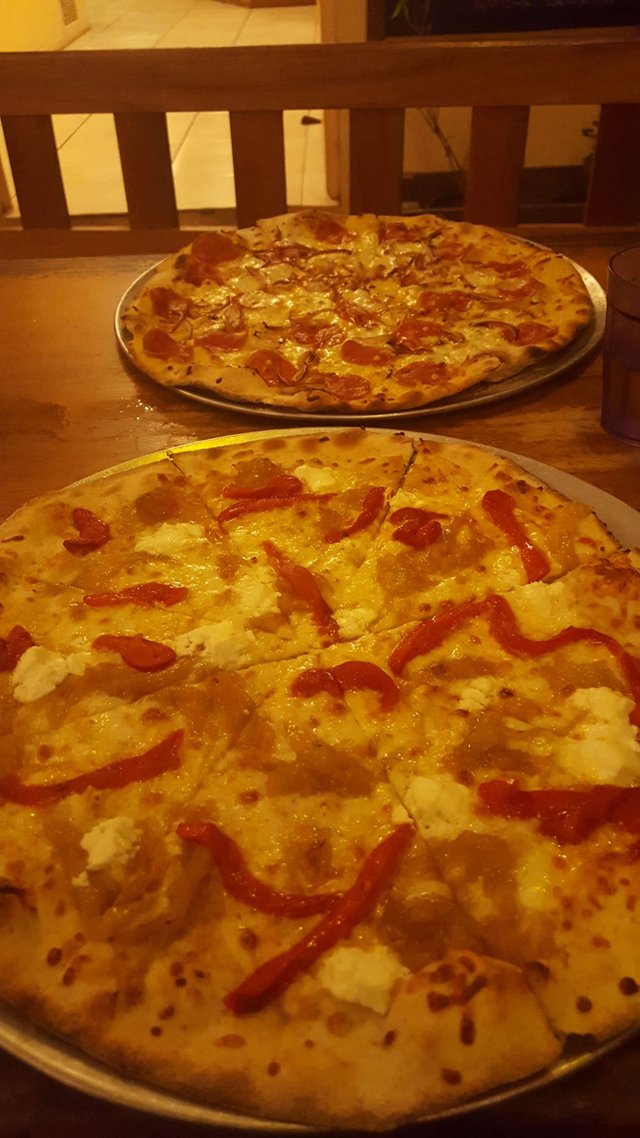 Ampia scelta anche per le bevande. Oltre alle classiche bibite vengono preparati dallo staff della pizzeria anche succhi di frutta naturali. Perfino la birra artigianale panamense in bottiglia è disponibile in tre versioni: bionda, scura e rossa.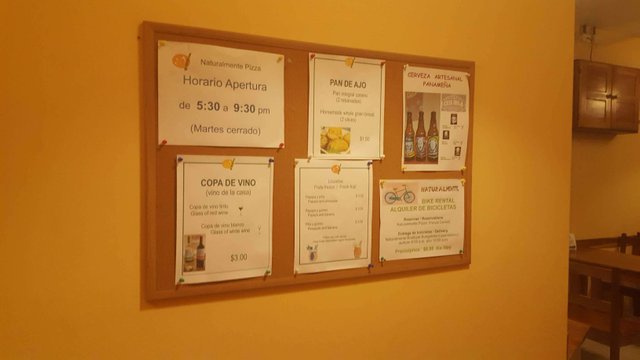 Tutto assolutamente da provare!!
Tutte le foto sono di mia proprietà
---
Naturalmente Pizza
Parque de Las Lajas, 0446 Las Lajas, Chiriquí, Panama
---
Restaurant Information

NATURALMENTE PIZZA



Las Lajas, Chiriquí, Panama
---
NATURALMENTE PIZZA! [ENG/ITA]
This post participated in the Tasteem contest Pasta vs Pizza