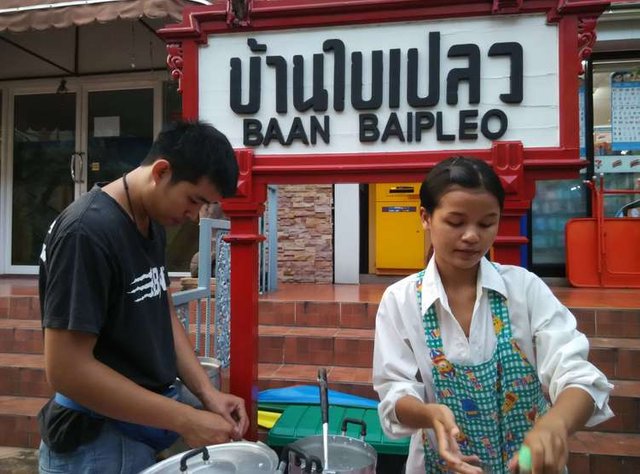 Welcome to the Jok Stand I have eaten dinner from twice on my trip to Bangkok Thailand this week.
You find this stand at the bottom of the Exit 1 stairs of the Pho Nimit BTS Station.
This sign and brother and sister team tell you that you are in the right spot.
There is a lot of other yummy food here in the evening rush, but Thai jok is something I really love and so this is where my 25 thb goes. I get a lot of food for 80 cents usd.
Jok is rice porridge and I absolutely love it. I have had it from many places in Thailand and this is the best I have ever had!
Careful of the motorcycle traffic on the sidewalk!
You can get an egg cracked into your jok, but I prefer the pork balls you see in the bags behind. Seven of them are 5 thb.
They have pork gravy to mix in the jok.
And the thick jok is here. It is called congee in some other countries.
This pan is where they mix and heat your order.
More gravy needed for this batch.
This dispenser is common and seen whenever I have bought jok.
I will have cilantro and ginger added at the top of the mix.
And these crunchy things will come in a separate bag. I think they are rice too.
Lots of spicing happens now.
And now I am almost ready to go.
Looking back at the scene. The cart is out of view on the right near the stairs.
Back at my hostel, I will wait for this to cool a bit before eating.
My crunchy things :)
Now the veggies are wilted and so I am ready to eat. This is both dinner and breakfast for me.
Here is the view from the top of the bag opened.
Crunchy things are deployed!
Now I mooshed it all up in the bag, and will eat it with a spoon from here.
And tomorrow's breakfast is ready to go in the fridge. I like this just as much when cold to the horror of all in Thailand.
= =
Delicious Jok Stand
Pho Nimit BTS Exit 1
Bangkok Thailand
At the bottom of the stairs
In front of the 711.
No contact information.
Open Daily 5 pm until sold out - maybe 9-10 pm.
Ratchaphruek Rd, Khwaeng Bukkhalo, Khet Thon Buri, Bangkok 10600, Thailand
100% worth your effort to get here!
---
Restaurant Information

Delicious Jok Stand Takeaway Bangkok Thailand



Ratchaphruek Rd, Khwaeng Bukkhalo, Thon Buri, Krung Thep Maha Nakhon, Thailand
---
Delicious Jok Stand Takeaway Bangkok Thailand
This post participated in the Tasteem contest Takeaway