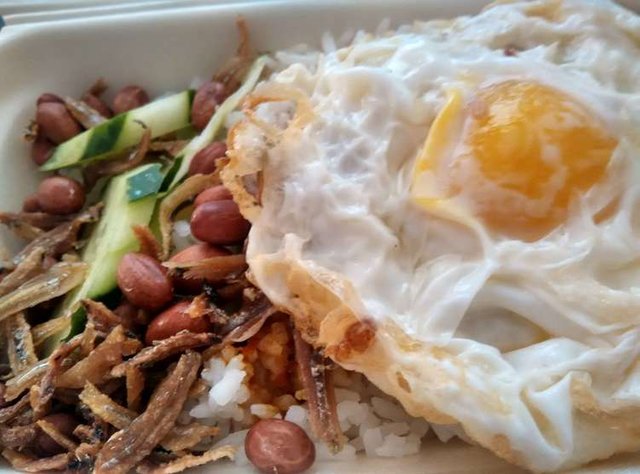 Welcome to Sherry's Home Cooked at the Red Famous Food Court in Desa Setapak, Kuala Lumpur Malaysia. This bazaar of food is at the top of the street with multiple vendors of all kinds of food. I am here for top-flight Nasi Lemak.
Yes, after one year in Malaysia, I feel qualified to rate their National dish. I will tell you now that this is a great way to spend 75 cents USD.
It is bigger than it looks here and busy from dawn until dusk. I'm going in toward the yellow disk to get some takeaway breakfast.
I walked around the people eating, so here you see a different view of the outdoor seating.
This is another vendor of pastries and some of the seating behind. Many more vendors and seats are back there, but I am staying out here.
If you focus, you can read the sign for Sherry's Home Cooked. She is helping another customer before I can be served.
A close up on the sign because I like it.
The disk helps if you can read Chinese.
Luckily, friendly Sherry is here to help me, so the signs are not needed!
"Failure is Success in Progress" Love it!
Sherry already knows what I want, and my order starts with coconut rice, which is very delicious.
Lots of rice!
I get chicken gravy here, unlike most stalls that do not have it.
Options are fried eggs, hot dogs, chicken, fish, and boiled eggs. All can be added to your Nasi Lemak meal for added cost.
I get the fried egg. The plain meal is RM 2, and the egg makes it RM 3 - 75 cents usd.
Hmm... Outside the glass again, and I think the stuff on the left is some kind of seafood mixture. I will be adventurous next time and try it.
Almost done and just needing peanuts and my egg now.
Look! The tongs are hiding a big pile of anchovies! Yes, I do want more :)
Ready to go!
I got my food home to eat in good repair. I prefer this type of packaging to the wrapped paper at most Nasi Lemak stalls.
And a close up all the yum.
So why is Sherry's one of the best places for Nasi Lemak?
The anchovies! They are so tender, meaty, crispy and flavorful here. I am a small fish lover, and could make a meal of these alone.
Sherry is not cheap on the additions. I have had Nasi Lemaks with 8 peanuts. Here you get a heaping spoonful!
The sambal red sauce is spicy, yummy, and not too hot here. Some sambal likes to blow off the top of my head!
The fried egg is nicely runny. I feel this is very important to a good Nasi Lemak. A hard cooked fried egg is nowhere near as good.
And finally, Sherry herself is so nice, friendly, and welcoming. My day starts right when I see her.
I hope you get the chance to come here and find out for yourself.
Contact information:
Sherry's Home Cooked
Red Famous Food Court
1, Jalan 4/27a, Desa Setapak, 53300 Kuala Lumpur, Wilayah Persekutuan Kuala Lumpur
Open Daily 7 am to noon
Closed Sunday
---
Restaurant Information

Sherry's Home Cooked



38, Jalan 1/27b, Desa Setapak, 53300 Kuala Lumpur, Wilayah Persekutuan Kuala Lumpur, Malaysia
---
Sherry's Home Cooked Wonderful Nasi Lemak Kuala Lumpur Malaysia
This post participated in the Tasteem contest Takeaway