American Italian Comfort Food in Kuala Lumpur Malaysia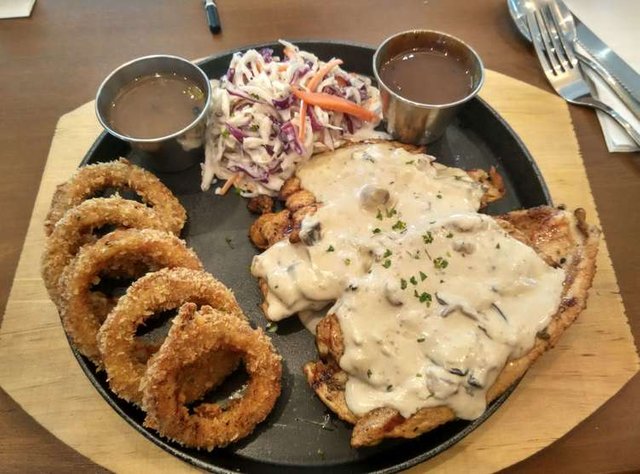 Welcome to The Grill in Wangsa Maju, Kuala Lumpur Malaysia. This restaurant is pricey for my weekly choice, but if I had the money, I would certainly drop by often.
This is the most American tasting food I have had in the whole time I have been in SE Asia. Even though it has an Italian theme, it seemed like food I am used to from the states. It's probably good it is out of my price range, because this is not a place for calorie counters.
When they say the words "First Floor" here in SE Asia, this means you are going up stairs.
Expensive! (For Kuala Lumpur) This price is $16 usd for a seafood platter serving 3-4 people. My view of "expensive" is very warped now after a few years here.
These are deals for weekdays. We are here on Sunday, so this is not for us.
Here is the beginning of the stairs. It turns out to be worth the trip.
We were some of few customers at 2 in the afternoon. More people came as we were eating. You can see the pleasant tree-filled view to the left.
They have simple and nice decor.
I normally show menu shots, but this was a very complicated ordering process I left to my friends.
The average meal was about 20 MYR, which is $5 usd. The menu was extensive. My friends had a paper to fill out describing what we wanted. I said "chicken" and then stayed out of the way.
My creamy chicken parmesan was out of this world delicious. Everything on the plate was fantastic. I gave away some of the onion rings which were exactly like I have had in the US.
And coleslaw to die for! This has always been one of my favorite foods and they do it right at The Grill. I could eat a bucket of this and still want more.
Here is a close up of my creamy chicken parmesan. I took half of it home. The gravy was wonderfully cheesy and the chicken was cooked just right. Juicy and tender.
My friend's grilled chicken was just as good.
And here is another friend's full cheesy chicken parmesan dish that lived up to its name. The portion was so large I got some of it at the table and some to take home too.
So yum!
The Grill was a wonderful stop, with cold AC too. I hope I will go back soon and try anything else they serve. Though we all had Italian themed dishes this time, they have many other grilled dished to try. Definitely all thumbs up for this meal.
Contact Information
Address:
Jalan Wangsa Delima 1, Wangsa Maju, 53300 Kuala Lumpur, Wilayah Persekutuan Kuala Lumpur
Phone:
03-4131 3533
Website:
https://www.facebook.com/thegrillbypops/
Hours:
Tuesday to Sunday – 12 noon to 10 pm
---
Restaurant Information

The Grill



Jalan Wangsa Delima 1, Wangsa Maju, Kuala Lumpur, Wilayah Persekutuan Kuala Lumpur, Malaysia
---
American Italian Comfort Food in Kuala Lumpur Malaysia
This post participated in the Tasteem contest Your weekly choice