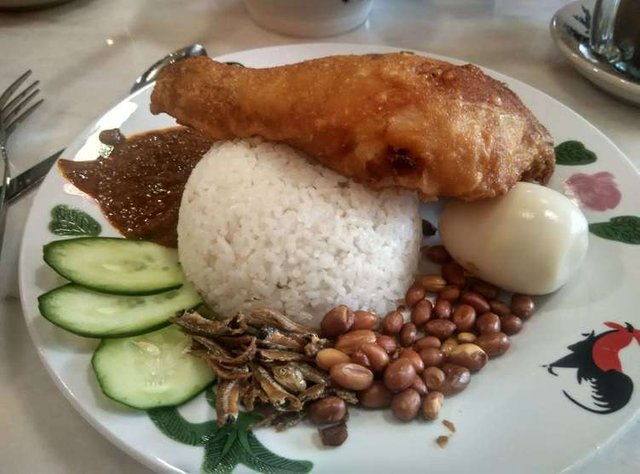 Welcome to Restoran Jia Kopitiam in Taman Danau Kota, Kuala Lumpur Malaysia. When I told my friend I was looking for a place with Local Dishes for a Tasteem review, this was her choice and I am so glad it was.
The view to to back shows a lot of happy patrons. Everything is very clean and sparkling here.
Not shown is how the staff ran to get a regular chair for me to sit on. So I did not have to perch on a stool with my old arthritic self.

Thus began a wonderful meal at one of the top restaurants I have been to in Kuala Lumpur. This is saying a lot in this land of excellent food.
In this view you see 5 of the many staff members. They are so nice and on their game. You want for nothing in this restaurant.
The star of the show here is the Nasi Lemak. The National Dish of Malaysia is my addiction now. With this huge art piece on the wall, I know I am in the right place. People took photos of this food portrait the whole time we were here.
It's on the top of the menu too. How could I get anything else?
F01 is my order - just like on the wall and photo. 12.8 RM is $3 USD.
I'm getting the Hainam Kopi Cold and my friend will have the Hainam Teh Cold. Just over $1.50 USD for both.
I'm also getting the dessert of the day for 2.2 rm - 55 cents usd.
My friend does the bookkeeping for our order.
I get my Black Glutinous Rice dessert first and right away like an appetizer. I already love this place!
My dessert is sweet and savory at the same time and very good. I took half of it home for the next day.
Herbal tea for my friend and Hainan Coffee Iced for me. The coffee is different that I am used to and I could definitely get used to it. Delicious, spicy in some way and strong. Big thumbs up!
The chicken leg with my Nasi Lemak dish is so big you cannot see the rest of the food!
Look at all the peanuts and anchovies here! I'm in heaven now. This is Nasi Lemak done right!
This dish is prawn noodles for my friend.
Another chicken quarter on the side for my friend. The skin is crispy and the meat is juicy. Love, love, love!
When the owner saw me so happy and taking photos, he brought over this wonderful dish for free!
It is Toasted Bread with Kaya & Butter and Half Boiled Eggs. These are soft boiled eggs in the US.
Kaya is made of eggs, coconut milk and sugar cooked into jam! The bread is crispy outside, soft inside and delectable. I think this might be one of my new favorite foods of Malaysia.
I also get soy sauce and pepper to grind on the eggs.
All spiced up and ready to stir.
Now the eggs are mixed and I am about to be dipping bread for quite some time. This is like something my mother used to eat in Michigan but not with such delicious spread.
When the bread is gone, you drink the remaining eggs. Fantastic!
Every single thing about this meal was great. The ambiance, the staff, the food and price all tell me to recommend you eat here as soon as you can.
Contact Information:
Restoran Jia Kopitiam
Address:
G02, Danau Kota Suite Apartment, Jalan 1a/6, Taman Danau Kota, 53300 Kuala Lumpur, Wilayah Persekutuan Kuala Lumpur
Phone:
016-200 0000
Hours:
Daily 8 am to 4 pm
Closed Tuesday
Website:
https://www.facebook.com/jiakopitiam/
---
Restaurant Information

Restoran Jia Kopitiam



Jalan 1a/6, Taman Setapak Indah, 53100 Kuala Lumpur, Wilayah Persekutuan Kuala Lumpur, Malaysia
---
Excellent Nasi Lemak Restoran Jia Kopitiam Kuala Lumpur Malaysia
This post participated in the Tasteem contest Local Dishes