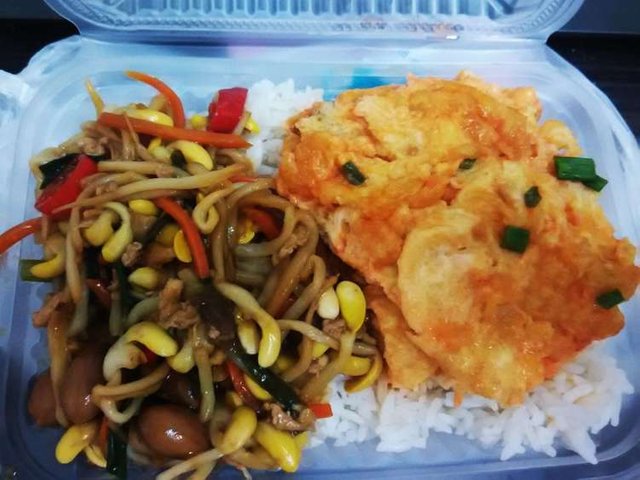 Welcome to No. 10 Mixed Rice Stall in Desa Setapak, Kuala Lumpur Malaysia.
This is actually two stalls and always busy.
To the left is for eating. In the back is unlimited free soup, water, and tea if you eat in, but I am getting takeway tonight.
It is very busy on the sidewalk. I could wash my hands if I was eating here.
I'm going in!
Just a small sample of the offerings.
Look how far this goes to the back!
Another photo so you can see the CD's spinning! Notice the difference in the top right of this photo copared to the one above. The CD's above keep the bugs away below. Good recycling!
That was the end of my photos onsite. I cannot use the phone and get food at the same time.
Back at home you see what my 4.60 myr (1.10 usd) bought me. This container was so heavy! I wish I had a scale.
This is the most yummy veg dish ever and I would eat it daily if I could. THe beans were delicious and nicely soft. The bean sprouts were crispy. The whole dish was a bit sweet and spicy.
Blurry omelette. I was excited!
I pulled apart three of the six omelette layers to show you. Here you see half of my delectable omelette. I think the total I got was three eggs based on weight and size.
Leftovers for breakfast and a bit more after that.
I was thrilled with this takeaway meal and will gladly try it again or any other of those many, many offerings. All thumbs up for this one :)
Contact Information:
No. 10 Mixed Rice Stall
3, Jalan 14/27b, Desa Setapak, 53300 Kuala Lumpur, Wilayah Persekutuan Kuala Lumpur
The map location is accurate. This stall is just up from the Wangsa Maju LRT Station.
Open 9 am to 9 pm daily
No phone or website listed.
---
Restaurant Information

No. 10 Mixed Rice Stall



3, Jalan 14/27b, Desa Setapak, 53300 Kuala Lumpur, Wilayah Persekutuan Kuala Lumpur, Malaysia
---
Delectable Takeaway - No. 10 Mixed Rice Stall Kuala Lumpur Malaysia.
This post participated in the Tasteem contest Takeaway