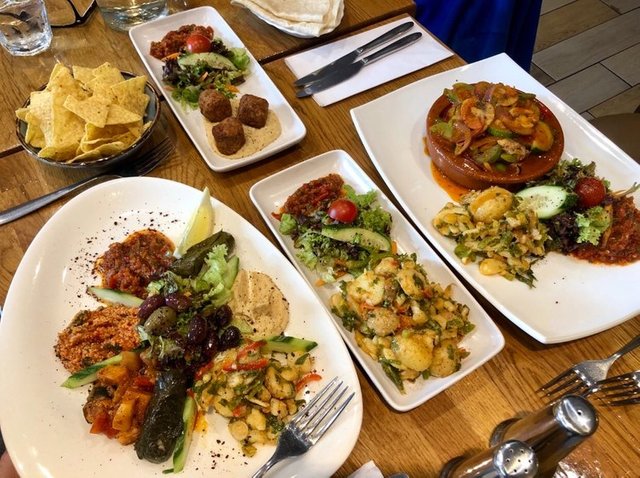 In case you haven't noticed, I found a fun game to play on the blockchain called write restaurant reviews for tasteem.io. That's not really what it's called but that is really what it is. Each day of the week, the folks over at @tasteem host a different competition like this one called Be Veggie.
My wife and I are more on the vegan side of vegetarian meaning we don't eat animals or dairy but never get invited to the vegan table because we eat fish, honey, an occasional slice of baklava and anyone who's opposed to beer is just weird. Just kidding @plantstoplanks—you know I ♥️ my gorillas! 😉
So, when we go out to eat, we usually punch Mediterranean, Asian, or Middle Eastern into our phones and see what a combination of Siri and Google can cook up. Today we were paired with: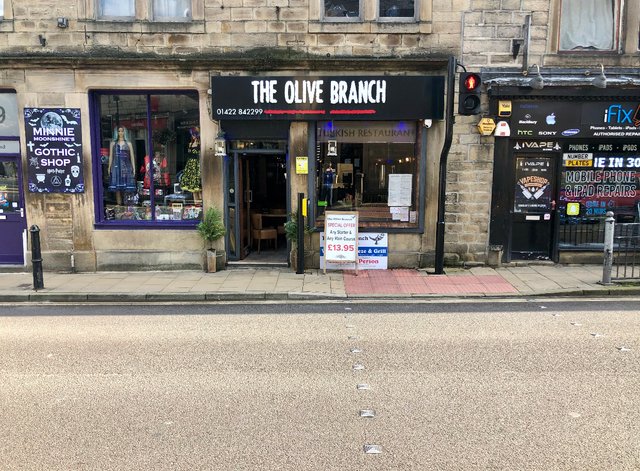 The Olive Branch. Located at 21 West End, Hebden Bridge, England UK.
Hebden Bridge is a cool little artsy type, eclectic feel having community where buskers are performing daily in the courtyards, the farmer's market runs seven days a week and the city is built on top of the Hebden Beck—a windy river with several bridges built over it throughout the city for crossing. Nobody walks along the river or any body of water in England, they 'fancy a walk' here. That's what @puravidaville and I did today—we fancied a walk along the waters edge until we were waiting at the crosswalk in front of The Olive Branch.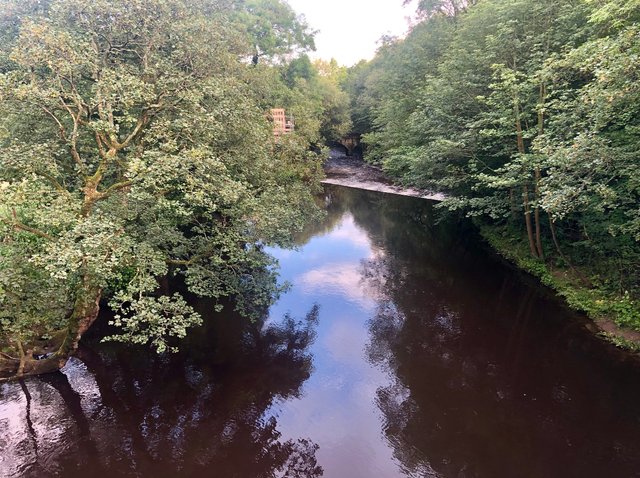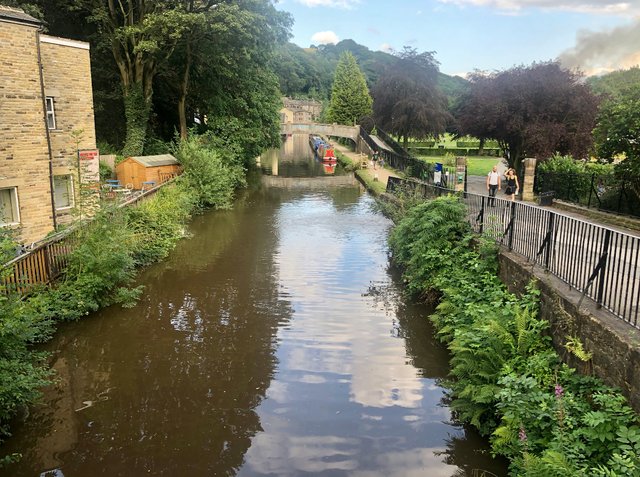 The boats docked along the river in the following picture are actually homes, floating homes, people live in them year round. The photo immediately after the boat's is a section of the river with mechanical gates used to stop or release water flow—similar in operation to the Panama Canal.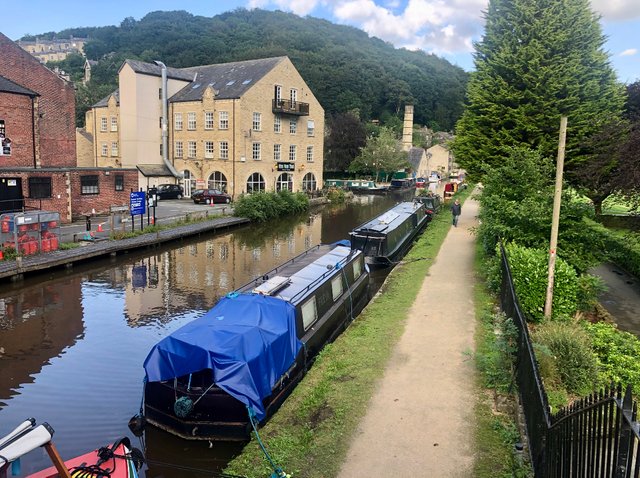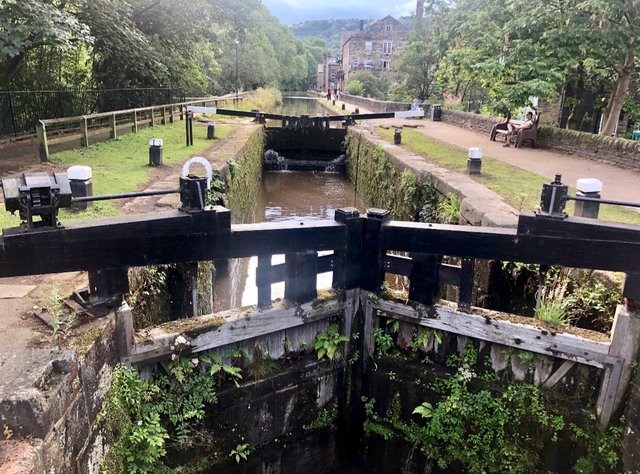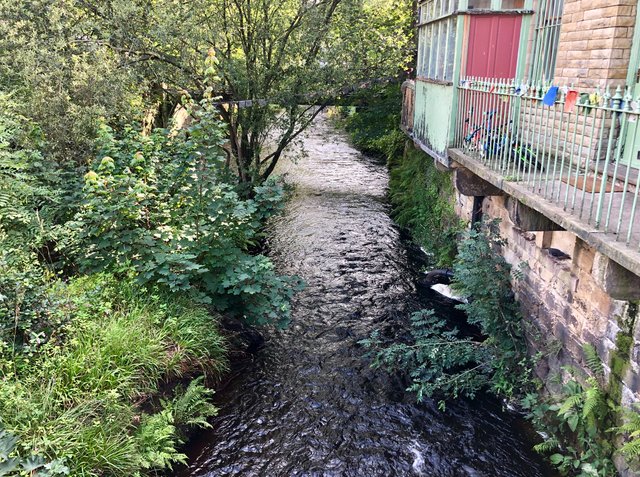 One more bridge around one more turn and we've arrived at The Olive Branch—time to order some lunch.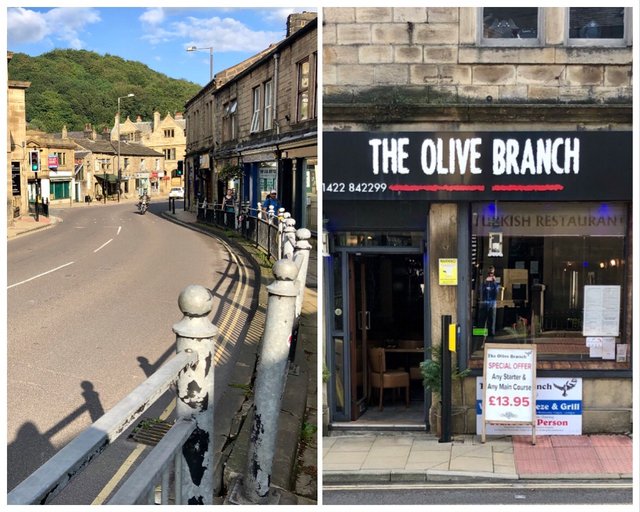 The menu has multiple vegetarian items identified by a 'V' which, when ordered without cheese, most vegetarian food can be vegan—'VE.' The backside of the menu has all of your wines, beers, etc.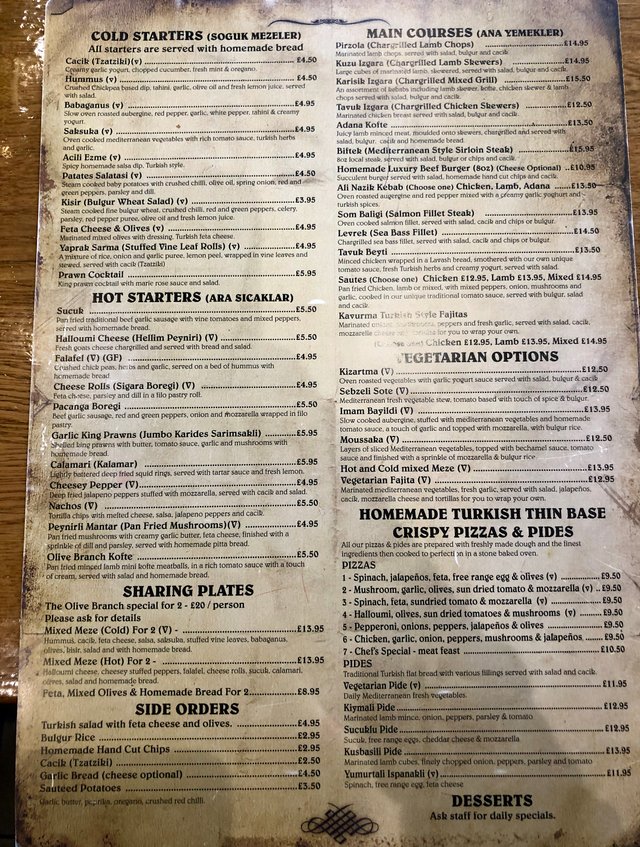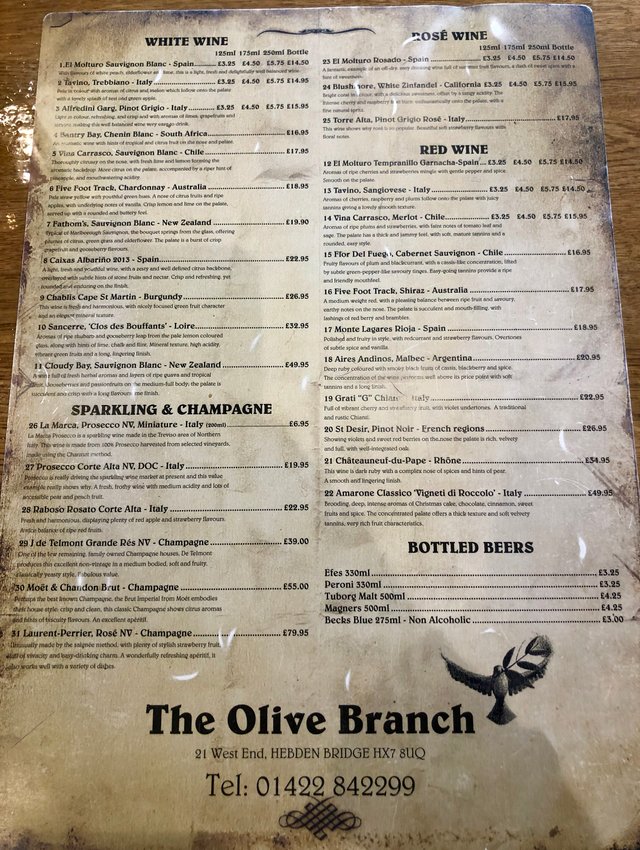 The atmosphere inside is really nice. There's an open bar for those of you who drink, I can't think of the last time I drank, not that I'm against it, I'm just not very good at it—I suck at it! Theres plenty of seating inside, nice decor and, on each of the walls are really big photos of iconic locations in Turkey, each with descriptions explaining the photos as well as a piece of Turkeys' history such as Blue Lagoon and Maiden's Tower.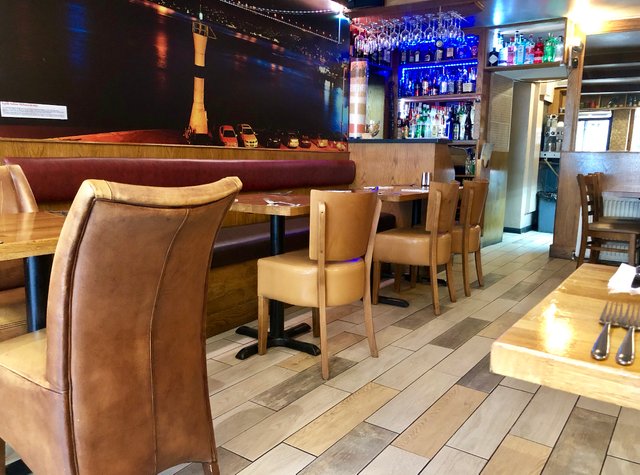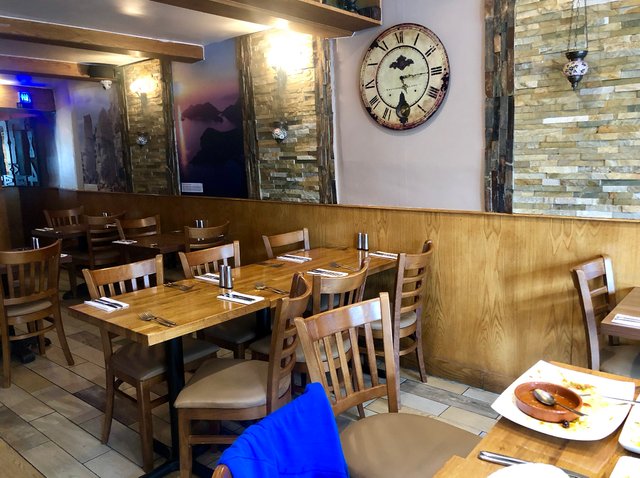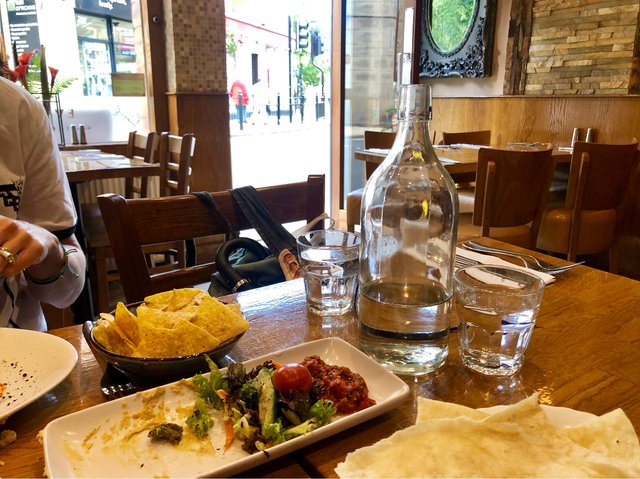 The cover image is the spread we ordered. On our table was Sebzeli Sote—a Mediterranean fresh vegetable stew made from a tomato base with spices and bulgur.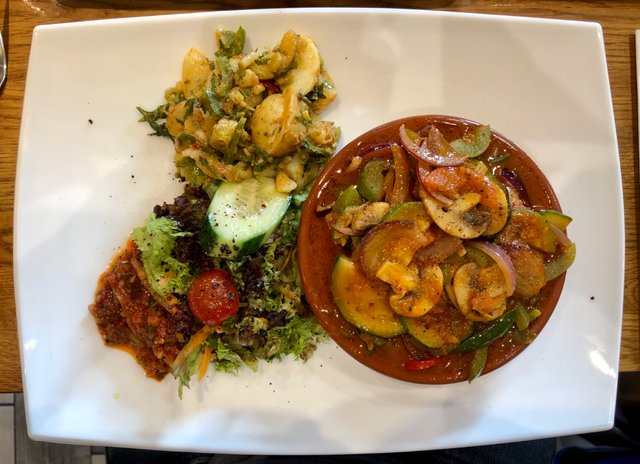 Cold Veggie Meze—hummus, cacik, salsa, saksuka, stuffed with vine leaves, babagnus, olives, kisir and salad.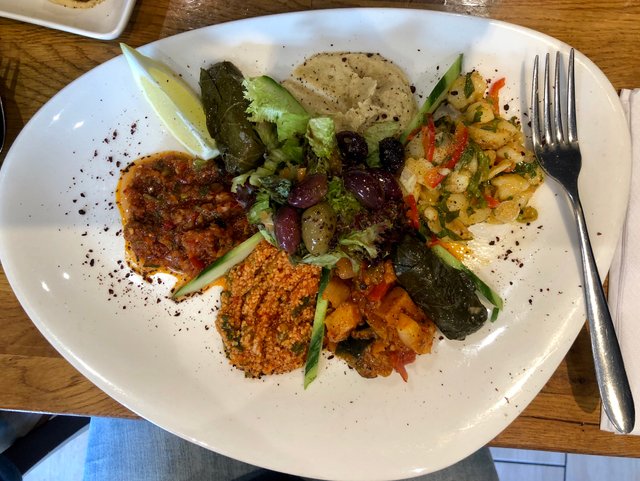 Falafel—with hummus, a side salad, fresh salsa, tortilla chips and warm flour tortillas for dipping.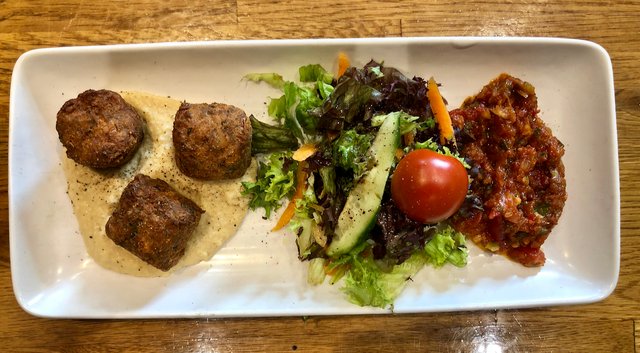 Patates Salatasi—steam cooked baby potatoes with crushed chilli, olive oil, red onion, red and green peppers, parsley and dill.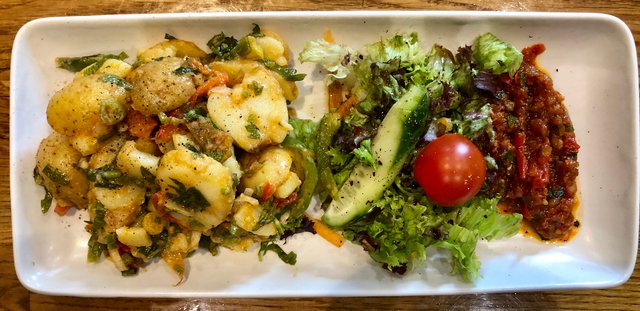 The meal was delicious, two mains, two sides and two waters was under $30—two thumbs up. Should you find yourself in Hebden Bridge, go hungry, stop by The Olive Branch and order one of everything on the menu, you'll be glad you did.




Wednesday
---
Restaurant Information

The Olive Branch



21 W End, Hebden Bridge HX7 8UQ, UK
---
The Olive Branch - Authentic Turkish Cuisine in Hebden Bridge, England UK.
This post participated in the Tasteem contest Be Veggie