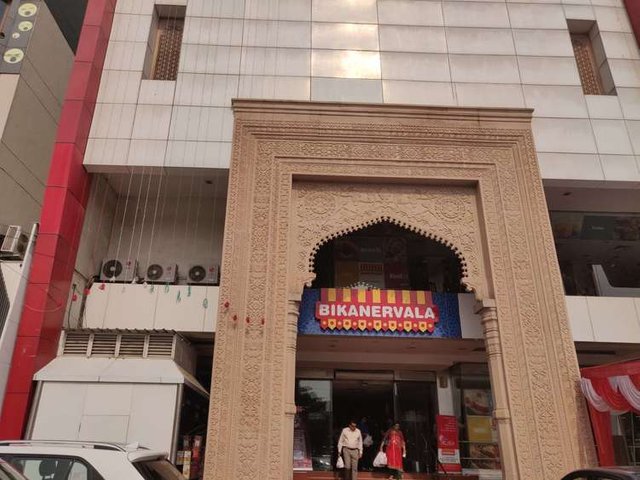 Hi Steemians,
A very happy weekend to you and hope you are having a good time.
Its festival season in India and people are in fun food and party mood. Diwali is just 2 days away and celebration is already started in offices and markets. My office team is also in fun and party mode so they wanted to go outside for lunch today. When the majority decides for the one thing then we can not deny that and the same happened with me. I agreed to go outside for lunch today and finalized the place "Bikanerwala" for lunch today.
Here is the photo of the BIkanerwala restaurant which is located in Sector- 29 Gurgaon.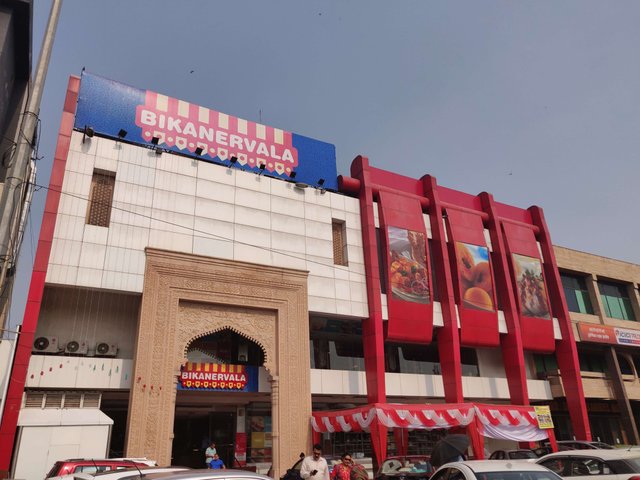 I don't know when this restaurant was opened here but I have been coming here keep my tastebuds calm for the last 8 years. The best thing about this restaurant is that- its a pure vegetarian restaurant (not vegan) and has a huge variety of sweets, multiple cuisines like - South Indian, North Indian, Chinese etc along with the fast-food segment and prepared in a hygienic, clean and well-maintained kitchen. The kitchen is open so we can see how they are preparing food and that's what I like a lot about this place.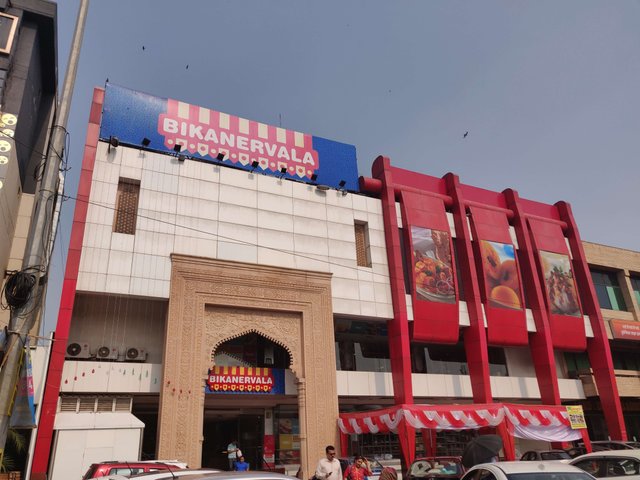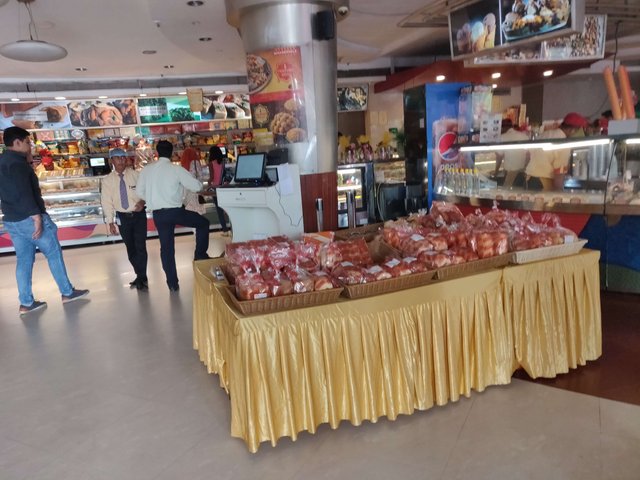 The restaurant is highly crowded during lunchtime so we reached a bit early to avoid long queues and waiting to get the food and seating too. We are successful in this planning as you can see queue is not long and the order was placed within 5 minutes of waiting which is fine.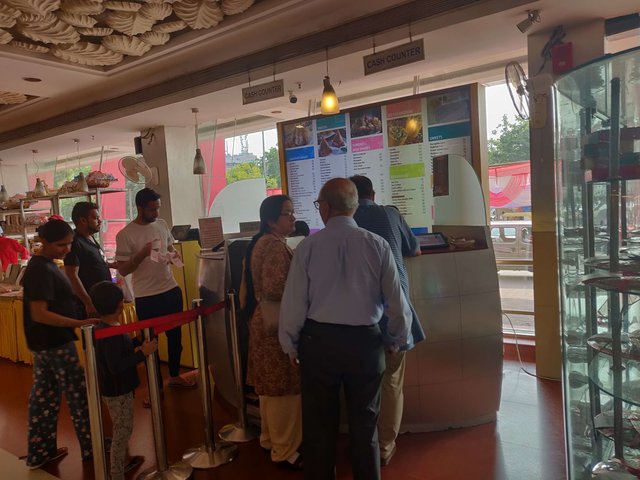 After placing order we moved to the sitting area to check the table availability and here also we found that there are many tables available so we just occupied a table of 4. We reached there 11.30 am which was certainly early but this saved our lots of time. Usually, after 12.30 people start coming here and then it keeps on increasing.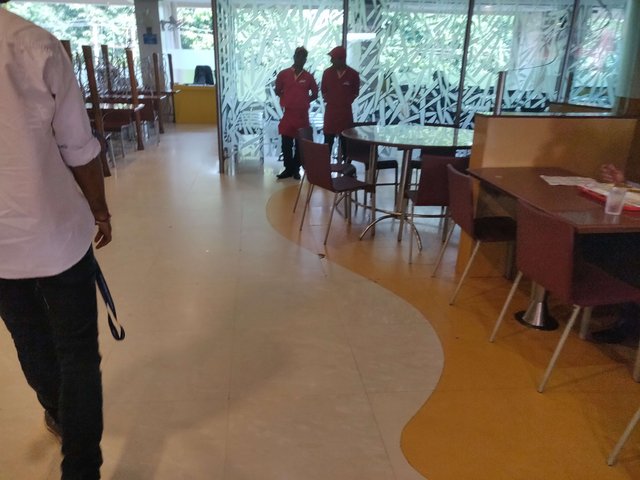 ---
Even the serving counters are not crowded and only a few people are waiting for their order and I can even count on my fingers.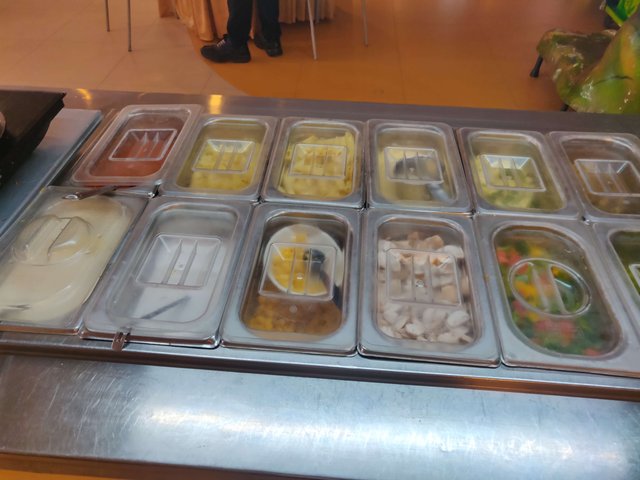 ---
So overall within 15-20 minutes we got our order on the table and since we were 4 so placed order fo4 four items.
Masala Dosa- This is a south Indian food dish and the roll is stuffed with boiled and mashed potato mixed spices and salt
Paneer Dosa - This is filled Cheese stuffing and rest is the same as other dosa.
Uttapam - This is South Indian food dish made with rawa and fresh vegetables
Raj Kachori - This is north Indian food dish made with boiled potato, curd, and spices.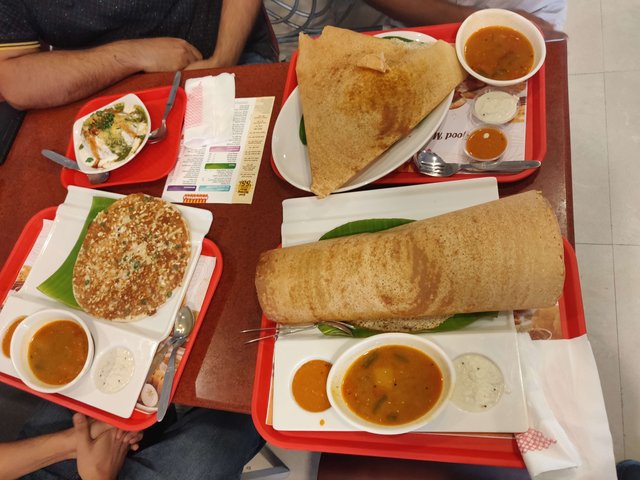 I had ordered Masala Dosa for and this is my plate having a crispy and stuffed Dosa, Sambhar along with 2 chutney (red and white). We all had enjoyed the food and as always they serve the superb tasty food. Its tasty of-course and looking good too. I think that we eat food first by eyes and taste later so if the dish is looking yummy and nice and then anyone would love to have it.
Food is incomplete without dessert and we would not want to let it happen so ordered one of the famous sweet dishes named Rabadi. This sweet dish is quite popular in north side India and made of pure milk and some sugar along with Kesar to add some garnish and flavor. Food was very good and tasty and on top of that having this yummy dessert is awesome combination.
Here are the 4 plates of Rabadi for me and my teammates.
I had it after almost 6 month or maybe even more so I can not tell how happy I was because its one of my favourite dish. If you like the sweets made with milk then I am sure you are going to love it and I recommend it try once at least.
Noticed this banner showing for Amtrisari Kulcha but we were not in the position to have anything else as we had enough food and it was literally a festival celebration treat. Maybe next time when I visit then I can try it out.
---
Festivals are meant to bring people together and have some fun time together and its for all. In-office life we all are busy and don't get much time to talk about anything except work-related so this type of outing is required to know what's happening in other's life and even to share with them about ourself. Overall it a great food outing.
---
This is a kind of place that I would love to visit daily as they have huge variety of food items in muti-cuisine. Staff service is so good and the ambiance is awesome too. Prices are on bit higher but looking at the cleanliness and food taste I find it fair.
I rate this place 5 out of 5.
Thank you so much.
---
Restaurant Information

Bikanerwala



3-5 Near Leisure Valley Park, City Center Sector 29, DLF, Sector 29, Gurugram, Haryana 122002, India
---
Diwali Lunch with Team @ Bikanerwala - A Tasteem Review# 47
This post participated in the Tasteem contest Your weekly choice