Today Taro Card of Day: Five Five Cups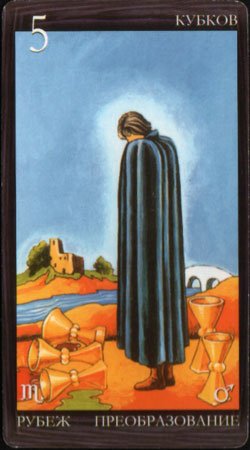 Sometimes storms are useful for a person: they will sweeten your soul a little, but they will also carry all the dirt. - Ersin Tezdzhan.
What we do not store, losing - cry. The day is fraught with disappointments, memory of disappointments and ... disappointment in memory. An inconsolable old or fresh resentment, pain of parting may emerge, and everything is depressive - expressive than the victim likes to revel.
Often, the cause of this suffering is obsession and the desire to get the impossible. Probably mourning moods from unfulfilled promises, unforeseen expenses and in general from everything that you yourself thought lightly or, on the contrary, put too much hope, and now complain about the absence of manna from heaven. Was your attitude naive from the very beginning?
In the area of ​​personal relationships, doubts are likely in the partner, dishonesty and the need to continue the relationship.
Instead of regrets about missed opportunities and endless agony of memories, pull yourself together, learn the necessary lessons. After all, only those who do nothing are immune from mistakes and disappointments. So we accumulate experience and gain wisdom in order not to step on the same rake in the future.
Try to take everything with humor. It is enough to turn around to face the present, leaving the past behind, and the former tirelessness, perseverance and composure will return. Everything will get better with time. Look around, wallowing in heavy thoughts, you can not notice the approach of new opportunities and goals. Any loss can be considered as an acquisition. There would be no happiness, but misfortune helped. Life goes on, it is better to look at the sun than on puddles under your feet. These emotional efforts will not be in vain and will lead to renewal.
Start over, everything flows, everything changes. The current rainfall will feed the soil, etc. Remember the course of natural history and the water cycle in nature. In front there will be also joys and acquisitions. Use this is not the most boring time for your own development. Everything will come back. The river has two banks!!