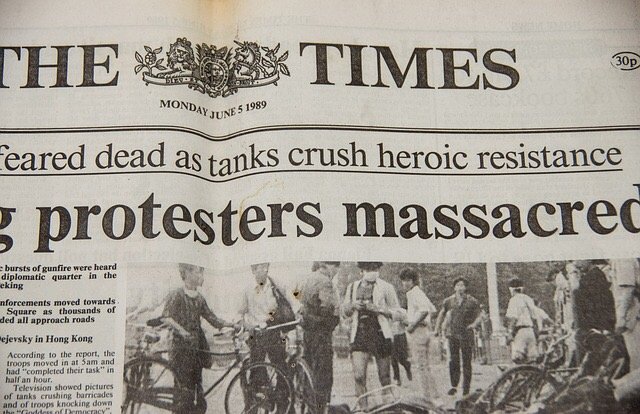 The Revolutions of 1989 shook Europe as the Soviet grip crumbled. Thousands of miles away China convulsed with protests in hundreds of cities from April until June. There were many contributing factors: the power struggle following the death of Hu Yaobang, corruption, nepotism, the desire for democracy and press freedoms.
Students, factory workers, and others rose up. The central leadership felt threatened and called in troops from all over the country to the capital to put down the revolt. Finally in what the government euphemistically calls The June Fourth Incident (六四事件) but is known elsewhere as the Tiananmen Square Massacre, tanks and AK-47's were used against the crowds. To this day, nobody knows how many were killed. Estimates at the time ranged from several hundred up to 2,700.
The next day one man stood in front of a column of T59 tanks. Would not get out of their way. When they tried to get around him, he moved to again get in their way. Eventually he climbed onto one of the tanks and talked to the driver.
Two people came up and pulled him away. He was never seen again.
That's all we really know. We don't even know for sure if the two people were State Security taking him into custody or passers by who thought "What's that crazy guy doing? Let's pull him away for his own good!"
Was he summarily executed that day? Two weeks later? Was his name Wang Weilin? Did he survive and blend in? Did he make his way to Taiwan where he now lives under an assumed name? All of these theories have adherents.
Those of you too young to have been alive then might not know how huge of an impression the photos of Tank Man made worldwide. All references to him have been heavily censored in China.
Few images display courage as strongly as this one man holding a bag (of groceries?) in front of a line of tanks.
Pixabay image
As far as I know, all Tank Man photos are copyrighted so I did not post one to the Steem blockchain. But if by some chance you've never seen any of them, a DuckDuckGo image search for "Tank Man" can rectify that oversight.
Posted using Partiko iOS