TAKLIMAKAN NETWORK PLATFORM: TRADE CRYPTOCURRENCIES LIKE A PROFESSIONAL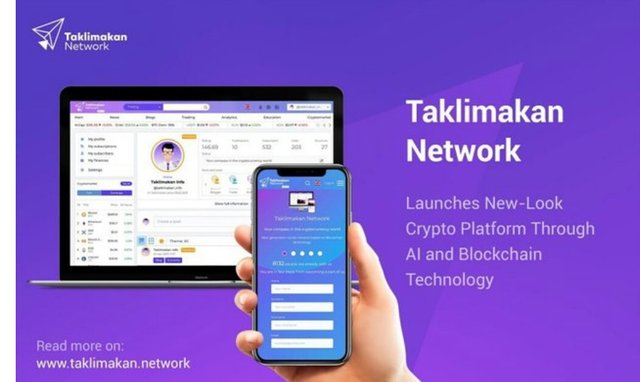 In as much as blockchain technology system has seriously influenced the technology space in general in ways that has continuously yielded positive results, it has still remained a puzzle to those who are yet to understand its underlying and general concept. Blockchain technology system brought about the concept of decentralisation in general and this concept in it's own way yielded a lot of positive results from the aspect of security, to that of data storage as well as productivity and has also went on to form a new basis of investment but it only is highly favoured by those who are crypto enthusiasts thus explaining the fact why many are yet to adopt the technology.
Understanding blockchain technology system and how it operates is a vast system as well as concept which will require time as well full dedication to understand. Understanding blockchain technology system also involves understanding the concept of cryptocurrencies that was developed as a result of technology behind blockchain as well as smart contracts which aids in ensuring proper security amongst other processes which is always a turn off for investors who are willing to invest in the system but have little or no knowledge about it.
For users with little or no information about blockchain what they require or need is the right information as well as tools that will help enlighten them more about blockchain mainly in terms of it's potentials and investment opportunities. And this and many more is what the taklimakan network platform offers to it's users.

THE TAKLIMAKAN NETWORK PLATFORM
TAKLIMAKAN network platform is a platform that basically uses tools as well as materials and other laid down initiatives to create a safe heaven where individuals with little or no knowledge about cryptocurrency or blockchain technology system are enlightened and provided with the right tools to invest in cryptocurrency and make exceptional profits out of it.
TAKLIMAKAN project is basically a blockchain platform and it provides its users with appropriate information concerning both blockchain technology system as well as cryptocurrencies both in the market as well as in circulation. With the taklimakan network users will always to bound making the right decision in cryptocurrency related matters. It provides both market price, trading signals. As well as analysis about project ICOs.
TAKLIMAKAN AND ITS OVERALL COMPONENTS.
In other to acheive all its stated mission and goals certain components will be employed by the taklimakan network platform and the include:
EDUCATIONAL MATERIAL OR EDUCATIVE SECTION:
The essence of this on the taklimakan network is to make sure that new comers to cryptocurrency will be presented with full tutoring inorder to understand the full concept of taklimakan as a project.
BLOG SECTION:
With this users will be able to know the latest happenings as well as the latest information concerning blockchain and cryptocurrencies. For writers as well as blockchain enthusiasts, it will also serve as a platform to showcase their expertise.
ANALYSIS SECTION:
This section is all about making sure that users get the right information about icos. Here analysts who are professionals carry out extensive researches on an ico project, and in return they gather the results from their analysis and thus make it available for users to dwell on and then make their decisions about which project to invest in.
REFERRAL PROGRAMME:
This concept is all about adding incentives to the effort of users if they bring in new users to the platform. With this initiative, users are motivated to make money in form of TAN token while on the platform, and also in return grows the platform.
TAN OVERVIEW.
TAN is the acronym given to the taklimakan platform's token. It will be used to carry out all the financial activities on the taklimakan platform amongst many more.
FOR MORE INFORMATION ABOUT TAKLIMAKAN NETWORK:
Join the Telegram Group: https://t.me/taklimakan_en
Follow on Twitter: https://twitter.com/taklimakan_net
Follow on Facebook: https://www.facebook.com/taklimakannetwork/
Follow on LinkedIn: https://www.linkedin.com/company/taklimakan-network/
Follow on Medium: https://medium.com/@taklimakan
Ann Thread: https://bitcointalk.org/index.php?topic=2426759.0
Website: https://taklimakan.network/
Taklimakan Network Profile: https://taklimakan.network/u/Aakay26
Writer's Bitcointalk Username: Aakay
Writer's Bitcointalk Profile Link: https://bitcointalk.org/index.php?action=profile;u=2351546